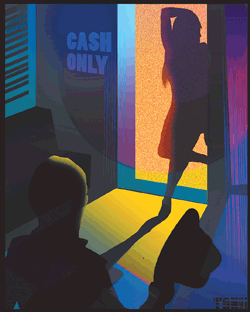 What's become of the women who worked at the three Chittenden County massage parlors Seven Days exposed for prostitution and suspected human trafficking?
Authorities won't discuss — or don't know — the fates of the female spa employees named in the June 5 cover story "Unhappy Endings: Getting a Grip on Vermont's Asian Sex Market." All three spas named in the article have since shut down. A fourth "erotic" massage parlor in Essex, The Evergreen Spa, closed voluntarily after Chittenden County State's Attorney T.J. Donovan sent a warning letter to the building's landlord, Kevin Macy.
It appears three of the four businesses relocated their female employees before authorities had an opportunity to question them or offer them safe haven. River Spa in Burlington closed up shop within 24 hours of the story's publication, and Seiwa Spa packed up and left Essex three days later.
Accompanied by a Korean-language interpreter, detectives from the Williston Police Department had an opportunity to question two Harmony Health Spa employees before the spa closed permanently on the weekend of June 16. They'd previously told Seven Days they work seven days a week, up to 13 hours a day.
Donovan would not elaborate on who accompanied the cops or what services were offered. But he confirmed they were unsuccessful in convincing either woman to cooperate or accept assistance from victims' advocates. He added police have had "very little contact with these women" believed to be of Korean descent who have limited English-language skills or knowledge of the communities in which they lived and worked.
Donovan says the fact the women did not accept help "does not surprise me, because that has been the case for the last 10 years" in dealing with these kinds of establishments.
"It raises real concerns about the wellbeing and safety of these women, when we don't know where they go and they disappear," Donovan says. "That's why we've struggled to develop a new approach."
What's that new approach? On June 26, members of the Vermont Human Trafficking Task Force will meet to discuss the response to the Chittenden County spas, as well as the May 7 police raids on two similar establishments in Bennington. According to Barbara Whitchurch, who chairs the task force, new protocols have been finalized on how Vermont's emergency responders and victims' advocates are supposed to handle future trafficking cases, including a "phone tree" of agencies that must be notified before a raid.
Additionally, the Vermont-based nonprofit Give Way to Freedom and the International Institute of New England have just unveiled their own Rapid Response Support System for providing emergency shelter, food, medical care and counseling to suspected trafficking victims within the first 24 to 48 hours of their discovery. Edith Klimoski, Give Way to Freedoms director, declined to comment on what, if anything, her organization did to reach out to the spa employees.
Whitchurch, who is also public education coordinator of the Vermont Office of Crime Victim Services, says that one of the more "sinister" things she's learned about traffickers is that some tell their employees not to speak to victims' advocates because they work for police and cannot be trusted. "It's really diabolical," she says.
Donovan stresses that most erotic massage parlors have ties to large, out-of-state criminal elements that are beyond the reach of local law enforcement.
"Are we going to have stronger town ordinances? Are we going to have massage therapists licensed? I do think that there are some proactive steps that can be taken that mitigate the chances of this happening again in Vermont," Donovan says.
In fact, a request that Vermont license its massage therapists, as some states have done, was rejected as recently as 2010. The American Massage Therapy Association and the Associated Bodywork & Massage Professionals proposed licensure in December of that year. But Christopher Winters, director of Vermont's Office of Professional Regulation, recommended against it, writing there is "no indication that incompetent or unethical practitioners have sought regulation-free sanctuary in Vermont."
Winters specifically addressed the question of whether regulation would prevent criminal sexual activity from occurring under the guise of legitimate massage. He pointed out that in other states, such as Florida and New York, that have set minimum education, training and examination standards for their massage therapists, "it has not prevented illicit activity. At best, licensure has provided a thin curtain for it to hide behind."
But Secretary of State Jim Condos, who oversees the Office of Professional Regulation and the 45 professions it currently licenses, says he's now willing to give the issue a fresh hearing.
"In light of the prostitution and human trafficking issue that we're facing in Vermont, I'm certainly willing to take another look at it," he says. But Condos emphasizes that he doesn't want a "knee-jerk reaction to the problem" in the form of burdensome, costly or unnecessary laws.
"Trafficking is a terrible issue," Condos adds, "but we can't just license massage therapists and think it's going to go away."
What have other communities done? Two municipalities in New Jersey — South Brunswick and Mount Olive — enacted tough local ordinances to stem massage parlor prostitution. Following revelations that five massage parlors were tied to prostitution, human trafficking and money laundering, Mount Olive passed new health codes that require massage parlors to register their employees with the town and undergo criminal background checks. It also bans alcohol and sleeping quarters in those establishments. Employees may not touch a patron's genitals or buttocks, which must also remain covered at all times, and the town can suspend a business for any criminal convictions involving sexual misconduct or "moral turpitude."
Another municipality that's faced similar problems is Warren, Ohio, a city of about 45,000 between Youngstown and Cleveland. With 10 erotic massage parlors within city limits and another two just outside town, it's earned a reputation as the "massage parlor capital of Ohio," according to Nate Brown, a community organizer with the Mahoning Valley Organizing Collaborative. Police discovered customers were driving from as far away as Detroit and Chicago to visit the 24-hour massage parlors, which were fronts for prostitution, trafficking and money laundering.
For years, Brown explains, neither the mayor nor the local police expressed any interest in dealing with the problem until local faith-based groups and his own organization got involved. When Warren police finally raided eight massage parlors, they netted more than $100,000 in cash, prepaid cellphones, laptops and passports. Police discovered the female workers, most of whom were Korean, slept in sleeping bags on the premises and were regularly rotated from one massage parlor to another.
The Warren City Council responded with an ordinance restricting hours of operation and imposed new training requirements and licensing fees on massage providers. Ohio is also now considering statewide legislation that would restrict any massage business from advertising unless it's licensed.
Brown explains that Warren's new ordinance got approved in large part because it weeded out the unscrupulous practitioners without putting onerous requirements on bona fide massage therapists. As he explains, it isn't difficult for massage therapists who are legit to prove their education and training. And those who aren't, he says, don't stick around for long.
"We really stirred things up," he adds, "and the public was firmly on our side."
Disclosure: Ken Picard's wife, Stacy Graczyk, is a deputy state's attorney in Chittenden County. She had no professional involvement with this story.