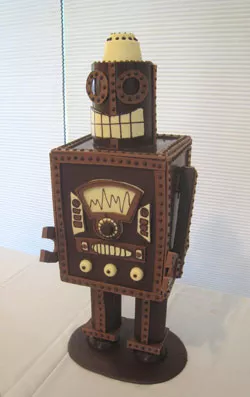 Chocolate Robot by Emily Jones of Lake Champlain Chocolates
One unexpected byproduct of the Great Coffee Boom of the '80s was the Great Chocolate Boom that began soon afterwards, and is booming louder every day. Once Americans had gotten used to strong, bitter, expensive coffee, then strong, bitter, expensive chocolate was pretty much the same, only sweeter. Godiva and Ghirardelli began to seem like the Ford and GM of American gourmet chocolate.
Vermont, of course, shot off the blocks in the handmade chocolate race, so it was hardly a surprise to learn about the second Vermont Chocolate Show at the Inn at Essex last weekend. Included were a chocolate sculpture exhibit, a chocolate martini lounge, chocolate cooking and decorating demonstrations and, of course, displays by some (though not all) of the top artisan chocolate makers in Vermont and eastern New York.
Although chocolate is a theme in itself — and a popular enough theme to fill all the parking lots that surround the inn — two sub-themes of the show were readily apparent.
The first was that chocolate is now officially a neurotransmitter. I don't want to get too technical here, but over the last 20 years science has conclusively proven that chocolate binds on to estrogen to release in a woman's brain a fireworks display of chemicals that in turn trigger the synapses normally only fired by contemplating sex with, say, Hugh Grant. These days, chocolates are given names such as "Every Woman's Dream" instead of the old-school "Antigua Guatemala 62%" or the hopelessly square "Hazelnut."
The second theme was the Joey Tribbiani It's All Good theme. Loyal fans of "Friends" will remember that Rachel makes a dish that accidentally combines an English trifle with a shepherd's pie. Joey's response: "Custard? Good! Jam? Good! Meat? Goo-ood!" Today's chocolate makers have clearly decided that the way to make chocolate better is to combine it with other things that are high on the Hugh Grant index. Good plus good equals: "Hey, can't go wrong."
Personally (and perhaps it's because of my low estrogen count), I hold the radical belief that yes, you can screw up chocolate, and the result is one of life's profoundly disappointing experiences — right up there with the shower that runs cold after a minute and a half. So I went to the Vermont Chocolate Show curious, but no patsy.
First of all, a word about methodology. When it comes to trade shows, I'm strictly a bottom-feeder. Charging at the door and then charging a dollar a truffle strikes me as double dipping (so to speak), so I reviewed only the free samples on offer. As some of the makers had a panoramic array of wares for sale but almost nothing on the tasting plate, you shouldn't judge a chocolatier by the amount of ink on this page.
Once inside the first tent (of three), I was momentarily distracted by what might be called Chocolate Peripherals.
The chocolate art display was all very well and good (think chocolate Godzilla eating chocolate buildings), but anyone dropping in at Lake Champlain Chocolates' Pine Street branch can see that quality of work literally every day.
Beyond it, by the back wall, dollar-a-minute neck massages were available, presumably to treat whiplash injuries. ("Try the chocolate with strawberry over here! No, try the chocolate with mango over here!" Snap.)
But even the neck massage was merely the Hershey's Kiss of the spa booth, for at the other end of the Oasis Day Spa table was a laptop with a video display of a woman lying in the familiar face-down position getting . . . wait for it . . . a chocolate massage. The masseuse, or possibly the confectioner, was smoothly applying something called Chocolate Body Scrub from the woman's waist up to her hairline.
It was a strange sight that brought out startlingly different, possibly hormone-related responses among those watching. All around me, strong women were turning pale and reaching for their checkbooks. I had the disturbing sense that if I watched long enough, someone would start dotting the woman's shoulder blades with fragments of hazelnut and then slide her into an oven.
Clearly, it was time to try the edible cocoa-butter-based products.
Burlington's Lake Champlain Chocolates was offering samples of Fruit and Nut — which, like many locals, I've had before. But for the first time I was struck by the fact that the chocolate is almost treacly. Good, but perhaps a little over-intimate?
Then it was on to Liz Lovely, which I took to be a nom de cacao, the Fannie Farmer of the chocolate world, but which is actually the real name of one of the Waitsfield company's co-founders. The dried mango dipped in chocolate went down very smoothly, but that's a good-on-good no-brainer. The ginger cookies were outstanding, but my favorite Lovely item was the ginger chocolate that, like all good ginger comestibles, refused to be shamed into submission. This one bit back. I loved it.
Waterbury's Vermont Artisan Coffee & Tea Co. is a coffee roaster and tea importer, but has branched out with Artisan Espresso chocolate-covered espresso beans — another no-brainer, in my book, but all too often a fascist confection that beats the consumer into a twitchy stupor. By contrast, Artisan's espresso beans have been thoughtfully milled to three different degrees of fineness, so they don't have that gritty consistency.
Two New York companies had decided to push the envelope in terms of names and/or shapes. Stuffed Chocolate of Snyder worked countless variations on Belgian chocolate. I liked their dark chocolate almond bark well enough, but Every Woman's Dream, a chocolate-and-strawberry combination, turned out to be too obvious to be interesting, a Hallmark chocolate.
That's Different Chocolates of Hoosick Falls went farther afield by boasting of their Chocolate and Peanut Butter Pizza, surely a Tribbiani Award winner. I tried Tea Time, a dark chocolate with green tea and lemon peel. It was fresh and zesty, though I thought the chocolate itself was less original than the combination of flavors.
OK, time to open the envelope. My favorite exhibitor of the day was Farmhouse Truffles by Erle LaBounty, the product made in the kitchen of the LaBounty home on Main Street in Waterbury. Truffles are so strong in taste that they are always in danger of becoming simply too dense: part confection, part blunt weapon. Farmhouse's truffles are rolled rather than poured, and they whispered their flavor, powdery, not intense.
Farmhouse also went for truly adventurous taste combinations, rather than simply the good-on-good. I tried the lavender, which reminded me of a lavender truffle I'd sampled at the Choco-Musée in Québec City. If anything, LaBounty's was subtler; no added sugar, no excessive aftertaste, just something like the memory of a summer garden.
I told the LaBountys that I'd been blown away by Québecois truffles that included chiles. They exchanged glances and, like Prohibition speakeasy owners reaching under the bar for the real Scotch, produced a nutmeg-and-Sicilian-hot-pepper truffle. That was it. The chocolate hit first, then the nutmeg, and that seemed to be all she wrote until I swallowed, and then the pepper warmed my gullet all the way down.
Final note: The best chocolates, in my book, are still to be found north of the border. Erle LaBounty credited Chloe Germain-Fredette as an inspiration (Les Chocolats de Chloe, 375 Rue Roy Est, Montréal), though many Montréalers are just as impressed by Les Chocolats Genevieve Grandbois (162 Rue Saint-Viateur Ouest). And if you can make it as far north as Québec City, drop in at the Choco-Musée Erico at 634 Rue Saint-Jean. Once you've tried their chipotle, or their argousier (sea buckthorn puree), or their bitter ganache with Ceylon curry — other chocolates start to look like sugar, fat and brown paint.