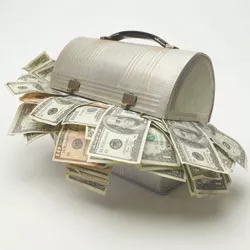 I saw a terrific movie the other night, Margin Call, about a fictional too-big-to-fail investment bank on the eve of the financial crisis of 2008. The firm has been trading mortgage-backed securities — gazillions of them — and, as the markets get volatile, a young analyst figures out that the firm is at risk for more than its entire capitalization. The film follows a group of executives as they decide how to save their asses — all aware that when the curtain falls, the stage will be strewn with bodies.
Obviously, the film isn't exactly fiction. And among its most realistic aspects is its treatment of greed. Greed feels to the characters like everything but. It feels like need, entitlement or luck. It is even rationalized as some vague social good. The youngest character, a 23-year-old risk analyst, is obsessed with how much money everyone is making (he pulled in a mere quarter million the year before). But mostly, greed is coded deep in the software, invisibly making the machine run.
Now that the banksters are Public Enemy No. 1, I've been wondering: Is greed a useful political target?
I don't think so.
Let's start with corporate greed. Corporate greed is a tautology. Maximizing the take is the raison d'être of a for-profit corporation. Condemning corporations for being greedy is like getting mad at giraffes for being tall.
Second: Consider generational greed — the idea that the baby boomers' collective avarice got us to where we are now. This narrative comes from both the grassroots and the elites (e.g., Laurence Kotlikoff and Scott Burns, authors of The Coming Generational Storm, who coined the term "fiscal child abuse").
It comes from the Right (Tea Party blogger: "the greedy oldies of the baby boomer generation who mortgaged our future and now visit electoral death upon anyone who challenges their 'entitlements'") and the Left (Occupy Wall Streeter: "[Boomers] don't really understand egalitarianism or a fair economy. They don't understand direct democracy, don't understand unity. They don't understand anything but getting their own way ... Fuck 'em").
But boomer bashing gets us nowhere, too. I mean, who are these bad-news boomers? Angela Davis or George W. Bush? The CEO of Bank of America — or me? To blame everyone is to absolve anyone in particular of responsibility.
That brings us finally to individual greed. As moral transgressions go, it's a big one — a Deadly Sin — and politics need morality. But again, where do you draw the line? Am I greedy if I must have the iPhone 4S, but not if I'm fine with the G4? If I "need" a $200,000 salary and can't get by on $60,000, or $20,000?
Greed is a thought crime, not an act. That makes it a slippery political adversary.
The real problem with aiming your political arrows at a feeling is that you miss the target you could actually hit: policy. Or you can deliberately avoid that target. Asked a couple of weeks ago what he felt about the Occupy movement, Gov. Peter Shumlin was enthusiastic. "We live in a country where the wealthiest have never paid lower income taxes. Where the gap between the top 1 percent and the rest of Americans has never been wider," he replied. The movement, he said, is "a good thing for Americans; it's a good thing for our democracy."
But look at Shumlin's policies and you might question whether he thinks it's a good thing for Vermont. The 1 percent is doing quite nicely here, as it is everywhere else. Its share of the state's income has tripled, from 6.6 percent in 1970 to 19.1 percent in 2005, according to the Public Assets Institute (full disclosure: My domestic partner, Paul Cillo, is the executive director of PAI). The Bush tax cuts also dropped a windfall of $190 million in each of two years on the wealthiest Vermonters.
Yet the governor has refused to raise income taxes on the rich to close Vermont's budget gap or pay for the damage of Tropical Storm Irene. Instead, he asks state employees to take concessions and cuts services to the poor, elderly and disabled — more deeply than his predecessor ever did.
Some suggest that these policies are the true expression of Shumlin's class allegiance — he's worth approximately $10 million, after all. The inference we can take, I believe, is that he stands with the greedy — or is greedy himself.
Then again, the Democratic legislature has approved almost all of the governor's fiscal proposals. What's behind those decisions? Political cowardice? Misguided best intentions? Greed — for reelection?
If the Occupy movement founders, it could be on this rock. As examples of egalitarian solidarity and consumption-free zones, the encampments have stood implicitly against greed. And that's important. But couple all those placards — End Corporate Greed and the like — with the movement's reluctance to make any concrete demands, and the suggestion of a group fantasy emerges. Do these young occupiers, who grew up in a political era when personality and character eclipse positions and acts, imagine they might shame the greedy into changing?
By the same token, rich people's offers to pay more — such as Warren Buffett or the wealthy Vermonters who petitioned the state to raise their taxes — shouldn't be read as altruism. Government is not charity; the willingness to pay taxes is not beneficent any more than it is stingy to limit your tax bill to the minimum required by law. The reason we have laws and political structures is to save us having to search our souls every time the right thing needs to be done. That is, policy can demote greed simply by refusing to reward it.
And the more egalitarian the social structure, the more feelings change. It has happened. "I had dropped more or less by chance into the only community of any size in Western Europe where political consciousness and disbelief in capitalism were more normal than their opposites," wrote George Orwell in Homage to Catalonia, about the anarchist commune that flourished briefly in northern Spain in the 1930s, before that country's Civil War. All industry was collectivized; no one was another's master. A "mental atmosphere" of socialism prevailed, Orwell said, in which "many of the normal motives of civilized life — snobbishness, money-grubbing, fear of the boss, etc. — had simply ceased to exist."
Alas, the commune did not survive the war, or Spain's fascist takeover, which gave greed and many other evils new vitality.
We may always have the greedy among us. But we don't have to give them what they want. Indict the crime, not the motive. Then act against the crime — with feeling, but act.
"Poli Psy" is a biweekly column by Judith Levine. Got a comment on this story? Contact levine@sevendaysvt.com.