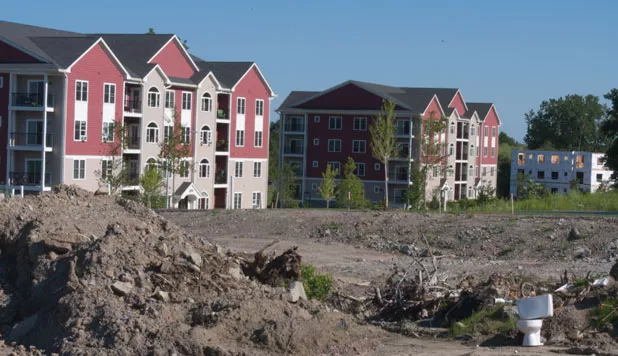 condo development under construction in South Burlington
Government corruption might be rare in Vermont, but conflicts of interest seem to be popping up all over. Chittenden County State's Attorney T.J. Donovan had to pass his criminal investigation of Burlington Telecom to other state prosecutors because his uncle's law firm represents the municipal utility. The Shumlin administration recently appointed new members to the state's Clean Energy Development Fund after the board came under fire for awarding funds to one of the governor's largest campaign donors. Cemetery commissioners in the town of Braintree have awarded themselves contracts to mow graveyard lawns, the Burlington Free Press reports, and even signed their own paychecks.
Has South Burlington joined the conflict-of-interest club? The chair of the city council, Sandy Dooley, is under fire for pushing new zoning rules that could halt a development behind her house that Dooley and her husband, Vermont Supreme Court Justice John Dooley, have fought against for over three decades. Since 1978, the Dooleys have tried to stop a multiphase development that would impede the view of the majestic Green Mountains from their home on East Terrace in South Burlington.
Their lawsuit against the Quarry Hill developers went all the way to the Vermont Supreme Court. To avoid any appearance of a conflict of interest, Judge Dooley and all of his colleagues stepped aside to let a panel of retired judges hear the case.
The verdict? The court protected the couple's view corridor, but only the width of their lot. The Dooleys were unable to stop the Quarry Hill development from breaking ground on three apartment buildings alongside I-89 south and proceeding with plans for structures that would forever change what they see from their living room window.
Five years later, the developers are ready to start the next phase of the project. But it might not happen if the South Burlington City Council decides to adopt "interim zoning" rules that some say would all but freeze new development in the city for two years. Under the pretense of having more oversight, the rule change would make the city council, rather than the Development Review Board, the final decider on such development proposals.
The lawyer representing Ralph DesLauriers, who is developing the Quarry Hill property as Cupola Golf Course, Inc., says the proposal presents a glaring conflict of interest for Dooley and has demanded that the city councilor disqualify herself from the process. In a June 16 letter to City Manager Sandy Miller, attorney Liam Murphy wrote that Dooley's actions "may appear to be an effort to use the legislative process to benefit personally and stop the same development behind her home which she and her husband have opposed in court for decades without success."
"I don't know how you can be objective when you're voting on a development which is right next door to you," Murphy says in an interview. "At the very minimum there is an appearance of conflict."
Dooley maintains that her involvement does not constitute a conflict of interest — and South Burlington's city attorney is backing her up on that. In response to Murphy's letter, city attorney Steven Stitzel recently issued an opinion declaring there is "insufficient basis" to conclude that Dooley has a disqualifying conflict of interest.
Stitzel reasoned that case law is very specific about what qualifies as a conflict for local legislators and that this circumstance doesn't meet that threshold. He also wrote that the zoning rules under consideration are "of general applicability throughout the city," meaning any city councilor could find themselves living next to a proposed development site.
"Everybody on the city council has to live in the city," says Dooley. "If this is the basis for conflict of interest, then no city councilor could vote or participate in discussions on interim zoning."
The South Burlington City Council doesn't currently have an official conflict-of-interest policy.
DesLauriers' development — with a price tag in excess of $30 million — has so far given rise to a gated emergency-access road adjacent to the Dooleys' home and two multistory apartment buildings behind Staples Plaza. A third is under construction. DesLauriers' lawyer says he's getting ready to propose site plans for the remainder of the 20-acre property — including the parcel nearest the Dooleys' house — which will include single-family homes and housing for the elderly. DesLauriers has already sunk $3 million into roads, sewers and storm-water systems in anticipation of the new construction.
Asked how a time-out would affect his client's project, Murphy says he's not sure. "We're trying to sort that out," he says. "It's a pretty badly drafted ordinance."
South Burlington has used interim zoning to slow down the pace of development before, in 1989 and 2005. This time, builders and the press are calling it a "development freeze," but Dooley says that's not accurate. Instead, she says the proposal, which comes before the city council on July 18, adds an "extra layer of review" to planning and zoning applications with the goal of "protecting existing neighborhoods" and the "preservation of open space." While she admits it's likely to slow the pace of construction in town, Dooley insists that's not the singular aim.
"We made some pretty dramatic changes in land development regulations in the last decade," Dooley says. "From my perspective, those deviated from the comprehensive plan in ways that aren't in the best interest of the city."
Recently released 2010 census figures show that South Burlington's population grew by 13 percent in the past decade, and some, such as City Councilor Rosanne Greco, see the resulting apartment and condo complexes as evidence that it's time to put the brakes on development.
But Murphy questions that assumption, too. He points out that the city's comprehensive plan, first adopted in 2001, predicted annual population growth of around 1.5 percent — or 15 percent over a decade. What's more, he says, historic census data show South Burlington's population has grown fairly steadily at around 2 percent a year for several decades.
In a June 9 article, South Burlington's Other Paper reported that Dooley "expressed concern over the city's growth rate" at a city council meeting. But she denies that is her motivation in supporting the zoning changes.
Dooley also downplays the years-long legal battle that found its way to her husband's august workplace: the Vermont Supreme Court. "There have been two lawsuits, and one was a whole group of neighbors," she says.
Regarding the latest phase of the DesLauriers development, Dooley says, "We have not opposed their specific proposals to develop the property."
At what point do her personal stakes as a resident conflict with her responsibilities as an official elected to represent the public interest? Murphy says that if South Burlington adopted an official conflict-of-interest policy, Dooley's frequent discussion with planning and zoning staff — "ex parte oral communications" — would likely violate it.
If specific Quarry Hill proposals come before the city council, would Dooley disqualify herself?
Initially, Dooley says no; she says she'd have to consult with the city's lawyers.
A minute later, though, she changes her mind. "That would be different," she says. "My thought is that, in that situation, I probably would be recusing myself."