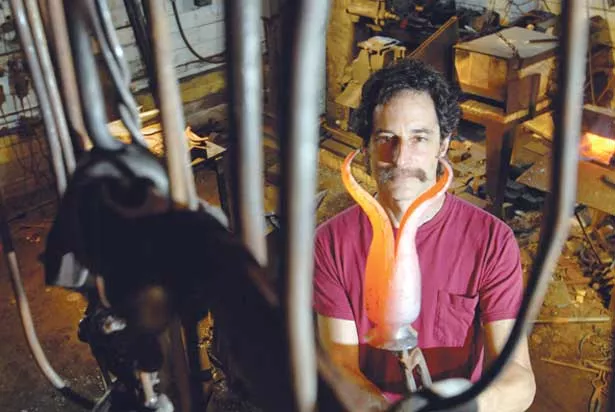 Jeb Wallace-Brodeur
Steve Bronstein
Blacksmith Steve Bronstein loves to talk shop while tossing hot iron around. The manic energy behind Blackthorne Forge in Marshfield, he narrates highlights from the history of his trade at a shout as he pivots from roaring forge to anvil to pneumatic power hammer. The 51-year-old works barehanded, nominally shielded from flying sparks by a leather waist apron torn down the middle and, when he thinks of it, goggles.
Traditional blacksmithing had nearly disappeared when Bronstein took it up in 1979, he says; the last generation to forge iron for a living was born around 1900. But at the same time, the national crafts revival of the '70s put him on the cusp of a trend. When the Artist Blacksmith's Association of North America met for the first time in 1973, the few surviving professional blacksmiths passed on their knowledge to eager twentysomethings. Bronstein pulls the book he used to teach himself the trade off a dusty shelf in his shop, a converted barn with a dirt floor he created by jackhammering through 2 feet of concrete. He says Edge of the Anvil, published in 1978, was the first tome on blacksmithing to appear in 30 years.
Whirling back to the forge, Bronstein jabs some rusty tongs into the horizontally shooting flames and extracts an orange-hot vessel with a two-pronged, petal-like opening. "I think I'm making a vase," he comments, sounding open to other possibilities. When he transfers the piece to an anvil, various long-handled tools that had been balanced there clatter to the ground. Bronstein pays no attention: He has about 20 seconds to pound the metal into a different shape before it begins to cool.
"You know the saying, 'Strike when the iron's hot'?" he yells. "Well," bang, bang "when you pull it out of the fire, [it's] not a time to be contemplative." A few more bangs and he has reversed the prongs' curves.
Bronstein's story comes out in pieces as he moves in hyperdrive around the shop. The Long Islander arrived in Vermont in 1978 after college to work in a physiology lab at the University of Vermont. Needing a chisel for his hobby of woodturning on a lathe, he decided to make one, and signed up for a one-day workshop on blacksmithing at UVM's Church Street Center, now the Firehouse Gallery. He produced only a poker that day, but he was hooked. When the Shelburne Museum advertised for a seasonal blacksmith to do demonstrations, he brought his poker to the interview as a sample of his work. "I told them I had a lot more at home," he says with a grin. The ruse worked: He got the job.
Museum-goers prompted Bronstein to learn, he says. "They would ask me, 'How do you make that?' and I would have to go and look it up." Later, in his Burlington studio, old-timers would see the smoke from his then-coal-fired forge and offer him advice.
Bronstein still uses an 1890 hammer, its network of gears now powered by electricity instead of a water wheel, and two anvils that date from the 1700s. But he deplores traditionalism for its own sake. While some purists seek out wrought iron, now nearly obsolete, Bronstein buys plumbing pipe from Capitol Steel in Montpelier.
He constantly creates new forms, too. But, with a crew of four, Bronstein reproduces only visually striking, marketable products, most of which can be duplicated on jigs. Among the forge's offerings which range in style from scrolly to streamlined modern are 11 different models of menorahs, wall and desk clocks, lamps with cutout metal shades and garden ornaments in the shape of giant insects. Alene Wheeler, Bronstein's 27-year-old office manager and welder, points out the month's orders: There are 36 for menorahs alone from galleries around the country. "Last month I shipped out 45 orders in 50-pound boxes each," she says.
Together Bronstein and Wheeler carry the cooled, unfinished vase into the showroom, where they can discuss its future without shouting. Should it stand on its own, or be placed concentrically within another, similar shape? "We have a ton of orders to fill," Bronstein says with an unapologetic grin, "but I'm playing now."
Click a photo above to see the location.