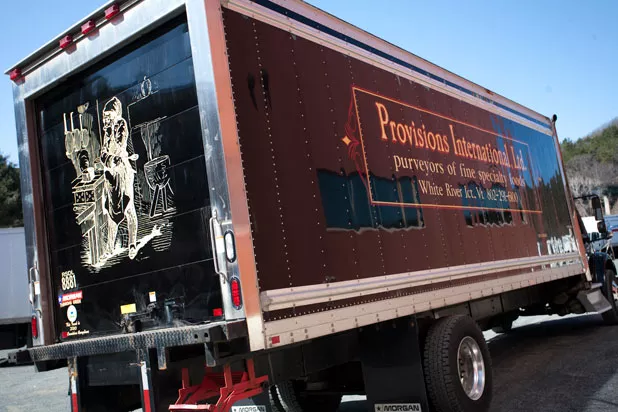 Provisions International truck
Sometimes the streets of White River Junction can seem forgotten in time. The town is far quieter than it was a century ago, when dozens of trains rumbled through every day carrying people and goods across New England.
But on the two converging interstates that carry most of the town's modern-day traffic, locals may notice six black trucks with a logo whose style harks back to the days of carriages and freight trains. This is the fleet of Provisions International. Inside each truck might be a tub of Spanish olives, jars of quince paste or wheels of Vermont blue cheese, destined for Vermont's mountain-bound chefs or urban markets hungry for the state's cheese, jam and flour.
The international web of food distributors is unseen to the average diner — especially today, when foodies like to imagine their local farmers trekking in to meet with their favorite chefs, dropping off fresh cheese, baby lettuces and free-range meat. While such exchanges do, in fact, happen, distributors play a key role in helping producers reach a broader market. Provisions is even less conspicuous than most, but it fills a distinct niche: supplying hard-to-find and exotic edibles as well as Vermont cheeses.
"Distributors are sort of an invisible presence in this chain of food," says Christopher Emily Coutant, Provisions International's marketing director. "Lately we've seen moves toward local sourcing that has made the distributor more invisible."
On the outskirts of town, along the White River, Provisions maintains a cavernous, climate-controlled warehouse filled with thousands of cheeses, vinegars, flours, chutneys and cured meats. It's a wonderland of exotic food items — jars of vanilla, truffle oils and Spanish chocolate, and shelves of foreign and domestic cheeses, many of which are made in Vermont.
While wholesale distributors such as North Springfield's Black River Produce offer some of the same specialty items, Provisions has its loyal customers in the restaurant world. "We keep a very low profile, for a good reason," says Provisions' founder and owner Wendy Hallgren. She says the company has reached a size, in terms of clientele and employees, that suits its hands-on style.
Provisions employees, who tend to stay a decade or longer, seem quite protective of their firm. In a world of food distributors jockeying for territory, they like to think they stand out by the service and education they offer both their producers and the chefs and grocers they supply.
Those clients include many of Vermont's artisan cheese makers: Cheeses make up more than a third of Provisions' business. Each week, the company's trucks load up with cheeses and drive them to markets in New York, Boston and elsewhere. "A lot of chefs and stores want to have a personal connection with the cheese maker, but sometimes a cheese maker wants to make cheese," says Coutant. "Individual cheese makers are not necessarily interested or skilled at marketing. And they don't want to drive around the state delivering their cheese."
Cheese has been important to Provisions' business since Hallgren founded the company in 1986 after a move to the Upper Valley from Princeton, N.J., where she had owned a catering business. Working in rural Vermont's food industry, she found it difficult to find gourmet items. "There was a real need for high-end, restaurant-quality food. I was shocked there was no purveyor doing it," she recalls. "I guess I was at the right time and the right place."
Hallgren initially worked with a company that sold lamb to New York City. Those trucks, she noted, were coming back empty. So she tapped her contacts in the food and freight worlds and began carting up specialty items such as European cheeses. "We started out really small, with a pickup truck with a refrigerator in the back," she says.
Hallgren soon began working with some of Vermont's earliest cheese makers, such as Bob Reese and Allison Hooper of Vermont Butter & Cheese Creamery. "[Provisions was] really on a mission to build awareness about the great local cheese companies that we have in Vermont," says Reese. "They kind of pioneered helping out and teaching producers what to expect. When you're a small company, you don't have an R&D department."
Gradually, Hallgren grew her business, by 10 percent each year. She attracted employees from other pockets of the food business, such as chefs. Cheese — especially Vermont cheese — became Provisions' cornerstone; Grafton Village Cheese Company was another early client. Twenty-five years later, Provisions offers dozens of Vermont cheeses, from Jasper Hill Farm's Constant Bliss to Tarentaise from Spring Brook Farm.
The company's catalog grew, and grew some more. Once upon a time, it was produced in a handsome, spiral-bound book. Now, clients browse online, choosing from 150 kinds of oil, 177 kinds of chocolate, 130 vinegars, and 100 kinds of beans and legumes, including heirloom soldier beans from Maine and crimson lentils.
That online catalog can set the imagination of a chef alight. "I just pore over the catalog. I look at every single item and try to think of a way that I need it," says Suzanne Podhaizer, co-owner of Salt Café in Montpelier. "It's definitely a little bit of feeling like a kid at Christmas. I get to a place where I want to buy everything."
All that booty is tucked into the White River warehouse: boxes of organic Italian pastas such as Kamut fusilli (marked "alto/Fragile"); bottles of extra-virgin olive oil; bags of Arborio rice; bricks of chocolate; jars of chile sauce and Tunisian artichoke spead; bottles of Saba dressing and aged balsamic vinegar. Central to the operation is the cheese cooler, kept at a constant 40 degrees with 70 percent humidity. The room is filled with wheels of cheddar, blocks of Parmigiano-Reggiano, boxes of Comté, chunks of Bulgarian feta.
"I'd been a chef all my life and never knew there was so much cheese," says general manager Andrew Kannler, who has been with the company nine years, making him one of the newest of Provisions' 20 employees. Like most of his colleagues, he spent much of his professional life in food service. "We call it chef rehab. It's like being a kid in a candy store," he says of Provisions. "You're surrounded by products you love without the hours of the kitchen."
Provisions' entire staff of foodies has its feelers out for new products — whether they appear in the press or on a table. They also regularly sample new items. "You're a better salesman because you eat, and you know what you're talking about," says Kannler.
"For instance, a chef will say, 'This cheese doesn't look like it did the last time,'" says Coutant. "We'll be the person who explains that's because it's a different season, or slightly older or younger."
Orders pour in early each week and are assembled on pallets for delivery. The five trucks that have delivered Vermont cheeses to points south return with goods from New Jersey's docks or New York's markets, then fan out again to Provisions' rural New England clientele.
Besides enlivening the local palate, some of those products connect Provisions, and by extension Vermont diners, to other parts of the world in poignant ways. For instance, one of the Japanese towns where Provisions sources seaweed was wiped out by the tsunami that followed the recent earthquake. "They lost everybody," says Kannler quietly. That seaweed will come off Provisions' list.
Provisions' offices are about two miles from the warehouse, up a wide staircase in a former Masonic temple. Entering can feel like walking through a looking glass: One minute you're in a slightly worn old railroad town, and the next you're in a gorgeously restored arts and crafts-y space. The suite includes an elegant tasting kitchen where staff cook meals and try out new products, and a huge, empty room adorned with stained-glass windows where Provisions holds occasional tastings for customers. Those customers read like a who's who of Vermont's fine restaurants and markets: City Market/Onion River Co-op, Healthy Living Natural Foods Market, Hen of the Wood at the Grist Mill, the Essex Culinary Resort & Spa, Bluebird Tavern and American Flatbread.
At Salt, Podhaizer and her husband and the restaurant's chef, Dan Green, order from Provisions every three weeks or so: cheese, butter and crème fraiche; baking supplies such as King Arthur Flour and Callebaut chocolate; kosher salt, spices, beans and dried fruit. A recent order for their rotating menu included Medjool dates, preserved lemons, rose jam, mulberry syrup and vanilla.
"It's a crucial piece. As Vermont gains more mid-scale farms and food producers, those producers and farmers can't drive around" to see all their clients, points out Podhaizer, who knew of Provisions from her years as a food editor at Seven Days. "It's wonderful [for farmers] to have that one-on-one connection [with restaurants], but at the same time, it may limit your growth."
As for Provisions itself, Hallgren has no plans to expand, beyond bringing on new products. She calls her customer base "exciting" and deeply values her staff and smooth production. "I have very little interest in that much more growth," she says. "Never say never, but small is beautiful."