Luke Awtry Photography
Steve Swanson
Alan Newman became a leader of the environmentally friendly household-supplies sector when he started Seventh Generation. The self-described serial entrepreneur repeated that prescient success in the early years of the craft beer movement as cofounder of Magic Hat Brewing.
Now Newman, 71, is betting the farm, so to speak, on the future of global livestock agriculture — in a Williston industrial park.
The lobby of Flourish Farm's 2,500-square-foot space on Avenue D feels like the foyer of a fitness club, with bright logos on merchandise and huge posters of athletic people enjoying nature. Few of these visuals trumpet the crop produced here. Flourish Farm raises chirping critters to become food: seasoned whole crickets and a ground-cricket product that married founders Steve and Jen Swanson believe can compete with whey, soy and other protein powders.
"We're trying to get the bug image out of people's minds," explained Jen, a Rutland native. As Ethan de Seife reported in Seven Days in 2015, she and Steve, now both 36, started the company in 2014 as Tomorrow's Harvest, raising crickets in their home.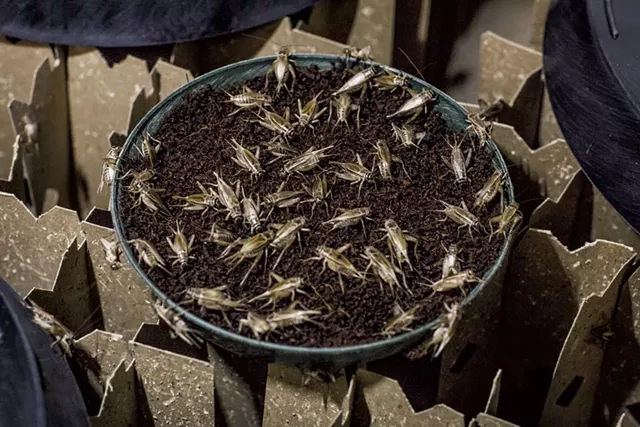 Luke Awtry Photography
Crickets
"We wanted to focus on the product, not so much on the cricket," Jen continued, "to talk about how it can benefit both the environment and our health." Crickets, she said, produce "the highest-quality and most sustainable protein.
"Our goal is to contribute to the sustainability of our planet by way of our food system," she declared. "This could change the world if it works."
Newman met the Swansons at two Vermont business startup pitch events over the past couple of years. They won neither but attracted his attention.
"I saw two passionate, enthusiastic, smart founders who were probably ahead of their time, which is where I've lived most of my life," Newman said.
After several months of discussion, Newman pulled together half a dozen investors with an interest in nutrition and the environment. A first round of $600,000 enabled the couple to move the cricket farm out of their basement in February, and it is expected to power the business through the proof-of-concept phase.
Flourish currently sells only directly from the farm and online but will seek retail distribution as it scales up. A facility in Williston processes its cricket snacks and cricket powder. (Flourish also sells plant fertilizer made from cricket poop.)
The snacks, flavored with maple, Buffalo seasoning, or garlic and sea salt, are light and crunchy with a slight seaweed aftertaste, reminiscent of biting through the shell of small shrimp. Like shellfish, crickets have exoskeletons containing chitin, which is why Flourish's products must bear a seafood allergen warning.
Newman has taken an active role in Flourish's marketing and branding, developed by Burlington's Solidarity of Unbridled Labour. He also brought on his longtime operations partner, Steve Hood, to help with business management and financials.
"I learned years ago that ideas were a dime a dozen," Newman said. "A lot of people have ideas, but moving them into a fundable and executable business is another thing."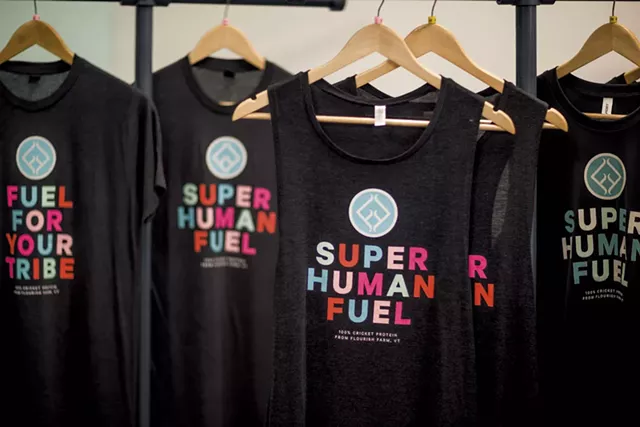 Luke Awtry Photography
Flourish farm t-shirts
Steve Swanson works full time at Flourish as "the cricket whisperer," or farmer, while Jen squeezes in her involvement around a job in medical device sales that pays the family bills.
Steve was the original driver behind the project. "We were very concerned about climate change already," he explained. When the couple had the first of their children — now ages 4, 3 and 9 months — "it got real," he said.
Researching online, Steve stumbled across a 173-page report published by the Food and Agriculture Organization of the United Nations in 2013. Noting the precipitous growth of both global population and hunger, the authors touted insects as a way to deliver nutritious food at low environmental cost, while acknowledging that "people in most Western countries view entomophagy [eating insects] with feelings of disgust."
Steve's first pitch was to his wife. "He put together a PowerPoint presentation for me," Jen said. Then he started experimenting in the garage.
At the time, the few cricket farms in North America were raising them primarily for pet food or fly-fishing lures. The species, Acheta domesticus, is the same, but crickets raised for human consumption have different feed and record-keeping needs. Research is lacking, because entomologists, Steve noted, are generally "focused on killing insects, not farming them."
The U.S. lacks specific guidelines for insects as human food. Not being considered livestock, they fall under the jurisdiction of the Food & Drug Administration (like seafood), rather than the Department of Agriculture. At the state level, the health department gets involved only when crickets are processed into food — and when, ironically, inspectors would normally penalize facilities for the presence of insects.
The growing cricket-farming industry is secretive, Steve said, but Flourish Farm wants to pull back the curtain. "It's really important that people can come see what the heck this is," he said. "Education is obviously a huge part of this."
Visitors to the Williston operation can see into the main cricket-raising room through a large window. It will soon be equipped with cricket cams for close-up views into the custom-built cricket "condos."
Eggs hatch in a cozy, silver-lined grow tent kept at 88 degrees. "If crickets don't work," Steve joked, "we'll grow weed."
Crickets are independent as soon as they're born, he noted, so farmers don't separate mother and offspring, as most dairy operations do, for example. "That speaks to the morality and ethics of eating insects," Steve said.
The crickets are harvested five weeks into an six-week life cycle that's accelerated beyond the normal 12- to 16-week cycle by a controlled climate. Placed in a freezer, they fall asleep before dying. "It's as humane a way to kill animals as there is," Steve claimed.
Flourish Farm has yet to do its own close analysis, but other sources, including the UN report, show that production of cricket protein requires significantly fewer resources than does production of other animal proteins or even many vegetable proteins. According to Entomo Farms, a large Canadian producer of cricket-based food, crickets require one-thirteenth of the water and one-twelfth of the feed needed to produce an equal amount of beef protein. Plus, crickets don't contribute to greenhouse gases and produce zero processing waste; the insect is simply dehydrated and offered whole or ground into powder.
To mitigate the biggest environmental input, heat, Steve believes that "insect farms of the future will be in extremely well-insulated buildings, ideally powered by solar and wind."
Luke Awtry Photography
Steve Swanson checking on the crickets
The Swansons hope to develop two lines of crickets, one grain-fed and one fed on food waste. "Crickets are omnivores. The question is, what do they thrive on?" Steve said. He's successfully fed some on spent brewers' grain. "That's when the sustainability argument gets crazy."
Sustainability alone may make a solid case for Americans to jump on the cricket-eating bandwagon. But then there's what everyone calls the yuck factor.
"We started this before we had the courage to eat a cricket," Steve admitted. "We sat down and had maybe a little tequila before we tasted our first one. We understand that hesitation."
"I think, intellectually, there's really good reason" for people to buy insect-based foods, said Newman. "But nobody buys things for intellectual reasons."
That said, the needle seems to be moving. "Over the last three years, the conversation is completely different," Steve said. "From 'You're a crazy person; get away from me' to 'I've heard of that. Tell me about it.'"
The Flourish team cites the success of the popular Mexican snack chapulines (chile- and garlic-sautéed grasshoppers), launched last season at the Seattle Mariners baseball stadium. A major Canadian supermarket chain recently started selling its own private-label cricket protein powder.
Newman believes the youth influence will be critical. "As the younger generation comes of age, they'll define their culinary tastes," he said, noting that, 30 years ago, most Americans wouldn't touch sushi. "You get a 10-year-old. They think [eating crickets is] the coolest thing since sliced bread. They're the reason I'm optimistic."
Courtesy of Flourish Farm
Cricket taco at El Cortijo
Steve delivered an inaugural custom-seasoned batch of whole dehydrated crickets to El Cortijo Taqueria y Cantina in Burlington three weeks ago. They were featured in a taco special that sold surprisingly well, said executive chef Tom D'Angelo. "People have come in just to try them."
Restaurants are culinary trendsetters, Steve noted: "They're more willing to experiment."
El Cortijo is also a natural fit because insects, especially grasshoppers (in the same family as crickets), are integral to Mexican culinary traditions, said Luis Vivanco, professor of anthropology at the University of Vermont, who taught and researched in Oaxaca over a period of eight years.
Beyond Mexico, Vivanco said, insects have been an important source of protein for societies all over the world, including Native Americans. But "European culture has always looked at insects [as food] as the last resort," he acknowledged. "We see insects as pests. We see them as dirty."
In contemporary America, Vivanco sees potential for cricket-based foods to become more culturally acceptable if companies market them, as Flourish does, with an "aura of hipster, alternative, virtuous, doing something good for yourself and the world."
Even so, the Flourish team recognizes that whole crickets are probably not going to be the breakout product. "We're not expecting people to eat a pile of crickets instead of a steak," said Steve. "It's more of an ingredient."
Cricket powder has the most potential, he believes. With a relatively neutral flavor and fine texture, it can be blended into protein shakes and used to improve the nutritional value of sauces, stews or baked goods. The Swanson family eats it in pesto, tomato sauce and cookies.
The Flourish team likes to call their product a "superfood" (for which there is no official definition), based on its protein level of 60 to 70 percent. Other nutrient levels vary depending on what crickets are fed, but they are generally a strong source of calcium, iron and vitamin B12. The Swansons envision a not-too-distant day when packaged cereals and kids' snacks such as Goldfish crackers will be fortified with cricket protein.
Further into the future, Steve said, the goal is to open up the entire edible insect world. "We call crickets the gateway bug," he said, "but I'm really bullish on ants. They have formic acid; it's super-citrusy."
Newman is fully on board — until talk turns to cockroaches. "I'm going to draw the line there," he said.
Double Chocolate Chirp Cookies
This recipe from Flourish Farm swaps ½ cup cricket powder for ½ cup white flour, adding about 40 grams of protein to the whole batch. For our Seven Days test, reporter Melissa Pasanen added cocoa powder, substituted brown sugar for half of the white sugar, and upped the vanilla to balance the flavors and mask the darker color of the cricket-powder dough.
Ingredients:
1 ½ cups flour
½ cup cricket powder
1 tablespoon unsweetened cocoa powder
1 teaspoon baking soda
Pinch fine salt
1 cup (2 sticks) butter, at room temperature
½ cup white sugar
½ cup brown sugar
1 egg
2 teaspoons pure vanilla extract
About 2 cups chocolate chips
Preparation:
Preheat oven to 350 degrees. Lightly grease or line cookie sheets with parchment.
In a small bowl, whisk together flour, cricket powder, cocoa powder, baking soda and salt. In the large bowl of a stand mixer or using a handheld electric mixer, cream butter with both sugars until fluffy (about five to seven minutes), stopping to scrape down side of bowl once.
Mix in egg and vanilla extract just until blended. Beat in dry ingredients to form a dough. Stir in chocolate chips.
Drop 12 rounded tablespoons of dough onto each baking sheet. Bake for nine to 12 minutes until firm and darker brown at edges. Allow to sit for a few minutes before moving from the sheet to a cooling rack. Yields about 48 two-inch cookies.