Matthew Thorsen
Ricky and Kelly Klein of Groennfell Meadery
James Marks of Putney is luckier than most new fathers in Vermont. His employer, Bellows Falls-based Chroma Technology, offers paid leave for all new parents.
The high-tech optical coating manufacturer enacted a generous new parental leave policy for all of its 120 Vermont-based employees just weeks after his second daughter, Laura, was born in December of 2015. It covers all employees who are welcoming a new child into the family, including non-biological parents in same-sex marriages and parents adopting a child.
Employees who've been with the company five years or more are eligible for up to 12 weeks of leave — without interrupting their health insurance or other benefits — at 80 percent of their salary. The percentage drops for employees with shorter tenures. Marks, who at the time had been with the company for three years, could receive 60 percent of his salary.
Marks had initially planned to take off just one week to be at home with the new baby, his wife and their then-2-year-old daughter Leila. But after the new policy was implemented, he decided to take advantage of it.
Because Marks is his family's sole breadwinner, it would have been financially difficult for him to take his entire paternity leave all at once. Instead, Chroma let Marks scale back his hours to three days a week and space out his leave over an entire year.
For Marks, having a flexible work schedule enabled him to take his older daughter to playgroups, open gyms and other activities each week, giving his wife, Jennifer, more one-on-one time with their new baby. That would have been impossible, Marks notes, had Jennifer been at home with the newborn and toddler all by herself.
"It's good to have two parents there in the first months of life, which in a lot of ways are the most important, to establish that bond," Marks says.
Abundant research shows that paid family leave that enables both mothers and fathers to take extended time off to be with new family members results in healthier babies and mothers, stronger parenting skills and, ultimately, happier and more productive workers.
But generous family-leave policies like Chroma's are more the exception than the rule in Vermont. Most employers in the state, especially small businesses, say they cannot afford to offer long-term paid leave to their workers, though some provide short-term disability insurance to cover part of their employees' maternity leave.
Companies can choose to pay their employees during their parental leave, but the federal government doesn't provide any financial support. The United States is the only industrialized country in the world that doesn't offer such a benefit.
For Chroma, a 100-percent employee-owned company that does $30 million in global sales annually, providing paid parental leave makes financial sense. More than just a goodwill gesture to its employees, it's seen as a long-term investment in the staff's physical and emotional health and the company's bottom line.
"We feel that when parents are in the workplace and aren't really able to be fully focused, then productivity declines," explains Angela Earle-Gray, Chroma's director of human resources. "So what we're actually 'losing' by providing this benefit is less than what you might expect."
Though the U.S. doesn't offer the benefit at the federal level, some states are taking matters into their own hands. California, New Jersey and Rhode Island have state-administered leave programs in place; New York's is set to take effect in 2018. A coalition of lawmakers and childcare advocates is hoping that Vermont becomes the next state to adopt one. (See "Paid Family Leave Progress in Vermont.")
The Vermont Commission on Women recently surveyed 500 Vermonters and 427 Vermont business owners to gauge their interest in adopting a paid family and medical leave insurance program at the state level. The state agency's findings are revealing. When asked broadly about whether they believed in establishing a program to guarantee access to paid family and medical leave in the state, more than 70 percent of individuals surveyed said it was "very important."
While nearly half of Vermont businesses surveyed expressed support for a family-leave policy, fewer than one in six currently offer paid leave to their employees who become new mothers, and fewer than one in 10 offer paid leave to new fathers. The biggest reason most businesses gave for not offering it, unsurprisingly, was the cost. (See "By the Numbers.")
Such findings are consistent with nationwide trends, the study notes, where access to paid family and medical leave is a rarity. Nationally, only 11 percent of workers qualify for paid family leave through their employer, according to U.S. Department of Labor statistics.
Since 1993, the federal Family and Medical Leave Act has guaranteed job protection to eligible employees who want to take up to 12 unpaid weeks off after the birth or adoption of a child. That law only applies to companies with at least 50 employees. Vermont's law is more stringent — mandating job protection for companies with 10 or more employees. Still, the reality is that most American workers cannot afford to take three months off without drawing a paycheck.
More Vermont parents are in a situation comparable to that of Tara Hodgkins. The 31-year-old Ludlow mother of two is employed by a local tech company, which she declined to identify, with fewer than 25 workers. She was eligible for up to 12 weeks of unpaid time off after the birth of her daughter in February 2016.
However, because Hodgkins is her family's sole breadwinner — her husband has a chronic health condition and can no longer work — she took off just 13 days after her daughter was born last year and only 10 days off after her son was born a few years ago.
Hodgkins recalls the difficulties she faced in "mentally shifting gears" from giving birth to returning to work so quickly. The resulting stress and anxiety, she says, interfered with her ability to breastfeed and bond with her newborn.
"That's pretty hard to do when you're sleep deprived and have more responsibility than you've ever had in your life," she adds. "It was very difficult."
Some small Vermont businesses are forging ahead with their own paid family-leave policies, though it's often very costly for those businesses and challenging to employees who have to pick up the slack when their coworkers are on leave.
Consider the case of Groennfell Meadery in Colchester, which opened three years ago and now has six employees helping to make craft mead, a gluten-free alcoholic beverage. Co-owners Kelly Klein and her husband, Ricky, say that their family-leave policy was factored into their bottom line from the get-go.
"When we started our business, before the very first bubble came through an airlock, we had already written rules for the company [that said], 'Your family comes first,'" Ricky says. "We started this company so that people could support their families. We don't want to be the reason people delay starting a family."
Ricky explains the small but growing meadery's unique approach to family friendliness. Every employee who works there full-time gets two weeks of paid time off annually. Additionally, everyone who works for the company "in any capacity, from bartender to marketing executive," he says, can rewrite his or her job description to allow for working remotely in the event that a parent needs to stay home with a sick child, care for an elderly relative or attend a piano recital.
The company also goes above and beyond what's required by law. As a workplace with just six employees, they're not mandated to keep employees' jobs waiting for them if they go on maternity or paternity leave. But the Kleins say they'll do it anyway. The couple is expecting their first child in June.
Ricky admits that creating a family-friendly workplace isn't cheap. Indeed, before Groennfell began turning a profit last year, the Kleins occasionally had to dig into their own pockets to ensure that all their employees got paid. But Ricky sees their policies as good for the company's bottom line because it creates a happier and more dedicated workforce, thus reducing turnover, which is very costly for small businesses.
"Your child is only 5 one time. We have the rest of our lives to put mead in cans and put it on the shelf," he adds. "If I'm the reason someone misses a first ballet performance, that's something I can never forgive."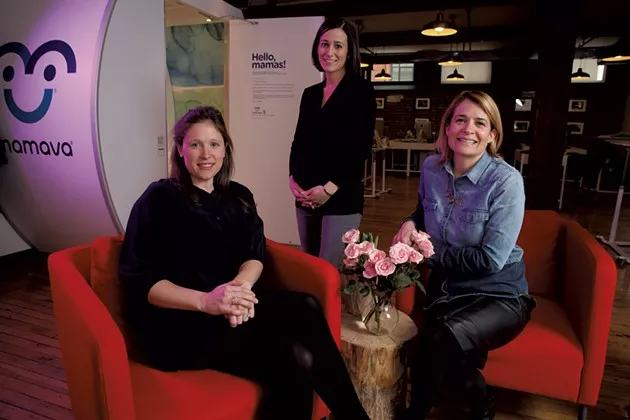 Matthew Thorsen
Mamava cofounder Sascha Mayer (right) with pregnant employees Annie Ode (left) and Nikkie Kent
Few Vermont businesses have as much invested in promoting family-friendly workplaces as Mamava, a Burlington startup that's been at the forefront of transforming cultural norms and expectations around breastfeeding and keeping nursing mothers in the workplace.
Mamava was inspired by the experiences of cofounders Christine Dodson and Sascha Mayer, who as businesswomen were forced to pump breast milk and breastfeed in less-than-desirable locations, including public restrooms, cars, airports and windowed conference rooms without curtains or blinds.
Today, Mamava designs and builds freestanding lactation "pods," or suites, that enable new mothers to nurse or pump in a clean, relaxing and private setting. Currently, more than 155 lactation suites have been deployed, including at 22 airports nationwide as well as in an Army medical facility in Landstuhl, Germany.
Mayer, who hired the company's first paid employee in September 2015, says it was "never a question" that Mamava would offer its staff paid time off when they brought a new baby or child into the family.
"From the very beginning we knew it was a value set to have great family leave, or as good as we could possibly provide," she explains. That means every employee qualifies for 12 weeks of fully paid maternity or paternity leave. That policy will put the company's finances to the test in May, when two of the company's 10 full-time staffers will be out on maternity leave.
"So, this is not a hypothetical situation," Mayer adds. "It's very real."
One of those pregnant employees is Nikkie Kent, Mamava's executive vice president of sales. Kent, who spent 10 years working in the male-dominated tech sector before being hired at Mamava, had her first child at age 31 while working for a medium-size tech company. There, her company's maternity-leave policy was "zero." Kent could use her paid vacation time to stay home with her baby, but she didn't qualify for short-term disability pay.
Why not? As Kent was told, she got pregnant "too quickly," meaning that her insurance plan considered her pregnancy a "preexisting condition," as she hadn't been on the policy for at least 10 months when she conceived.
Mamava, however, encourages mothers and fathers to stay at home with their new babies, largely because it's part and parcel of the company's underlying mission of boosting breastfeeding rates nationally.
Kent cites the statistics showing that nearly eight in 10 new mothers initially try to breastfeed. However, by the time babies are 6 months old, rates of breastfeeding plummet to just 18 percent. As she points out, breastfeeding is not only healthier for the infant, but also helps lower the mother's chances of developing type 2 diabetes, high blood pressure, heart disease and ovarian cancer.
Moreover, Kent says that Mamava's family-leave policy makes her feel "extremely supported" because she isn't forced to choose between advancing her career and having a family.
"This policy is really saying, We care and we value you as an employee. We're going to talk the talk and walk the walk," she adds. "This is good for society, just like breastfeeding is good for society."
Mayer won't say what it costs Mamava to offer full paid leave but admits it will be a bit of a "strain." Nevertheless, from a business standpoint, she insists it's good for the company's bottom line in the long run because it helps retain employees like Kent.
"We're competing with the Johnson & Johnsons of the world, with Google, with Netflix, who all have excellent parental leave policies," Mayer explains. "So for as much of a stressor as it might be in our particular company, I'm so excited to co-opt [our employees'] motherhood to tell their story — and have free mom models!"
Predictably, Mayer is in favor of legislation to create a family and medical leave insurance program in Vermont, which she sees as a major boon for small companies like hers as well as for lower-income earners.
The Vermont Commission on Women's study on paid family leave bears out that assertion. According to its analysis, with a statewide leave insurance program in place, leaves taken by workers at smaller Vermont businesses — that is, those with fewer than 50 employees — would increase by 24 percent, compared with an increase of 15 percent for workers at larger businesses.
Perhaps the most dramatic benefit would be reaped by lower-income workers, especially Vermonters with incomes at or near the poverty line. According to the study, the number of paid leaves taken by low-income workers — those earning $30,000 or less annually — would jump by 20 percent, compared with a 9 percent increase for workers earning $75,000 or more. Vermonters at or near the poverty line — those earning $11,800 annually for a single person or $24,300 for a family of four — would likely reap the biggest benefit, with paid leaves projected to rise by 38 percent.
One small business owner enthusiastic about the paid family and medical leave bill is Jaquelyn Rieke, founder and owner of Nutty Steph's of Middlesex, maker of Vermont granola and chocolate confections.
Rieke, who launched her business 14 years ago, has 12 full-time employees on staff. She currently offers them six weeks of paid maternity or paternity leave at 30 to 70 percent of the employees' pay, depending upon how long they've been with the company. Three employees have taken family leave so far.
Rieke admits it's not easy to be that generous, in part because she can't afford to hire a short-term replacement.
"It's hard and stressful. I tend to take that [work] on personally," she says. "But it's so worth it. Maybe it's just a feel-good thing but, for me, it makes our team feel whole. We're really interested in what people's mental health is and how it's relating to their life outside of the job."
And if Vermont ultimately adopts a paid family-leave plan?
"That would be phenomenal," she says. "All of my employees would have better leave than they already do and it would cost me vastly less."
Paid Family Leave Progress in Vermont
State lawmakers from across the political spectrum are looking to find a way to offer paid family and medical leave for all Vermonters. In February, a tripartisan bill was introduced in the House and Senate that would create a statewide family and medical leave insurance fund for working Vermonters. The bill would impose a statewide 0.93 percent payroll tax to cover up to 12 weeks of fully paid leave annually for workers who have a baby, adopt a child or temporarily leave work to care for a sick relative. The employee would need to have worked for their employer for at least six of the previous 12 months in order to qualify for this benefit.
For a worker earning $18 an hour, that payroll tax would translate to a cost of $348 a year, divided equally between the employer and employee, according to Rep. Matthew Trieber (D-Bellows Falls), a sponsor of the bill. For a salaried worker earning $100,000, the employer and employee would each pay about $500 annually into a statewide insurance fund. According to the Vermont Commission on Women report, a paid family and medical leave program could result in $2.6 million to $4 million in annual savings to Vermonters in childcare expenses, health care costs for newborns and reduced public assistance.
Currently, the bill has more than 40 cosponsors, including much of the House and Senate leadership and at least five committee chairs. The bill is also endorsed by the Main Street Alliance of Vermont, a coalition of more than 120 small business owners. Still, the legislation faces considerable hurdles, including opposition from Governor Phil Scott, who has already indicated his unwillingness to sign any bill that imposes new taxes or fees on small businesses.
By The Numbers
In the fall of 2016, the Vermont Commission on Women, an independent, non-partisan entity dedicated to advancing rights and opportunities for women in the state, surveyed 427 Vermont business owners to gauge their interest in a statewide paid family and medical leave insurance program. Here are some of their findings:
89% offered some type of paid short-term leave.*
47% expressed support for family-leave plans.
16% offer paid maternity leave.
9% offer paid paternity leave.
* Such as general paid time off (PTO), paid sick days, paid vacation and temporary disability insurance.