The Malikians preparing to participate in the climate strike
On March 6, Kids VT and Seven Days wrapped up our second Good Citizen Challenge, produced with support from the Vermont Community Foundation. Nearly 850 young Vermonters from 78 towns signed up to participate in this interactive civics project! They passed quizzes and completed activities in five subject areas: History, Government, News Literacy, Advocacy and Community Engagement. We tracked their progress using a web platform designed by Burlington-based GameTheory, with support from Dan and Jenna Sonneborn and the Evslin Family Foundation.

To complete the Challenge, they needed to earn at least 251 points, which is equal to the number of towns in Vermont.
We're excited to announce that 215 players finished the Challenge, almost three times as many who finished the first Challenge in 2018. We were looking forward to bringing these young leaders to the Statehouse and presenting them with their prizes — until the pandemic hit and foiled our plans. We're working on making it up to them. Thank you to all of the adult team leaders who made this Challenge possible! You are Good Citizens, for sure.
---
New Challenge
We invite all of you to sign up for our new
Good Citizen Coronavirus Challenge!
We'll post a Good Citizen activity each week that focuses on history, community engagement and news literacy — all of which will help us get through this difficult time. No registration, no points to keep track of. We'll make it easy to send in your work through our website. All who submit activities will be entered into a weekly prize drawing. We'll share the best work with our audience. Anyone 18 and under can participate — you don't have to live in Vermont. Find more details and sign up for email alerts at
goodcitizenvt.com.
---
Shout Outs
The top five point-getters ­— these students completed the most activities:
Lillian Duffy, Bakersfield Bobcats, 570
Jette Gallant, Stockbridge Citizens, 530
Maggie Knox, Stockbridge Citizens, 520
Ana Campos, Stockbridge Citizens, 470
Taylor Smith, Reading Homeschoolers, 460
The five top-scoring teams:
Williamstown Middle High School 6 and 7, 6490
Stockbridge Citizens, 5650
Pierce Peeps (Montpelier), 5640
Guilford 5th Grade, 5390
4K Class (Weathersfield), 4740
---

The 2019-20 Challenge Finishers
(listed by team name)
debscape
Vaughn Richardson
Thomas Stimac
Sam Hawley
Michael Vitta
Julian Leendertse
Haley McGrath
Fiona Murphy
Ada Clar
WinooskiEagles
Wilmot 4th
Will Tindall
Tyler Grace
Taylor Tomberg
Olivia Westney
Lucian Gray
Levi Martin
Kash Holmes
Julius Gilbert
Jakobi Davidson
Jake Smith
Henry Remick
Cameron Magliola
Callie Breit
Autum Reed
Aiyonna Gay
Adrianna Reid
Olivia Follett
WMHS 6 and 7 Blue Devils
Clara Launderville
Rachael Wilson
Riley Laggner
Brenna Lee
Alyssa Briggs
Amelia Mills-Brown
Vermont Coppers
UES Cruikshank
The Stones
The Penguins
The Malikians
Xavier Csizmesia
Oliver Nichols
Mohamed Abdirahman
Max Robson
Mara Schulman
Lydia Allen
Lila Mickenberg
Kylee Kraus
John Minor
Hamoody Kowa
Geneva Walker
Emma-Rose Holas
Calvin Millham-Berry
Brooke Wright
Aden Ali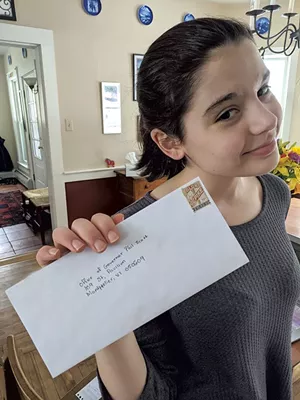 Evelyn Fleming holding up her letter to Gov. Phil Scott
The Flemingos
Moses Andrews
Hazel Fleming
Evelyn Fleming
Seamus Fleming
The Chipper Chipmunks
Luke Goodfellow
Max Goodfellow
Team Quest
Team Flapp
Sunset Hill Kids
Stockbridge Citizens
Shannon Colton
River Thayer
Rylee Peck
Rachel Ketchum
Mason Ponte
Maggie Knox
Lily-Ann Nolet
Janelly Rodriguez
Jacob Kopyscinski
Jette Gallant
Gwen Rostran
Gracie Lambert
Emma Austin
Aleah Carroll
Ana Campos
St. Albans Homeschool
Elijah Duhamel
Cicely Duhamel
Salway's Squad
Zach Taylor
Marissa Kingsley
Molly Kehoe
Luke Rizio
Cody Magnet
Abby Pratt
Salway 8-1
Sara Stone
Noah Dornberg
Martha Pereria
SMB Jericho
Ripton 5th and 6th grade
Phoebe Edmonds-Beattie
Matthew McIntosh
Mary Harrington
Jack Hoyler
Reading Homeschoolers
Pierce Peeps
Winter Holloway
Tatum Kirtlink
Somerset Pierce
Satori Hamilton-Cohn
Sabin Kitchen
Nikhil Boora
Michiko Padgett
Lucy Copans
Lily Darcy
Lakshita Sivaganesh
Juniper Keeton
Isabella Seaton
Hazel Zachai
Haris Brkic
Elena Guadagno
Django Matchstick
Cooper McDermott
Chase Burkart
Phoenixes
Oszurek Team
Sophia Oszurek
Ethan Oszurek
Mrs. Randall's Class
Noah Stone
Luke Elsinger
Levi Desautels
MillBrook Explorers
Manalo
Krueger Kids
Sebastian Krueger
Charlotte Krueger
Abraham Krueger
Honoring Claudette Colvin
Guilford 5th grade
Sam Mathes
Sadie Cheslawski
Natalie Knutson
Macie Tkaczyk
Lizzy LaClair
Lexi Downing
Leah Filgate
Kayleigh Whelan
Isaiah Giroux
Isaiah Allen
Harley Johnston
Hailey Bristol
Eli Welch
Dakota VonFeldt
Charlie O'Connell
Camden Shepard
Avin Williams
Alex Johnson
Girl Scout Troop 52005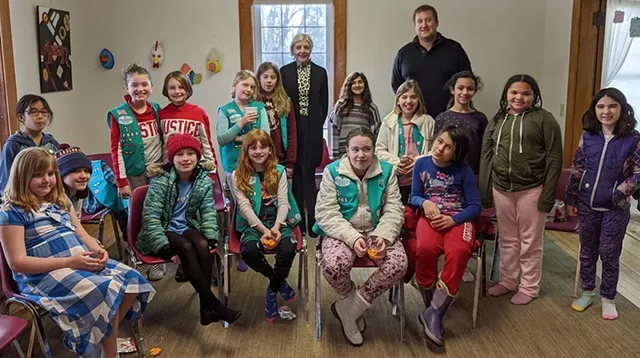 Girl Scout Troop 52005 interviewing South Burlington City Councilor Tom Chittenden and Rep. Ann Pugh
Tegan Bushey
Stella Esckilsen
Mae Dery
Lucy Esckilsen
Kylie Orth
Jessica Ziomek
Fiona Agnew
Emijoi Kukatla
Aven Jorgenson
Friends 4-Ever
Lila Bushey
Emma Cote
Chapin Grubbs
Avery Siket
Franklin Fact Finders
Cosimo Franklin
Wisteria Franklin
Fourth Grade Millers
Phoebe Bakeman
Lachlan Pierce
Khalil Armstrong
Ethan Bishop recruiting volunteers for the town of Clarendon
Ethan05759
Error 404 this group does not exist
Brook Beloin
Gabriel Beloin
Epic Kids
DeMOcracy
Climate Comrades
Calais Cougar Leadership Team
Victor Bergeron
Cartaya Dodge
Sophia Giammusso
Sylvia Emmons
Monty Yaehrling
Lyric Luce
Isabel Parrish
Emma Pulsifer
Ellie Reed
Colby Tuller
Bri Tetreault
Ben Fischer
Abby Dodge
Bakersfield Bobcats
Simone Clark
Rose Bessey
Montannah Ovit
Marianna Recica-Sullivan
Lizzie Barnier
Lilian Duffy
Finn Shookenhuff
Dehlia Habedank
Ciara Streeter
Bella Schultz-Mitchell
Ayden Mayo
Anya Paquette
BFA Fairfax 6th grade
Leigh Brown
Keller Greene
Kai Von Sitas
Emma Foster
Elliot Scannell
ABCREATE
Rene Simakaski
August Simakaski
Trillian Hyde
4K Class
Zeven LeBlanc
Shawn Harriman
Phillip Rousse
Olivia Roberts
Nyna Lewallen
Nathan Nissenbaum
Lucas Gaudette
Lilly Sanville
Lillian Stavrou
Isaac McNaughton
Dante Doleszny
Collin Watkins
Aurora Hensel-Whalen
Amaris Seville
Aiva Reed
Ada McNaughton