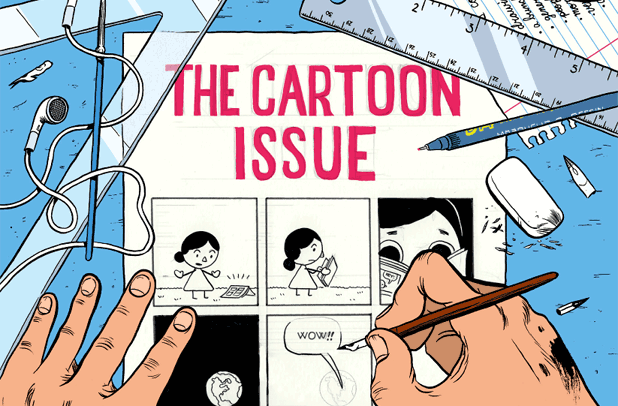 Way last January we started thinking about doing an all-cartoon issue. How cool that would be, we imagined — having artists not just illustrate but tell our stories, one panel at a time. I contacted James Sturm, cofounder of the Center for Cartoon Studies in White River Junction, and he put out a call to artists on the school's bulletin board. The response was immediate and enthusiastic. Students and recent graduates were eager for the opportunity to participate. A few even had previous experience with comics journalism.
So a handful of us writers at Seven Days formed a cartoon-issue committee to brainstorm. We determined the issue date, July 3, thinking that the Fourth of July holiday typically makes for a slow news week — one in which readers might prefer shooting off fireworks to, well, reading.
And then … we were kind of stumped. We wondered, what kinds of stories lend themselves to being "cartoonized"? How would each writer actually work with a cartoonist? Perhaps most challenging was trying to plan that far in advance. This is a newspaper; we're used to last-minute assignments primarily based on current events. Give us a short leash, an imminent deadline, and we'll turn it around. Ask writers to come up with stories for seven months hence and … crickets.
I mentioned this dilemma to the cartoonists, who had begun to inquire what was happening. We've only settled on a couple of features, I told them. We're not sure what stories will make good cartoons. That's when more than one of them assured me that pretty much anything can be a cartoon. A couple of them proposed their own story ideas (the Mean Mountain Boys roller-derby team from Eleri Mai Harris, and the "chicken-farmer rock" mystery for WTF from Carl Antonowicz).
Emboldened — and being a little closer to a real deadline — we finally pulled the issue together. We writers came to grips with creating very streamlined scripts, then putting them in the hands of total strangers. In this issue you'll also find cartoonized versions of everything from Paul Heintz's political column, Fair Game, to news stories, features and even a CD review.
We still don't quite accept that a picture is worth a thousand words (or why bother writing?), but we have been delighted to work with this very talented batch of cartoonists, and we're happy with the final results. In this holiday week, we give you more pictures, fewer words.
And, hey, we just might do it again next year! Meanwhile, hope you enjoy this issue — and this introduction to the cartoonists.
---
Donna Almendrala received her MFA in 2012 from the Center for Cartoon Studies. She now lives in Oakland, Calif., and works for Charles M. Schulz Creative Associates. She spends her free time making comics and board games. donnaalmendrala.name
» Album review: Ryan Power, Identity Picks
---
Carl Antonowicz is an alumnus of the Center for Cartoon Studies. He lives in White River Junction, Vt., and blogs at thulsadude.tumblr.com.
» What's the story behind the "chicken farmer" rock?
---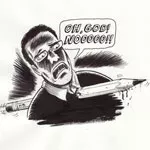 Harry Bliss is a cartoonist and cover artist for the New Yorker magazine as well as a Seven Days contributor. His cartoon Bliss, syndicated nationally by Tribune Media, runs every week in Seven Days. harrybliss.com
---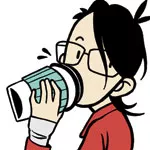 Rachel Dukes is a recent MFA graduate from the Center for Cartoon Studies. She currently lives in Los Angeles, where she self-publishes comics and comic anthologies. mixtapecomics.com
---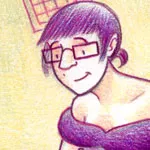 Melanie Gillman is a cartoonist and alumna of the Center for Cartoon Studies. She's currently working on a graphic novel about a group of LGBT teens who meet in a Christian youth camp. melaniegillman.com
» Harpist Rebecca Kauffman's Musical Journey
---
Sophie Goldstein is a cartoonist and illustrator currently residing in White River Junction, Vt. She enjoys reading above and beyond all other activities. redinkradio.com
» Book Review: The Light in the Ruins
---
Jai Granofsky is a cartoonist living in Montréal with his girlfriend and baby son, Lev. Currently he's working on a graphic novel about his experience preparing for fatherhood. It's called Waiting for Baby. jaicartoons.blogspot.com
» Heloise Williams Finds a Diamond in the Dust
---
Eleri Mai Harris hails from Hobart, Tasmania. She is a journalist and cartoonist currently studying for an MFA at the Center for Cartoon Studies. elerimai.com
» Derby Dudes: Mean Mountain Men Roller Derby
---
Allie Kleber grew up in a New England town known for the creation of pizza-eating mutant turtles, which might explain a lot. She graduated from the Center for Cartoon Studies in May 2013 and can often be found holed up in local cafés with her nose in her sketchbook. alliekleber.com
---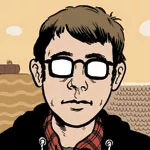 Dakota McFadzean lives in Montréal and draws comics every day. His first book, Other Stories and the Horse You Rode In On, will be published by Conundrum Press in October 2013. dakotamcfadzean.com
» Theater Review: God of Carnage
---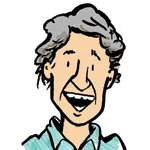 Tim Newcomb has published work in magazines and newspapers around the country, as well as in numerous books, corporate publications and on video, CD and DVD covers. His editorial cartoons, which won a first-place award from the New England Press Association, appear weekly in Seven Days and the Barre-Montpelier Times Argus. newcombstudios.com
---
Jen Sorensen has published comics in the Progressive, Ms. Magazine, Daily Kos, NPR.org, Politico, AlterNet, LA Times and numerous alternative newspapers nationwide, including Seven Days. She is the winner of a 2012 AAN Award and the 2013 National Cartoonists Society Award for editorial cartoons. jensorensen.com
» Danilo Lopez, Migrant on a Mission
---
Bryan Stone is a freelance illustrator and cartoonist and a graduate of the Center for Cartoon Studies. He lives in Hartland, Vt., with his partner, Lisa, and their wee babe, Sadie. bryan-stone.com
» The Thetford Dump Social Scene
---
Andy Warner earned his MFA from the Center for Cartoon Studies in 2012 and has drawn comics for Slate, Symbolia, American Public Media and Popular Science. He comes from the sea. andysaurus.com
» Calvin Coolidge: The Only U.S. President Born on the Fourth of July
---
Bill Volk graduated from the Center for Cartoon Studies in 2010. He lives in his native Pittsburgh, where he makes signs and self-publishes comics. billvolk.com
» Sludge Happens: Are Vermonters OK Spreading Theirs Around?