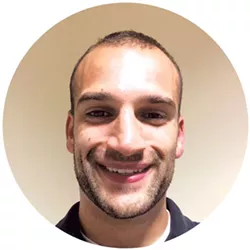 ...in which we follow first-time home buyers on the search for their dream homes.
If you've been through the process, you know there's a learning curve, complete with near misses, drama and mystifying paperwork along the way. If you're starting to think about getting out of that rental and buying your own home, our House Hunters just might have some eye-opening tips for you. Think of it as a reality show, but in print.
Our first House Hunter is...
James Q. of Burlington!
He's single, 28 years old and a health care IT consultant. James is hunting for a duplex — ideally, he says, in Burlington, South Burlington or Winooski.
Why a duplex? "I'm looking for an investment property to offset the cost of my mortgage," he says. "Maybe I'll acquire more properties over the years."
We like a man who plans ahead. Helping him do so is real estate agent Julie Gaboriault of Coldwell Banker Hickok & Boardman Realty. We'll keep you posted on James' progress in our biweekly e-newsletter, Nest Notes.
(And if you haven't signed up for Nest Notes yet, you can do so here. It will arrive in your inbox every other Friday with tips on home, design and real estate.)
When James has found his home, we'll be giving him a housewarming present: three hours of complimentary organization or interior design services from Jana Muratori-Asaro of Interior Rejuvenation in Burlington.
Would you like to be the next Nest House Hunter?
If you're a prospective home buyer, let us share your progress, learn from your experience and, ultimately, help you celebrate with a gift to "warm" that new house. All you'll have to do is keep a few notes, check in with us once a week and send photos!
Who's in? Contact us at nest@sevendaysvt.com.