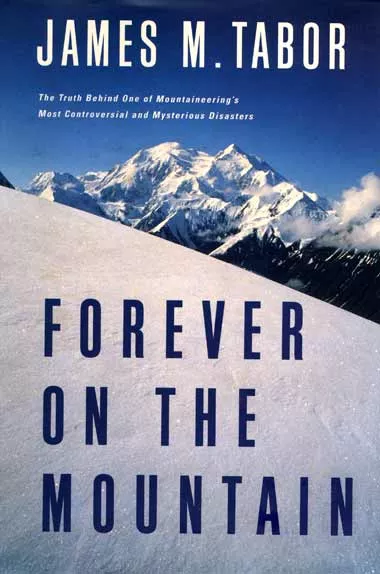 Forty years ago, 12 men registered as the Wilcox Expedition climbed toward the summit of Alaska's Mount McKinley, the highest peak in North America at 20,320 feet. Only five of them came down alive. What happened in between is the chilling subject of Forever on the Mountain: The Truth Behind One of Mountaineering's Most Controversial and Mysterious Disasters, by Waitsfield author James M. Tabor.
Also known as Denali, or "The Great One," McKinley is one of the wildest places on the planet for climbers. As Tabor points out in the first chapter of Forever on the Mountain, the mountain has a circumference of 60 miles and the world's highest base-to-summit elevation: Everest may be taller, but rises only 12,000 feet from its base. McKinley's summit towers 18,000 feet from the Alaskan tundra. A photo in the book shows McKinley in comparison with surrounding mountains: Peaks the size of Vermont's Mount Mansfield and Camel's Hump are tiny foothills viewed against the Great One's girth and height.
McKinley, whose latitude makes it a far harsher place than Everest, brews up its own storms that wallop summer days with temperatures of minus-40 and winds of 150 miles per hour. Snowfall disguises deadly crevasses, while high altitudes cause hallucinations, blindness and convulsions. "You could think of McKinley as a battlefield," writes Tabor, "rich with threat from every conceivable direction, as military battlefields are."
All this makes McKinley a captivating place for climbers. "An opportunity to enter the realm of myth and icon is one reason why climbers climb," explains Tabor - who attempted to climb McKinley himself in 1981, but turned back at 14,000 feet.
As a journalist, Tabor has covered an outdoor beat, writing for Outside and Ski magazines and hosting the PBS series "The Great Outdoors." In 2004 he stumbled upon The Hall of the Mountain King, an account by survivor Howard Snyder of the 1967 expedition in which seven climbers died. Tabor followed that read with fellow survivor Joe Wilcox's book about the tragedy, White Winds. But he was still stumped by lingering questions. What really happened up on the mountain? Why were the mountaineers not rescued? And why were the deaths of seven men not thoroughly investigated by officials?
The answers are as complicated and captivating as McKinley itself. As Jon Krakauer showed in his 1998 bestseller Into Thin Air: A Personal Account of the Mount Everest Disaster, reading about botched expeditions offers a certain mix of sympathy and schadenfreude to mountaineers and armchair alpinists alike. And because, like Krakauer, Tabor is a climber, he can probe the 1967 McKinley accident as a true authority.
Unlike Krakauer, however, who was on Everest when eight people died, Tabor wasn't there to witness what happened in 1967. (Now 59, he was 19 at the time.) So to research Forever on the Mountain, he pored over government records and interviewed survivors. Because "a most unusual storm," as Tabor titles one of his chapters, was partly to blame for the deaths, he also studied forensic meteorology.
Weather quickly becomes a major character in the narrative, and Tabor describes its brutality in riveting detail. July is typically the best window of time in which to climb Mount McKinley. But that July, a nearly two-week storm pummeled the peak during the Wilcox Expedition's attempt to get up - and then off - the mountain. Tabor describes the wind that howls with hurricane force: "A couple of them [the climbers] are surfers, and this feels as though they are being smashed by a huge wave. During especially violent gusts, they drop to their hands and knees and claw their way along, depending on their ice axes to keep them stuck to the mountain."
In writing Forever on the Mountain, Tabor became not just a meteorologist but an anthropologist. He studied artifacts from a unique climbers' civilization and spliced them into his own experiences to surmise what it must have been like for the 12 men on McKinley when their personalities clashed. Weather wasn't their only enemy. The Wilcox expedition was actually two separate groups who had to merge for logistical, permit-related reasons, and tensions among the men were already high when they began climbing. Tabor explains how such irritation can mount on an expedition, "when you are tied - literally, to the very climbers who may be driving you to homicidal rage with their offensive jokes, vile farts, overbearing personalities, snoring, filthy habits, snotty beards - to name only a fraction of the ways that climbers grate on one another's nerves."
There were no actual homicides on McKinley in July 1967. But to readers of Forever on the Mountain, the slowness of responders and rescuers - who were tangled in red tape - may seem criminal. Tabor carefully examines the culpability of the National Park Service, the National Forest Service, the American Alpine Club and the Alaska Rescue Group in the disaster, as well as that of the climbers themselves. He shows how miscommunications can cause major, deadly mistakes - for mountaineers, the book is a reminder of how human error can add to technological hassles to create tragic confusion.
Tabor's writing is strongest when he describes life on McKinley for the members of the doomed expedition. Instead of questioning the mountaineers' motives and the sanity of people who want to climb a 20,320-foot peak, he reveals the allure of ascents, including both bittersweet and lighthearted moments that add color to the stark, white face of the mountain. He shows how the climbers labored over a latrine made from snow: "One of the expedition's more memorable photographs shows Walt's 'throne' - 6-foot-high walls, crenellated battlements, climbing-wand 'banners' flying from the turrets - and Dennis Luchterhand, happily ensconced on the Blazo-slat seat, peering back over his shoulder with a magnificent grin."
In Tabor's mind, the most striking photograph he uncovered in his research is one of the group at 8100 feet, two weeks before everything went seriously downhill. "Sometimes, if you look long enough at a photograph, something happens that's not unlike the eerie feeling you get (I do, anyway) after staring a long while at your own eyes in a mirror," he writes. "So I pored over photos of the seven dead and five living men for hours, looking for . . . what? Some premonitory clue, perhaps? Some eerie light showing through the 'windows on the soul' that a camera might capture but would escape the naked eye? Well, yes, but equally I sought other, more tangible details."
Tabor does not find his answers in the eyes of the climbers. Rather, it's through his own eyes, as a climber himself, that he illuminates the mystery of the terrible things that transpired in July 1967 on McKinley.