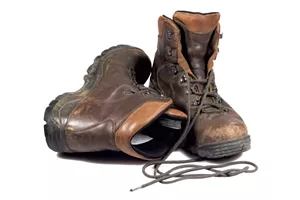 Ever since my daughter, Abby, was a toddler, I've noticed how happy and carefree she is in the woods. I'd always thought about doing a long-distance hike with her. In the summer of 2014, when Abby was 12, I finally asked her if she'd like to hike the Long Trail with me.
She responded with typical preteen nonchalance: "Cool. When do we do it?"
I knew I had to act fast or my budding teenager might decide she didn't want to spend that much time with her mom in the middle of the woods.
Although our family had camped and hiked regularly over the years, backpacking was relatively new to me. In the months leading up to the hike, I watched online videos of Long Trail thru-hiker panel discussions and took pages of notes. I spent hours combing through blogs and asked veteran hikers for their advice.
Abby had excellent stamina on shorter hikes we'd done as a family, so I set an ambitious goal of completing the 273-mile trail in 24 days, with no days off. I refined our itinerary using the Green Mountain Club's Long Trail map and guidebook, which gave estimated hiking times between shelters.
Abby took a more hands-off approach to the planning. She couldn't have cared less about the gear or the map, had only a passing interest in the food prep and had no tolerance for talking about any of it. Thinking that her disengagement might have been her way of signaling that she wasn't into the hike, I told her several times that we didn't have to go. But she always said she still wanted to do it and, a few times, even suggested we cover more miles per day than I'd planned.
So I bought and borrowed gear, created a menu and made snacks that I portioned into boxes to be delivered to us at crossroads. A friend and Long Trail veteran advised me that we should save our energy for the real thing, so Abby and I completed just one eight-mile practice hike before the trip.
At home, in full-on teen mode, Abby often gives our family nothing — no "hello," no "thanks," just that look. One touch from us can have the effect of water on the Wicked Witch of the West.
But on that practice hike, we seemed to step into a parallel universe. We talked about books, friends, politics, her perceptions of me and my perceptions of her. We laughed and teased each other, took selfies, rested, pushed on and were quiet.
The intimacy of it amazed me — I felt connected to my 13-year-old daughter in a way I hadn't in a long time. It made me excited for the big hike.
On June 27, 2015, carrying 35- and 45-pound packs, respectively, Abby and I started off from North Adams, Mass., on a spur trail that lead to the start of the Long Trail. Over the next few weeks we would experience pouring rain, endless mud and blisters upon blisters.
I learned early on that talking about substantive things like books and politics could pull Abby through the tough times better than motivational cheer. And that sometimes keeping my mouth shut was better than offering advice. Abby's small, kind gestures — like handing me my poles when I struggled to my feet after a rest — warmed my heart.
There were exhilarating highs, such as climbing up and over Mt. Mansfield in dense fog and 40-degree temps with gusting winds. And there was a rock-bottom low: On rainy Day 23, flies buzzed relentlessly around our heads while we tripped along what had turned into the Long Stream.
We had been averaging about 11 miles per day, but the physical and mental demands of that rain-soaked stretch stopped us just a little more than 6 miles in. Abby felt sick and was in tears. I reassured her that we had an extra day's worth of food in our packs and could just spend another night in the woods.
The next morning, we got started just after 7 a.m. Abby's spirits were much higher. Two miles in, she told me she had decided that we would finish the hike that day, even though it meant covering more miles than we ever had. I was skeptical but energized. If she was game, so was I. Fueled by adrenaline, we pushed over multiple summits and 18.6 miles of trail. We made it out on Day 24, as originally planned, hiking the last mile in North Troy, near the Canadian border, with headlamps.
Shockingly, the bond we had formed over the past three and a half weeks seemed to break in that last mile. There was no celebratory embrace, cheers or tears between us; Abby just wanted to be done. We met our welcoming party and headed home. We eased back into our roles and routines. That last month of summer, Abby shunned her brother's and my company in favor of reconnecting with her social circle. When family and friends offered her praise for completing the trail, Abby's quiet response was always just: "All I did was walk."
It took about three weeks before Abby mentioned anything about our trip to me. Over dinner one night, she repeated a funny phrase from a dreadlocked thru-hiker we'd met named Miles: "I like the way y'all say your thoughts."
The mention of it made us both laugh. Only Abby and I knew the story behind those words, and only Abby and I ever would.
As my daughter navigates her teen years, I'm certain we'll drift apart and come back together again. We'll have to climb many more mountains. But now I have faith: There's nothing two accomplished thru-hikers like us can't handle.