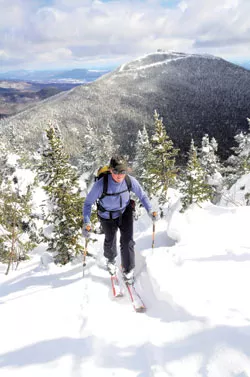 Rochester is surrounded on both sides by the sloping Green Mountains, but the central Vermont town doesn't look much like a ski area. It lacks overflow parking lots, overpriced cups of chili and a mountain range of condos. Another thing that's missing: chairlifts.
None of that has stopped a small group of outdoor enthusiasts from envisioning the town as a ski destination. "Most people interpret a 'ski area' as having lift access," says Angus McCusker, a representative for the Rochester Area Sports Trail Alliance, aka RASTA. "We're thinking more of glades and tree skiing."
Glades are sections of forest — both in and outside resorts — that have been thinned to improve access for backcountry skiers and snowboarders. By hiking to such spots, a growing number of skiers and snowboarders are avoiding lift lines. The number of resort skiers dropped 30 percent in the 2012-13 season in comparison to the year before, according to a report by the trade association SnowSports Industries America. Bad weather and economics may have had something to do with that. But during the same time period, participation in non-resort backcountry skiing jumped from 430,000 to 577,000 people.
There's no shortage of backcountry zeal in the Green Mountains. When RASTA and the Catamount Trail Association hosted two separate panel discussions on backcountry skiing in November, almost 200 people attended each event.
Tourism and forest officials are willing to work with skiers and riders to explore the idea of creating backcountry areas on state and national forestland, so long as the group assembles under one umbrella organization, according to Megan Smith, Vermont's tourism commissioner. Among the off-piste hobbies popular in Vermont, backcountry skiing is unique in that it doesn't have such a body — while mountain bikers, equestrians, snowmobilers and ATVers all do.
"We're extremely interested in treating backcountry skiing the same as we do mountain biking," says Smith.
Encouraging guide services to set up in small towns would lead to low-impact economic development opportunities for enterprises such as inns and restaurants, Smith points out. Just as the popular Kingdom Trails mountain biking system has brought a jolt of tourism to the town of East Burke, the commissioner suggests that skiing could energize a town like Rochester, which was hit hard by Tropical Storm Irene.
The second advantage of responsibly expanding backcountry access is that it would lead to more sustainable glade cutting, state officials say. While skiing on public land is legal, cutting glades through that land without permission is not. In 2007, two skiers made headlines after illegally clearing 873 trees for a chute on Big Jay mountain, which occupies state forest and borders Jay Peak resort.
"I've seen, as a skier in the backcountry, people doing some stuff they're not supposed to be doing, cutting trails without authority and not always with the best practices," says Michael Snyder, commissioner of the Vermont Department of Forest, Parks and Recreation. "Could we open some state forest? Are there key places where we could develop backcountry skiing in a more organized fashion?"
The state already manages some glades through a public-private partnership. Two years ago, a private landowner made an offer to buy a 1,161-acre network of glades and nordic ski trails at Bolton Valley ski resort, closing the backcountry trails to public use. But after a $1.85 million fundraiser, the Vermont Land Trust was able to purchase the land and donate it to the state. Snyder's department has now incorporated that land into Mt. Mansfield State Forest and is working to maintain its skiable terrain with a group called the Friends of Bolton Valley Nordic and Backcountry.
Still, glade creation remains less-charted territory. "We don't know all of the ins and outs of … what people are looking for, what exactly is needed. We don't have experience with that," says Diana Frederick, a state stewardship forester in Washington and Lamoille counties.
But having worked with groups like the Catamount Trail Association, the Green Mountain Club and the Vermont Mountain Bike Association, Frederick cautions that the approval process can be long and dizzying, as it involves a litany of environmental factors: erosion prevention, timber conservation and preservation of threatened species like the Bicknell's thrush.
The CTA has some experience in the bureaucratic — and literal — weeds of trail management, having maintained the 300-mile multiuse Catamount Trail for 30 years. Since hosting one of those ski forums in November, its representatives have been discussing land-use strategies with members of the state and national forest services, reports Amy Kelsey, the group's executive director. But there may soon be another organization that could play an umbrella role for the state's backcountry skiers. Next month, a group called the Vermont Backcountry Skiers' Alliance plans to launch. Its role, says photographer Brian Mohr, will not just be to better facilitate backcountry access, but also to work with officials, conservationists and search-and-rescue groups to educate the public about safely and sustainably entering the woods.
"I hate to keep using the word 'facilitating,' but that's a lot of what we're going to be doing," Mohr says. That means "if you've been looking up that hill behind the post office and wanting to ski it, we could connect with the town selectboard to make a parking lot, get some kids together to do some volunteer shoveling and you can hike up there, sparing yourself a 30-minute drive to the resort and $70 lift ticket."
Members of RASTA are already taking steps to legitimize access to their own favorite ski spots in the Green Mountain National Forest near Rochester. For the last couple of months, the group has been working with members of the U.S. Forest Service to draft a proposal for a pilot glade in the Chittenden Brook-Brandon Gap area. Under the proposed arrangement, members of RASTA would voluntarily ensure no unapproved cutting takes place.
To find precedent for the partnership, Rochester district forest ranger Chris Mattrick has contacted several other U.S. Forest Service ranger units around the country. Turns out it's unprecedented, "which is somewhat of a challenge," Mattrick says. "We're guided by policy, law, regulation, standards set forth in our forest plan that guides our land management. But at this point it's all mute on the subject."
Beyond the environmental considerations, Mattrick explains that creating signs should also be done carefully, since marking an area as skiable could create liability. But Neil Van Dyke, team leader of the nonprofit Stowe Mountain Rescue service and the state's new search-and-rescue coordinator, isn't worried. He says the vast majority of rescue missions aren't in response to those who strap climbing skins on their skis and "earn their turns."
"Historically, the skiing population that has generated the most search-and-rescue missions, by far, is lift-served," Van Dyke says.
A spike in the number of lost or injured skiers at Killington Ski Resort over the holiday season prompted state Sen. Kevin Mullin (R-Rutland) to propose a bill last year that would have slapped a $500 fine on skiers who went off trail and needed to be rescued. But the Vermont Senate shot it down after hearing testimony from law-enforcement officials and backcountry advocates, including David Goodman, the Vermont-based author of several backcountry ski guides, that fines might make people wait too long before seeking help.
An organization like the Vermont Backcountry Skiers' Alliance would help, Goodman says, because "We need to be able to speak with one voice and be at the table when decisions are being made that affect us. These decisions have to do with issues around rescue, around trail cutting, but I think the biggest thing is access."
Adam Howard, editor-in-chief of Jeffersonville-based Backcountry magazine and a former state lawmaker, has been advocating for several years that Vermont's backcountry skiers organize. He also testified against Mullen's bill. And he has another recommendation: that local ski groups take a cue from RASTA and reveal a few of their secret "stashes."
"This whole 'Powder is a finite resource, we want to get there first' thing?" Howard says. "To me, the solution is, the more terrain that's legitimate and that's available, the more the problem is mitigated."