Courtesy of VINS
A screech owl at VINS
Although the Vermont Institute of Natural Science — known more commonly as VINS — is located just off busy Route 4 in Quechee, its peaceful atmosphere is palpable as soon as you step out of your car in the gravel parking lot. There, a path beckons visitors to the shady, cool forest. It's a fitting starting point for a place that immerses visitors in nature through its various offerings, from programs for day visitors to summer camps.
VINS is perhaps most well known as a wild bird rehabilitation center. Each year, hundreds of injured and orphaned birds from Vermont and New Hampshire are treated there by licensed wildlife rehabilitators. The center's roots, however, trace back to the Ottauquechee River. In 1970, a Woodstock dentist named David Laughlin teamed up with other like-minded locals to form a commission to study the river's water quality. At the time, the river suffered from waste and runoff pollution, in part from the upstream Bridgewater Woolen Mill. Eventually, the group succeeded in winning the state's first water quality litigation and halted the mill's dumping.
After their victory, the activists realized that only concerted and ongoing education would ensure the long-term protection of the river — and the wider natural world. In 1972, the group named itself the Vermont Institute of Natural Science and became a nonprofit organization focused on educating people — and specifically children — about nature.
In 1987, VINS opened the Vermont Raptor Center in Woodstock, as both an infirmary for injured birds and an exhibit area for the public to view resident birds. Raptors — also known as birds of prey — are most easily identified by their hooked beaks and curved talons. Individual donations and a grant from the Kresge Foundation aided construction. Businessman and philanthropist Laurance Rockefeller gave money to help build an auditorium; Woodstock architect Charles Helmer contributed the design.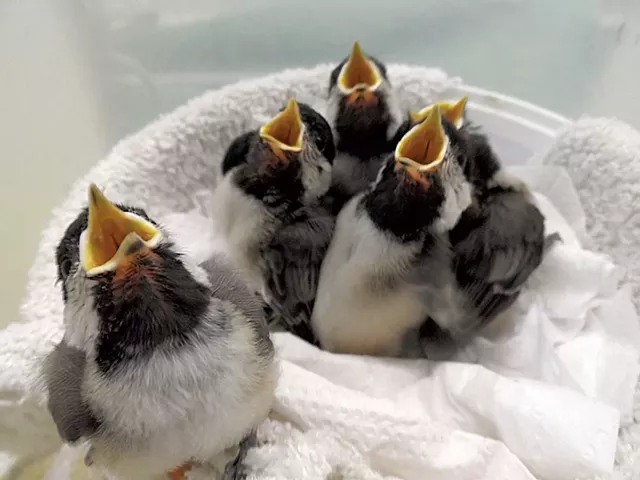 Courtesy of VINS
Black-capped chickadees being fed at VINS' wild bird rehabilitation center
Eventually, the organization outgrew its original site and purchased 47 acres along the Quechee Gorge in 2001. The current center was built with donations from individuals, foundations and area businesses, and a federal grant secured by the late Sen. James Jeffords. In 2004, the center opened to the public with a mission "to motivate individuals to care for the natural environment through education, research and avian wildlife rehabilitation."
Last year, the rehabilitation program took in 652 birds, from crows to hawks — up from 466 the previous year. While the Vermont Department of Fish & Wildlife brings some wounded birds to VINS, individuals also contact the center when they discover an injured bird, often after it has been hit by a vehicle or attacked by a domesticated cat. About 40 percent of these creatures are eventually released back into the wild, said Lauren Adams, development coordinator and former leader of the wildlife rehabilitation program. Others — who have permanently damaged eyesight or a lame wing, for example — remain at the center because they would not be able to survive in the wild.
Some of those birds become animal ambassadors in VINS educational programs in Vermont and New Hampshire schools, senior centers and libraries. Additionally, more than 40 raptors — including turkey vultures, owls and kestrels — live permanently in the center's 17 exhibit enclosures, where the public can visit them. Observing an animal like a bald eagle up close can be a powerful, educational experience, said Adams.
VINS offers learning opportunities for all ages, from a Small Wonders preschool program to educational talks for older kids and adults. Every year, the center hosts field trips, leads science-based professional development for teachers and sends VINS staff into classrooms to lead hands-on science lessons. The center also organizes annual events like the Incredible Insect Festival in July and an owl festival in February.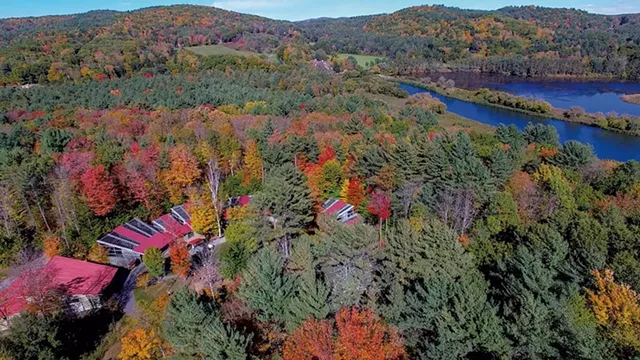 Courtesy of VINS
A bird's-eye view of VINS' 47-acre campus
Hannah Gelroth, director of school programs and teacher professional development, said that VINS works diligently to design age-appropriate curricula when they work with schools. Younger kids are encouraged to form what she calls a passionate "heart connection" to the natural world by following their own natural curiosity, aided by engaging puppet shows, artifacts they can touch — like bones and feathers — and lots of time for outdoor exploration. By elementary school, children are taught to investigate and ask questions like scientists and engineers. Dissecting an owl pellet, for example, offers young naturalists a chance to discover what these wild birds eat and how their bodies digest food. Middle school students tackle local problems, like how to reduce waste by getting rid of plastic straws in their school cafeteria. "If we start small," Gelroth said, "that's a little more successful than trying to tackle a big problem."
Gelroth described how a preschooler in the Small Wonders program recently approached her with a bug Gelroth had never seen before. While small children frequently share their treasures from the natural world, this unusual find was a reminder to her that "there's so much to learn and discover. We don't know everything."
Nature is interconnected, Gelroth said, from the river to raptors to trees. Whether strolling along a path with informative placards about how pollinators interact with wildflowers or chatting with a raptor trainer while observing a wild bird feed, visitors are encouraged to explore the marvelous complexity of the natural world. "You can't pull out any one part, and say, I care only about raptors," said Gelroth. "As soon as you start that, you realize you care about everything else."
In addition to their structured programs, the center is open daily for visitors to wander at their own pace. Families can pack a picnic lunch, ooh and aah over the wild birds in the enclosures, and explore the interpretive trails interspersed with stone and wood sculptures.
Courtesy of VINS
Children climbing on a spider web play structure in VINS' Adventure Playscape
Behind the visitors' center, parents can relax on a shaded bench while children pretend to be spiders in a web or mammals scurrying through an underground burrow in the Adventure Playscape, a playground made of stone and wood.
An indoor forest exhibit features a 7-foot-wide model tree youngsters can climb inside. This interactive, two-story tree allows children to smell different tree scents and hold a real moose hoof and an antler. A tunnel slide starts on a balcony and ends in the woods.
This summer, visitors will see a roped-off construction area just off the forest path. It's the site of a Forest Canopy Walk, slated to open this fall. The walk — 65 feet above ground at its highest point — will lead visitors on an 800-foot-long path through the trees. Designed to be accessible to strollers and visitors in wheelchairs, the path uses the natural drop of the landscape to rise into the trees while remaining relatively level. At one end, a 100-foot tree house tower will rise for more agile explorers, with a spiral staircase leading to its crest. From there, visitors will find a sweeping view of Dewey's Pond and the Ottauquechee River just before it enters Quechee Gorge. Pivoting around, climbers will face the forest canopy at eye level — just like a bird.
Another feature of the canopy walk is the Eagle's Nest, an octagonal cargo-net structure suspended above the ground, designed to ignite imagination about what it's like to live in the trees.
As they prepare for the new attraction to open, the staff at VINS continue to offer kids a front-row seat to the wonders of nature. Gelroth recalled a recent group of middle school students who were able to hold a rehabilitated songbird before the tiny creature was released.
"That's like, wow, how often does that happen? They'll probably remember that — maybe for their whole life," she said. "That's what we do."
Upcoming Events at VINS
At VINS' Incredible Insect Festival on Saturday, July 6, from 10 a.m. to 5 p.m., bug expert Sam Jaffe showcases live critters in his Caterpillar Lab, entomologists and a local beekeeper answer questions, and kids participate in demonstrations, games and crafts.
Wear your wings and construct a magical dwelling at the center's Forest Fairy Hunt on Saturday, July 13, from 10 a.m. to 3 p.m. Regular admission, $14.50-16.50; free for children under 4.