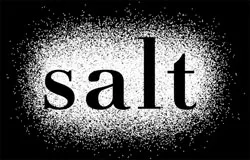 They may not have been critics, but they knew what they liked. The first lunch guests at Salt, the Montpelier restaurant owned by former Seven Days food editor Suzanne Podhaizer, asked for seconds of ham-and-apple-chutney bread pudding.
Salt doesn't officially open for lunch and dinner until this Saturday, December 4, but Podhaizer and her husband, chef Dan Green, figured there was no reason not to offer scones, s'mores and the aforementioned bread pudding to members of the capital city's lunch crowd who saw activity and ventured in.
The throngs at the Burlington Winter Farmers Market two weeks ago also treated Salt well. The chicken and biscuits and butternut squash soup both sold out by one o'clock.
The café will open with a small lunch menu, including hot sandwiches and specials. Casual visitors can stop in for baked goods or French-pressed coffee from Vermont Coffee Company. Podhaizer says she's perfecting a decadent hot-chocolate recipe featuring a torched homemade marshmallow.
Some dinner dishes will be rustic, but Podhaizer says to expect fine-dining touches. Five-course prix-fixe dinners will include a salad, appetizer, entrée, cheese plate and dessert. Lighter evening meals of soup, salad, bread and cheese will also be available.
The small menu will change each week, with dishes showcasing local meats and imported spices, vinegars and oils for what Podhaizer calls "a flavor palate that is broader than just New England." The opening bill of fare will include four entrées — among them, pork belly with polenta fries and mushroom ragout, and duck breast and leg confit with cranberry-red-wine sauce. Vegetarians may choose butternut-squash and pear gratin with local cheese and walnuts.
The food won't be the only thing changing constantly — homemade sodas and cocktails will also rotate. This week, cranberry-citrus, apple and maple sodas match the autumnal dishes. Diners can finish off their meals with desserts such as maple walnut ice cream and decadent chocolate brownies with salted caramel.
For the holidays, Salt will prepare a slew of "stocking stuffers," including homemade caramels, candied citrus peels and popcorn balls — also available at the December 18 Burlington Winter Farmers Market. Sounds like a merry Christmas, indeed.