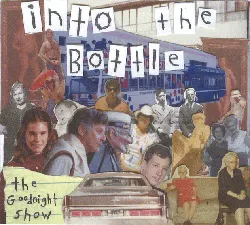 (Self-released, digital download)
On their debut record, The Goodnight Show, Burlington's Into the Bottle present a suite of boozy, late-night laments on lost love. It is a relentlessly downcast collection of whiskey-fueled, poetic songs that cuts to the heart of heartache and finds little room for optimism beneath the flickering glare of a barroom light.
The record opens on "Six Silver Bullets." As with much of the fare that follows, it's a brooding, slow burn. Amid a haze of distorted guitar, guitarist and lead vocalist Luke Hogan sings in a weary croon — it's almost more a croak, at times. From the outset, Into the Bottle craft a restless, bleary-eyed atmosphere. This pervasive sour mood rarely lets up, even in comparatively bright moments such as the following track, "Yellow Wallpaper," written by drummer Rob Stahle. Here, Christopher McManus' flitting keys and floating chimes somewhat lighten the feel. But there is Hogan, stuck in the middle, wallowing in angst and self-doubt, creaking, "Quit my habits. / But she can still smell my cigarettes through the phone."
Hogan's waltz-like "Trouble at Hand" continues in a similarvein, contrasting an almost breezy arrangement of acoustic guitars, keys and slide guitar against the songwriter's searching prose. At moments, you can feel him grasping for understanding, only to see his crumbling emotions slip through his fingers. "You grew small, but you won't fall. / Your balance is off, but your head makes the call," he sings.
Collectively, Into the Bottle don't have much use for allegory, preferring instead a more direct, confessional approach. On "One Too Many," penned by bassist John Tatelman, Hogan sings, "Fuck metaphors. / I'm tired and you're bored. / And my heartache won't be cured by a whore." It's blunt and abrasive, but compelling.
The Goodnight Show closes with Hogan's "Something for the Ends," which offers the closest thing to assurance on the record. It's a driving, bluesy tune in which Hogan almost seems to be addressing himself. "Well, it's not that bad, down on your hands and knees. / And if the song sounds sad, that's all you'll ever be," he advises. Here's hoping he doesn't spend much time listening to his own music.
Into the Bottle's debut is certainly a sullen affair, sometimes overwhelmingly so. But it's also a fearless examination of the ways in which we hurt each other, even without meaning to, as though heartbreak is simply and inevitably collateral damage when in love. That's a distressing idea. And it's one Hogan and company explore with brutal, unflinching honesty. Into the bottle, indeed…
The Goodnight Show by Into the Bottle is available at Pure Pop Records and Burlington Records, and online at intothebottle2.bandcamp.com.