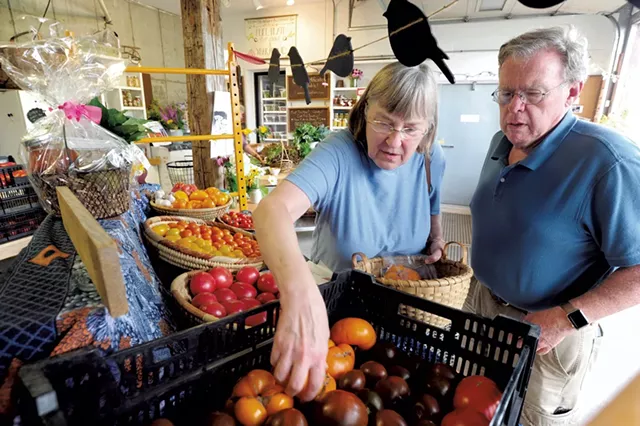 Jeb Wallace-Brodeur
Dorrie and Keith Ellsworth of Northfield shopping for tomatoes at Green Mountain Girls farm store
The co-owners and founders of Green Mountain Girls Farm in Northfield say they farm relationships. To Mari Omland, 50, and Laura Olsen, 46, the concept of "relational farming" underscores the sprawling network of interconnecting systems on their land: a small, diverse hill farm nestled between the mountains off Interstate 89. It also describes the crux of the operation; Green Mountain Girls is among the better-known and more-lauded farm-stay programs in Vermont. Overnight guests may hail from as near as Burlington or as far as Australia.
Agritourism is a broad, burgeoning industry that brings visitors to farms and other agricultural operations. Its farm-stay sector gives guests an intimate glimpse into a farm's ways of producing food. Farm-stay participants are invited to sleep on-site and immerse themselves in the culture of a given farmland.
At Green Mountain Girls, temporary workers and guests factor into Omland and Olsen's idea of relational farming along with the chickens, pigs and fields of summer squash. A farm stay makes visitors temporary cogs in the machinery of a functioning farm. Sort of.
"We have full-time professional staff to keep the farm running," said Omland outside the farm stand on a balmy August weekday. "We're a small farm, but not that small."
During a farm stay at Green Mountain Girls, newbie farmers — aka the guests — can pick veggies for their own dinner, help harvest tomatoes and chat face-to-face with Amelia, a mammoth but gentle Thomaston pig. Each stay starts with a guided, deep-dive farm tour courtesy of Omland or Olsen, which kicks off with a "latte on the hoof" made with Green Mountain Girls' goat's milk.
The essence of Green Mountain Girls' farm stay is to offer guests interaction, room and board on a working farm, at rates generally ranging from $300 to $475 per night. Visitors might learn how elderberries look and taste, hike or snowshoe the farm's woodland trails, or take classes on how to make their own sausage and render lard for biscuits. They do not, however, have to hay the fields, work 12-hour days or manage 400 chickens. It's not about labor as much as it is about familiarity.
"The point is for guests to have a multisensory experience within this ecosystem of food, animal and agriculture," said Olsen. "We use agritourism as a means to protect and support the farm's biodiversity. Tourism allows people to have that connection firsthand — to see those possibilities."
Omland showed this reporter the Barn Guesthouse, a recently renovated space with wide windows, a post-and-beam living room, cozy lofts, and a composting toilet. "Really, the margins on sustainable food are slim to none," Olsen said. "For us to make it, we needed another aspect. Tourism made perfect sense."
It helps that these farmers have a background in tourism — specifically, environmental protection through ecotourism. Omland grew up in Rutland and earned a history degree from Williams College. Olsen is a Chicago transplant with a degree in French and Russian studies from the University of Vermont. Postcollege, both grads fell into environmental work: Omland worked for Conservation International and the Appalachian Trail Conservancy, while Olsen spent time at Green Corps and the Coalition for Smarter Growth. The two met through colleagues in the environmental field and moved to Vermont in 2007 to start their own venture.
"We did nonprofits for a long time," said Olsen. "We were curious about an entrepreneurial adventure ... We were curious about food and how food is raised."
Jeb Wallace-Brodeur
Laura Olsen (left) and Mari Omland feeding Amelia Bedelia, a 600-pound sow, at their Green Mountain Girls Farm
How food is raised in the United States, she pointed out, is one of the crucial environmental issues of the century. "We came to sustainable farming from both an ecological perspective and a community health perspective," Olsen said.
She and Omland launched Green Mountain Girls Farm nine years ago on a wedge of hilly pasture off Loop Road. "It was a gentleman's farm of sorts in the 20th century," Omland noted.
"We thought, What can we do well here?" continued Olsen. "We didn't want to take an idea and force it upon a place."
The women knew diversity was key on a hill farm without much flat land. The spot boasted a remodeled barn house with bones from the 1850s. They had experience in ecotourism. And so, "The farm-stay fit was natural," Olsen concluded. "We had an infrastructure that begged for animals and plants, but it also begged for guests." Today, those guests bring in a third of their annual farm income.
Beyond the guesthouse living room, a bright corner kitchen was ready for visitors to cook farm-raised tomatoes and bacon. Overnight guests, the farmers explained, get a breakfast basket stocked with whatever is growing outside; it might include raw goat's milk, seasonal veggies or farm-made preserves and hot sauce.
A breakfast nook in the guesthouse kitchen offered a view of mountains in the distance. The fridge held a pitcher of iced tea made with chamomile flowers that Olsen had dehydrated. Upstairs, one wide room held a queen bed with fresh linens, a daybed, plush lounge chairs and an extra, secluded sleeping nook.
Below the guesthouse, the Green Mountain Girls farm stand — open 365 days a year — was brimming with August bounty. The place had the heady scent of tomatoes ready to eat straight from the flat. Beyond boxes of cucumbers, young onions and sunny crates of pattypan squash, a pantry shelf held preserved foods: dilly beans, lemon pickles, curried green tomatoes, even an heirloom Bloody Mary mix. A jar of "Tomolives" — pickled green cherry tomatoes that resembled fat Cerignola olives — sat beside pepperoncini and smooth summer salsa. A nearby freezer held lard, arugula pesto, 72-hour bone broth and pasture-raised pork and poultry.
Beside the farm stand is the Farmhouse Inn, a three-bedroom luxury space equipped with a gourmet kitchen, televisions, wine glasses and a flush toilet. Outside, neck-high swaths of wildflowers lined the grass trails leading to the farm below. In a word, the place looked idyllic.
But Omland and Olsen are not in the business of showing guests "idyllic." As farmers of relationships, they prefer honesty.
"The idea of where food comes from can be very manipulated," said Omland. "We're not marketing what people want, we're marketing what we are. We're a multisensory experience. We don't aim for the ideal version but the true version."
This transparency is not lost on guests, Olsen added. She spoke of a couple from Jakarta, world travelers who spoke six languages but had never picked themselves dinner. One family with three generations in tow remarked that they had no idea how "real" Vermont would be; it made myriad assaults on the senses, from the wallop of fresh basil to the dry sting of tall grass.
"You feel that bug bite," said Omland as she directed the tour toward a series of hoop houses. "That's right, there's a sunburn coming on. And that smell is chicken shit," she said, pointing, "because the chickens roam in this field, too."
Jeb Wallace-Brodeur
Tomatoes at Green Mountain Girls Farm
Omland culled a glowing orange orb from a hoop-house vine that climbed floor to ceiling. "This right here's a Jaune Flamme tomato," she said, handing over the apricot-size French heirloom. Intense, jammy and savory-sweet, the flesh was so fragrant that it came through the nose like a hit of spice. Olsen stood munching on sweet potato leaves nearby. "You can cook them just like spinach," she explained between bites.
The farm tour continued to a fenced-in range for the chickens. All the while, Omland and Olsen took turns introducing their farm through bursts of information, like tour guides opening new eyes to a beloved city.
"Those right there" were organically handled, bio-intensive gardens and orchards; the farmers use green manures, mulching, compost and integrated pest management to nurture nutrient density in their soil. "Over here" rose a flat acre of the "three sisters," an Iroquois label signifying the natural alchemy of corn, beans and squash. Purple and green pole beans threaded up through looming stalks of corn, while a mounded bed of summer squash sprawled in the shade below.
Omland explained the arrangement: Corn provides physical support for the beans. Bacteria in the beanstalk's roots absorb nitrogen from the air, converting it into usable nourishment for nitrogen-starved corn plants. Meanwhile, those large, prickly squash leaves work double duty, preventing weed growth with their shade and staving off pests.
As they said, Omland and Olsen farm relationships.
In a neighboring field, Olsen introduced two enormous, rust-red Thomaston pigs: "Meet Amelia and Ramona!" She stepped over a thick wire fence to give Ramona a belly rub. Behind Amelia, piglets bathed in mud to escape the August heat. The littlest one — Old Yeller — approached Olsen for a belly rub as she relayed a capacious stream of info about their "small, but not that small" strip of farmland.
The women mentioned other farms — big, medium and small — in the respectful tones of those who know a tough and complicated industry. They spoke in the unrehearsed and knowledgeable way of people immersed in what they do. Their enthusiasm was apparent and contagious.
Not all agritourism involves such an intimate gaze on the farm itself. Omland recalled attending an agricultural conference a couple of years ago. She entered a vast meeting hall crowded with farm displays. The room was decked out with wheels of fried dough, "pin the tail" games, machines serving powdered soft-serve ice cream, and a behemoth goat-shaped slip-and-slide. What does this have to do with me? she remembered thinking.
While dunk-tank-and-cotton-candy versions of agritourism exist, Omland and Olsen opt to spotlight more quotidian aspects of workaday farm life. "Our tours and experiences show us farms are still very much in people's hearts," Omland said. "Whiffs of herbs crushed underfoot, soil after a rain, fruits hanging in reach and ending up in your mouth, the first potato you dig, the proud call of a hen who has just laid an egg... The everyday authentic seems to capture folks of all demographics."
Near the end of the tour, she and Olsen stopped at the crest of a hill overlooking their farm and a 180-degree panorama. The hillside was fringed with crabapple trees, hazelnut trees, oat grass, wildflowers, elderflowers and black currant bushes. Down the hill, Ramona the pig dashed across her pasture to the gaggle of piglets still lounging in the mud.
"Oh, man, I love this," said Omland, gazing at the view.