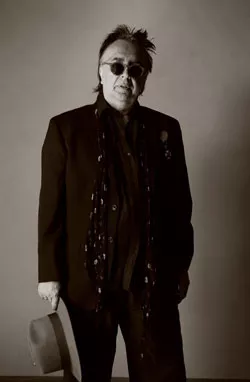 Os Mutantes emerged from Brazil in the late 1960s, fusing breezy Tropicália grooves with the heady, kaleidoscopic aesthetic of psychedelic rock. Following their breakup in the late 1970s, the band assumed a near-mythical status and have been cited as an influence on artists ranging from Devendra Banhart and Beck to David Byrne and Kurt Cobain.
Os Mutantes reunited in 2006 and toured behind their first record of new material since 1974, Haih or Amotecedor. In April, the band released another new album, Fool Metal Jack, a widely acclaimed effort that is the first Os Mutantes record written almost entirely in English rather than Portuguese.
In advance of the band's show at the Higher Ground Showcase Lounge on Tuesday, June 25, Seven Days chatted with Os Mutantes founder Sérgio Dias by phone from his home in Las Vegas.
SEVEN DAYS: So I've gotta ask, why Vegas?
SERGIO DIAS: [Laughs] I came out here when we were nominated for the Latin Grammy, and I had the stereotype idea in my head: the strip, gambling, the hookers. But driving around blew my mind. It started to grow on me. You could feel, like, the Indian spirit around. There's the lake, there is snow close. And the perception is changing in Las Vegas regarding art and culture. Just leave the hookers in peace.
SD: [Laughs] Indeed. Switching gears, this is the first Os Mutantes record written primarily in English. Why?
SD: Music happens in its own time. There are some people who meticulously plan everything, but I don't. Things just come out. That's the language I speak more now, so I think that's why most of it came in English. Also, there is a need to communicate what we're feeling and seeing, so it just made sense. Singing in Portuguese is great, but it's hard for people who don't understand what you're saying. They lose that perspective of the music. Lyrics are so important.
SD: I think some of the appeal for me, when I first heard Os Mutantes, was that I didn't understand the lyrics. Here is this weird, beautiful music, and I had no idea what you were talking about, but it didn't matter.
SD: I understand that. When I first listened to the Beatles, I didn't understand what they were singing. I didn't know what "I Want to Hold Your Hand" was talking about. But it was great. It's a funny record, this one. And my English is pretty rough. But the things I was feeling and experiencing, I had to talk about.
SD: America is a central theme on the record. How did living here influence your writing?
SD: The dream is gone. America has been in my life since I was a kid … in books, history, technology, science fiction and music. We followed all of this, and it is my second country, for sure. So we moved here during the financial crisis and bought a house. And it was a horrid thing. I remember visiting a house, and the couple was there, who were losing the house. I felt like a thief. They were losing their dream. And this is America? This isn't supposed to happen. That was shocking.
SD: Did you intend for the album to have such strong, consistent themes? It almost seems like a concept album.
SD: Several people have told me this thing should be a play. I think they're out of their mind. But there is some consistency. I wish I could have been able to express more. I just hope it got through. The thing is, when we talk about war, we're really talking about death. And that is a personal thing. Many people think the song "Fool Metal Jack" is an antiwar song. But it's not. It's about dichotomy. Since the caveman, we've been on the same shit. The world wars, Vietnam, the Middle East. Nobody learns. Human beings are totally crazy. We think we know something, but we don't know shit. We're a mess. And maybe when we understand that it will get better.
SD: You mentioned dichotomy in your writing, but it applies to the music, too. You're addressing dark ideas, but it's couched in bright, pretty music.
SD: It wasn't planned. My wife said my lyrics were too heavy. So I had to make the music beautiful, you know? There is tenderness in the world, also.
SD: You play sitar on this record and are playing it live, which you haven't done in a long time. Why start playing it again?
SD: I haven't played it in about 40 years. Especially when Ravi [Shankar] passed away, he was my master and my teacher — that really shook me. We were about to cross paths again, but then he got sick and died, and we didn't. And I've been listening to his daughter, Anoushka [Shankar], a lot, who is fantastic.
SD: Os Mutantes are often cited as being a hugely influential band. Who influenced you when you were recording the new record?
SD: I wasn't really listening to anything, except for music in my car. A lot of country, actually. It is amazing to be in another country and listen to the radio. But basically, we just wrote what we wrote, and it's our music.
SD: The record isn't entirely political. You address some larger philosophical and metaphysical questions, too.
SD: That's right. We dream atomic dreams and believe in time and space. But what are we? How come we don't just dissolve into the air? Why do our molecules and atoms stay together? That is a mystery to me. Look at the stars, and you're looking at the past. Maybe they don't even exist anymore. Life is just an illusion.