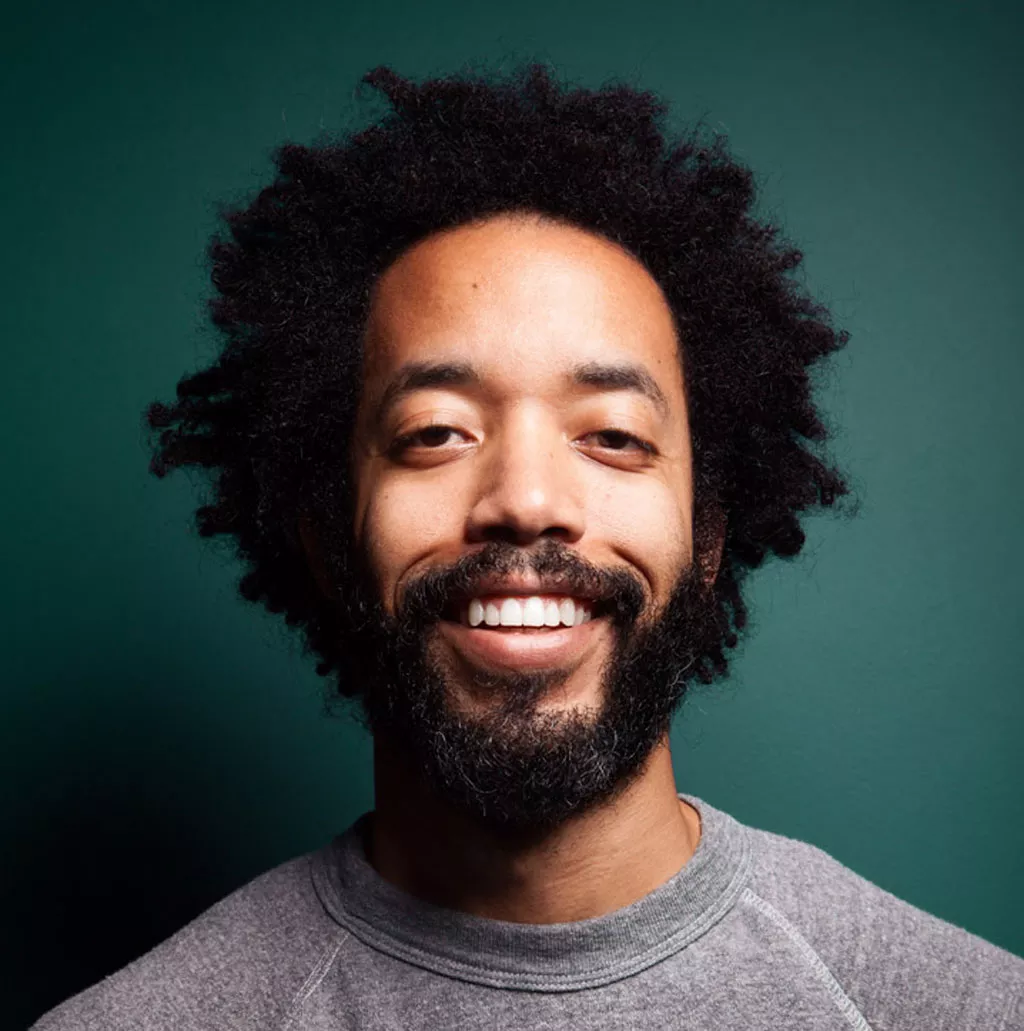 Wyatt Cenac is perhaps best known for his time as a correspondent on Comedy Central's "The Daily Show With Jon Stewart," which ended in 2012. But Cenac is first and foremost a standup comedian. He has two excellent TV specials under his belt, including "Wyatt Cenac: Brooklyn," which was released in late 2014 via Netflix and is currently streaming.
As the title of the hourlong special implies, Cenac's home borough is its focus. In his laid-back, bordering-on-sleepy style, he riffs on everything from race to growing up in nearby Queens to gentrification run amok, e.g., the artisanal food craze embodied by Empire Mayonnaise. The special was shot in the cozy confines of Brooklyn's Union Hall, a basement club in Park Slope, and features vignettes in which puppets act out scenes from Cenac's jokes. It's unusual. But, like Cenac himself, it's also smart, funny and quietly compelling.
Cenac headlines this year's Green Mountain Comedy Festival: He'll perform two shows at Burlington City Hall Auditorium on Sunday, May 24. In advance of those shows, Seven Days spoke with Cenac by phone.
SEVEN DAYS: "Brooklyn" is great. I thought it was interesting that you chose to film it at Union Hall, which is tiny. Why shoot it there?
WYATT CENAC: The thought process was trying to capture what I actually do. With the specials, the [usual] idea is that you want to do it in a big space with thousands of people roaring at every joke that you tell. That's not the day-to-day that I experience, or that a lot of comedians I know experience. It's usually little clubs, small rock venues for 200 people. When you do it in a big theater, it's really more for television. It's flowery production values to show the person watching on television, Hey, look how popular this person is! They were able to draw a room of 5,000 people.
Now, if you were to ask those 5,000 people if they know who that person is ... you know, it varies. I remember when I shot my first special, there was a line being fed into the venue, this venue in New York called the Skirball Center [for the Performing Arts at New York University], and I had to walk past the line to go in. I remember hearing a couple people say, "Who are we going to see?" So I think, for me, doing it in a small venue, the idea was trying to capture what it is to see me do a show most of the time. Also, that allows me to have a greater connection with the audience.
SD: It also seems to suit your style, which is pretty low-key and conversational.
WC: Sure. But I think it really is about the connection. Audiences sometimes don't realize the power and responsibility they have at a show. Especially with social media and smartphones, where you can check out for a moment to check a message. For this thing to work, everyone has to be engaged.
A show is drastically different when an audience is engaged versus just kind of there but being distracted. When everyone is engaged, it's almost magical how different the show can be. As a performer, you feel it. It's this weird cycle where you give something to them and they give it back to you a little stronger, then you give it back to them. So the minute they withdraw, as a performer it's very easy to withdraw and go through the motions.
Look at Louis CK's show ["Louie"]. If you go to the Comedy Cellar, it's this tiny place. The walls are right on the back of the comedian. If you jumped, you'd hit the ceiling. And that's where it works best.
At a large venue, you go to the back of the room and the connection is gone. People are having loud conversations that can't be heard from the stage. They think they're watching television. They're not part of the thing, and they've made the thing worse. But if the audience is there and excited, it changes everything.
SD: I was surprised by the puppets in the special, but pleasantly so. Why include puppet vignettes in a standup special?
WC: I have to credit something that I heard Louis CK say about one of the specials he released on his website. Someone asked him, "What do I do if I just want to listen to it and not watch it?" And his response was "Shut your eyes."
It was true. But it also spoke to something else for me. Watching a standup special on television is perhaps the least effective way to experience standup. The best way is actually to be in the audience and be part of the show, hands down. The second best way is to listen to it. Because you can close your eyes and imagine whatever you want to imagine. When you watch it, you can still do all the things you can do listening to it. But you can also get up and make a sandwich, check on the laundry, go to the bathroom. So I found myself thinking, if there was a way to add something visually dynamic to the televised experience, that might keep people sticking around but also give them something that's unique to the televised version.
SD: In the special, you talk a lot about the gentrification and the preciousness of Brooklyn — artisanal mayonnaise. Um, have you ever been to Vermont? Precious is kind of our default setting.
WC: [Laughs] I've actually been to Burlington, because I did a show at Middlebury a few years back. But I didn't get to spend much time there. It was kind of cold when I got there, so I didn't experience the preciousness of Burlington as much. But when I got back, people were like, "Man, I'm surprised you didn't see anybody on a recumbent bicycle."
SD: What is Jon Stewart like to have as a boss?
WC: You know, he's a boss. He's like any boss. I learned a lot from him, and I'm grateful for my time there. But he was my boss. It wasn't one of those things where after work everybody goes out and gets beers. It was my job. And it was his job to manage the ship. We saw each other during office hours and then kind of went our separate ways. But when I was there, I tried to watch as much as I could and learn as much as I could for the day that I hopefully get to manage and steer my own ship.
SD: What was the hardest thing about working on "The Daily Show?"
WC: Probably just the amount of research that goes into doing the job effectively. It's not a job where you can rely on charm. Charm will get you far in a lot of other things. And there are comedians who can use charm to get onstage, and they don't have to write any jokes because they can sell it by being telegenic. And there are people who put in a lot of work. With a show like that, charm gets you in the door, but it's not gonna keep you there. You really have to do the research and find a way to then distill the research in a funny way. If you look at John Oliver's show, the bulk of the work that they're doing is the research. To then have to make it funny on top of that is impressive. And I think it's why it's doing so well.
Going back to Jon Stewart, I think the thing that John Oliver, and myself, saw was the amount of work you have to put in.
SD: Stewart's replacement, Trevor Noah, became a controversial selection after the media discovered some offensive tweets he wrote. What was your reaction to that whole flap?
WC: I think that's the nature of the world we live in now. It's a strange thing. Twitter, as it was intended, was for teenagers to send images of their junk to each other and say stupid things. It wasn't built for politicians. It wasn't built for comedians. It was built for teenagers. It has now been co-opted by politicians, by comedians, by businesses. And there you see the flaws in it.
Comedians tell jokes all the time. And some of the jokes work and some don't. But when they tell a joke in front of an audience, they can see what works and what doesn't; they can see if they've crossed the line, if the thing is funny. But it's for an audience you can see. I've bristled at using Twitter as a joke-delivery method because you're performing for an audience that you don't know you're performing for. So things like context and perspective get lost, both for the comedian and the audience member.
So as a comedian you think, Oh, Twitter's just this place where I can try this thing out. And, oh, look! Eight people retweeted it, so it must be funny! Maybe not. Maybe those eight people are just stupid. And who knows if you're going to tell that joke again. But you now have a public record of this thing that you told that you thought was funny at one time.
SD: That's a tough thing in the age of outrage culture.
WC: No matter who was chosen to take that gig, there were going to be people who were excited and people who were upset. But at some point, Jon Stewart will step down, Trevor Noah will step in, and people will ultimately forget and move on, because that is the nature of outrage in the 21st century.
For as upset as people were when Stephen left "The Colbert Report," the world has continued to turn, just like it did when Johnny Carson left "The Tonight Show." The world will continue to turn when Jon leaves "The Daily Show." And people will either watch Trevor or they will find another show to watch.
I also think that seeing someone leave a show they've been watching for a decade has a weird connection to their own mortality. Like, "Wait a second. I've been watching this show since college. Holy shit, I'm older than I thought I was. I should probably break up with this 24-year-old."
SD: What are your thoughts on what's happening in Baltimore?
WC: I think the Orioles are having an OK season ... that's what you're talking about, right?
SD: Well, they do keep beating my Red Sox...
WC: [Laughs] It's unfortunate what happened to Freddie Gray. As much as we try as a society to applaud ourselves for how far we've come in race relations, you see images from Baltimore, you hear stories about Freddie Gray, Tamir Rice, Eric Garner, Trayvon Martin, and you realize that we are not that much different than our parents, our grandparents, our great-grandparents. We did not cure any ills, we did not solve the problems for which many people in this country fought and died. And people are still dying for those rights, to have their pain acknowledged and healed.
Shortly after the president got elected, I think Eric Holder said something to the effect that we needed to have a conversation about race in this country. That was almost eight years ago, and we still haven't had that conversation. We do need to have that conversation. When are we going to have it? Is it on the schedule at some point?
It's sad when it becomes 24-hour national news coverage for people to get kind of empathetic. Actually, kind of sympathetic. Like, "Oh, that's terrible." But not terrible enough for them to say, "What can we do to help? What do we demand of our politicians and our local law enforcement?" Or to say, "If this thing is happening in Baltimore, does that mean it's happening in the forgotten and disenfranchised neighborhoods in my city?" Because I'm sure there's a Freddie Gray in Burlington, Vt. And if there's not, there will be.