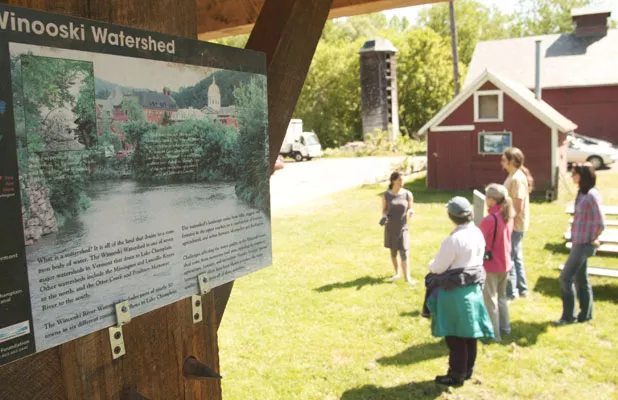 A walk through Burlington's Intervale on a sunny summer day is a perfect escape. Never mind that the fertile, low-lying Winooski River plain just north of Riverside Avenue's neighborhoods was identified in a recent New York Times article as located on "the industrial edge of Burlington." (Perhaps the writer was eying the steam-emitting McNeil Generating Plant at the entrance, which runs on wood chips, a renewable fuel.)
Fact is, as long as the city's floodplain isn't, well, flooded, its pastoral pleasures are plentiful. A short stroll reveals the flower gardens of Gardener's Supply Company, a frog pond that's popular with children, a shaded trail following the river and a dozen small farms strung out along a dirt road that doubles as a bike path.
As of last week, casual visitors can now take a free, guided, one-hour walking tour of the place on the third Friday of every month through early fall. The informative strolls are a new initiative from the Intervale Center, a nonprofit that manages 350 of the 740 acres comprising Burlington's Intervale. (About 40 percent of the 3900-acre area is in Burlington; the rest lies across the river in Colchester, with a fraction in Winooski.)
The Intervale Center's most obvious role is to lease its land and equipment to new (and some established) farmers, who include members of the Association of Africans Living in Vermont and a beekeeper who pays in honey. It also runs many other programs geared toward keeping farmers and their communities connected. Lately, those seem to be multiplying, and the nonprofit itself is now 24 years old. So it's a good time to offer public introductions to the place.
The tours are the brainchild of Joyce Cellars, a cheerful 28-year-old who came to the Intervale Center in 2009 from Chez Panisse — organic-food guru Alice Waters' Berkeley, Calif., restaurant. Cellars says the Center has offered specialized tours for a fee to regional groups seeking to replicate Intervale programs in their area. The free tours, says the community relations manager, are meant to give a broad overview of the land, its history and the nonprofit's doings.
"Many Burlington residents have never heard of the Intervale, or have heard of it but never been," Cellars says of likely tour takers. Others might use the trails for skiing or dog walking, or attend the Center's festive Summervale celebrations — "there are so many different touchpoints down here," she comments — but don't know quite what the Intervale Center does. "People are usually surprised at how comprehensive we are," she adds.
Cellars, who is training two volunteers to lead Saturday and Sunday tours, begins her own by noting that the Intervale has long been prime farmland. University of Vermont archaeological digs in the area, ongoing since the 1970s, show that Abenakis were planting crops 4000 years ago. "To me, that's a beautiful historical tradition that we're lucky to be able to say we're still doing," Cellars declares. The Intervale Center's Abenaki Heritage Garden of corn, beans and squash, visible from the kiosk where the tour starts, honors that history.
The area saw a low point from the 1960s through the early '80s, when farming trailed off and the city began using the land as a municipal dump and informal car-disposal site. As the Center's founding narrative goes, Will Rapp, an urban planner out of the University of California at Davis, came down to look for his stolen car in 1986 and "had an 'aha' moment," says Cellars. "There were nine-and-a-half feet of topsoil, and he realized it could never be developed commercially or for residential use because it was a floodplain." Rapp founded both Gardener's Supply and a compost operation — the first program of what was initially called the Intervale Foundation — and began to establish the nonprofit's general mission to "strengthen community food systems."
The Center's newest effort in that vein is the Intervale Food Hub, a kind of CSA-aggregating operation that delivers customized shares to area businesses. The tour takes visitors through the stocking barn where two workers are packing dozens of crates lined up on tables with products that can come from 25 farms around the state, including veggies, cheese, meat and even salmon caught by a Vermont farmer who spends his summers in Alaska. According to the 2011 state-sponsored Farm to Plate Strategic Plan, Cellars points out, Vermonters still spend only 5 percent of their food budgets on locally produced food. The Food Hub "just expands the market," she says.
The trail along the river, the banks of which are protected from erosion by the root systems of planted trees, leads to the Intervale Conservation Nursery. The operation raises native riparian tree stocks from seeds and cuttings over three years, then sells or donates them for use along riverbanks around the state. The Center donated 2000 trees for Tropical Storm Irene restoration projects, of which 300 have been distributed.
Beth Cullen was one of five people, including a 6-year-old, on the first tour last Friday. "I had been meaning to get down there for a while," says the recent transplant from Brooklyn, N.Y., and marketing specialist, who says she heard about the tours by "liking" the Center on Facebook. Cullen is more informed than most: Having just launched a food-and-farm consulting business called Root Consulting, she knew about Success on Farms, the Intervale Center's program to help farmers develop value-added products or expand their markets.
But she was surprised at what she hadn't known. The Farms Program, a different effort aimed at incubating new farms at the Intervale that then "graduate" and move elsewhere, is also a safety net, Cullen learned. "It's definitely a place where you can go outside the box [as a farmer] without the financial risks that you'd have if you were on your own," she observes. "People can walk away from it if it's not for them."
Of the tour experience, Cullen adds, "It was gorgeous. And I didn't realize how much of [the Intervale] is accessible for just taking a bike ride or a hike."
Free Intervale Tours, third Friday of every month through October 5, at 10 a.m. Make reservations at jarred@intervale.org.