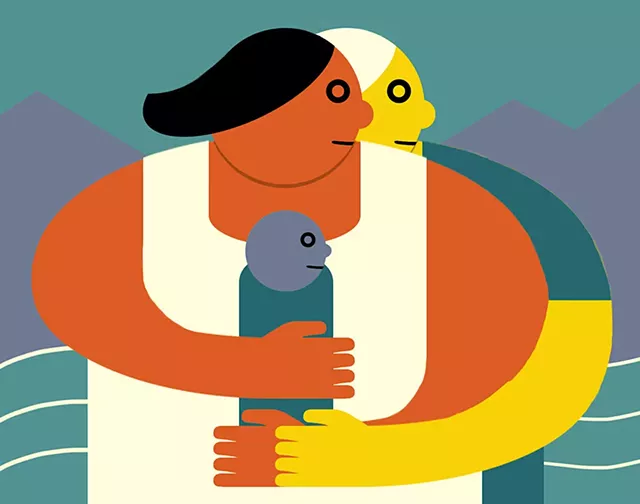 Francesca Carasi-Schwartz loved the summer blockbuster Crazy Rich Asians so much that she watched it three times. The experiences of protagonist Rachel Chu resonated with her, said the University of Vermont sophomore.
Raised in the United States, Chu is about to travel with her boyfriend to visit his family in Singapore when her Chinese immigrant mother warns her about the East-West culture clash. "Your face is Chinese, but your mind and behavior and way of speech isn't Chinese," said Carasi-Schwartz, paraphrasing a line from the movie. "I can just relate to that on so many levels."
The disconnect that some first-generation Asian Americans experience between the cultures of their immigrant parents and their own place in mainstream Western society has been well documented. But Carasi-Schwartz said her experience has been "even more extreme."
Unlike the fictional Chu, she wasn't raised in a Chinese household. Adopted as an infant from China, Carasi-Schwartz grew up in an Italian American household in a diverse community in Montclair, N.J. She has a sister who's three years younger and was also adopted from China.
"For me, growing up in a white family is all I've known," Carasi-Schwartz said. "My experience with my Asian identity is a lot different from other people's."
Growing up, she had little interest in learning about Chinese culture. But when her family moved to Brattleboro, Carasi-Schwartz decided to take Mandarin classes at her high school. Her teacher's infectious enthusiasm instilled in her a love for Chinese culture, she said.
Now a biology and Chinese major, Carasi-Schwartz is a member of the Asian Student Union at UVM. But the issues that club members discuss don't always reflect her experiences as a transracial adoptee. For instance, while some of her peers grew up with "tiger moms," she had an Italian "tiger dad."
"The Asian adoptee perspective is usually different from the Asian American perspective on a lot of things," she said.
The Interracial Adoptee Group at UVM is where she's been able to share her experiences growing up in a transracial adoptive family, said Carasi-Schwartz. "It has been nice," she said of the monthly gatherings. "You never want to feel alone."
Founded in 2015 by Nishani Kessler and David Waller, the Interracial Adoptee Group is for UVM students who have a different ethnic or racial identity from their adoptive family. While the group was once open to UVM faculty, staff and community members who were either adopted or adoptive parents, it is now exclusively for students, with a name change to reflect that. Rather than a club under the umbrella of the Student Government Association, it's part of the Mosaic Center for Students of Color. Though it's open to students of all ethnicities and race, most attendees are of Asian heritage.
Carasi-Schwartz, who is now one of the group's coleaders, said it has broadened her perspective on how adoptions can go. While she feels loved by her family and friends, she's learned that some of her peers are estranged from their adoptive parents. "I feel like adoption is often romanticized," she said. "It's definitely not always like that."
Foreign adoptions reached a peak in 2004 and have declined by 80 percent since then, according to data from the U.S. Department of State, which recorded 4,714 intercountry adoptions in fiscal year 2017. The department attributed the steady decrease to reasons such as some foreign governments' efforts to promote domestic adoption. Still, the number of adoptions to the U.S. rose last year in 42 countries, and countries such as Colombia, India, Nigeria and Sierra Leone indicated double-digit increases.
Parents adopt internationally rather than domestically for several reasons. Some are ineligible for domestic adoption, while others believe transnational adoption will take less time or reduce the likelihood of biological parents trying to contact their children.
In 2015, UVM associate professor Nikki Khanna copublished a study that explores the role race plays in adoptions. Forty-one adoptive parents, most of whom were white, said they had been open to or actively seeking nonwhite children. But several said they didn't want to adopt black children, especially not African Americans, who were described as "too different" culturally and physically.
Interracial Adoptee Group cofounder Waller said the students had discussed that phenomenon. Waller offered one theory: Exposure to black culture has historically been limited.
Alisha Lewis, a UVM graduate who works at the Dudley H. Davis Center as an event support coordinator, has been helping the group organize and promote its activities since last year. According to Lewis, between five and 15 people attend each gathering.
Like Carasi-Schwartz, Lewis, 24, was adopted from China as an infant. Her younger brother was adopted from Vietnam when Lewis was 5.
Though the siblings grew up in a Japanese American household in New Jersey, they were raised to be confident in their Chinese and Vietnamese identities, said Lewis. They participated in cultural activities and attended heritage language schools. But they still stood out, she noted.
"Within [the] different communities that we were placed in to intentionally have that exposure," said Lewis, "there was a clear disconnect of what it meant to be an adoptee versus the child of parents who are from these different countries or even born here."
The monthly gatherings at UVM provide an opportunity for attendees to question and talk about their experiences without guilt or discomfort, Lewis said. "It can feel really uncomfortable to acknowledge some of the harm or hurt that's been done to you by your own family," she noted.
The group "provides a space that's not particularly invasive," because the attendees all have somewhat similar experiences, Lewis continued. "[But] the diversity within the group is pretty infinite, as much as the stories of adoption are infinite, because there are so many combinations, ways, time lines and histories around that."
Group cofounder Kessler said it wasn't until she attended UVM that she was exposed to different cultures. Adopted from Hyderabad in India when she was 18 months old, Kessler grew up in Jericho.
She struggled to find a sense of belonging and identity in a predominantly white area, where she was a constant target of racism, Kessler recalled. She wished she were white so she could blend in with everyone else. A brother, her senior by seven years, was adopted from Romania. Most people assumed he was their parents' biological son, she noted.
"I didn't love myself or accept myself for who I was," said Kessler, who now lives in Florida. "I resent ever growing up in Jericho."
Before she attended UVM, Kessler visited India, wanting to find her "missing part" and the culture that she felt had been "stripped" from her. The trip was incredible, she said. She relished not drawing stares as she walked the street.
In her freshman year, Kessler, who had been given the name "Priscilla" by her orphanage in India and "Haley" by her parents, took on the name "Nishani." While preparing the paperwork for her trip to India, she learned that was her biological mother's name. Renaming herself, said Kessler, felt like a "rebirth."
In her sophomore year, Kessler got together with UVM junior Waller to create the precursor to the Interracial Adoptee Group. Born in Vietnam, Waller was adopted at age 2 and lived in Tampa, Fla., for 10 years before moving to Vermont in seventh grade. Waller, who uses "they" and "them" pronouns, has an older sister who was adopted from China.
"I've not always had a great relationship with my family," said Waller, 23. Waller's mother adopted her two children in middle age, and the generation gap added to the stress of transracial adoption, Waller said.
Their mother had a group of friends who'd also adopted girls from China and would organize gatherings so the kids could play together. But Waller felt excluded.
"She always supported us financially. That was never an issue," Waller said of their mother. "The emotional support is where it got tricky."
In the UVM group, Waller found understanding, empathy and validation of their experiences, they said. Among the issues the adoptees discussed, Waller recalled, was the lack of empathy that some white parents demonstrate when their children suffer racism; the fact that most adoptees are of Asian, especially Chinese, heritage; and the need for parents to do their research before adopting kids from abroad.
"I can't talk to my mom about things like Ferguson or Flint," said Waller. "I can't talk to her about racial inequality or police brutality or any of those things, because she hasn't experienced those."
Parents who intend to adopt internationally need to "go all in," said Waller. "You should know everything that your kid would need to know if they encounter in their life someone who grew up in that country."
For UVM senior Grace Jee Hyun Skillman, joining the Interracial Adoptee Group was a "no-brainer." She hadn't thought too much about her identity and ethnicity until the past few years. Being part of the interest group made her "feel not alone," she said.
Skillman was adopted from South Korea and grew up in a "very white" area in New York State. Her parents encouraged her to attend more culturally diverse schools, Skillman said, but she was always happy where she was.
"I didn't feel Korean," said the senior. "I walked around portraying, feeling like I was white."
Skillman got an unexpected lesson in genetics this past spring during her semester abroad in Seoul. Out with a few German students, she learned they were having a hard time finding deodorant in Korean stores. She, by contrast, has never needed to use deodorant, and conversations with local Korean students revealed she wasn't alone. Most East Asians lack the ABCC11 gene, which is responsible for body odor.
"I thought it was just me," said Skillman. The trip to South Korea, which she described as her "motherland," revealed that "all these things that I thought were individual to me, I would realize are Korean."
But her time in Seoul also evoked mixed emotions. Growing up, Skillman felt no different from people around her, she said, despite looking physically different. In Seoul, where she blended in physically for the first time in her life, she said, she felt more different than ever. The disconnect she felt with fellow Koreans made her determined to learn more about her racial and cultural background.
These days, Skillman is teaching herself Korean, watching Korean television dramas and listening to K-pop. "I really just want to get in touch with the true Korean inside of me," she said. "There are too many things that came naturally over there."
Like Carasi-Schwartz, Skillman attended a few Asian Student Union meetings but couldn't relate to the issues discussed there. She hopes the Interracial Adoptee Group will have more frequent meetings so she can connect with more fellow adoptees, especially ones from South Korea.
Carasi-Schwartz said the small size of the group helps its members form deep and meaningful relationships. Their conversations don't necessarily have to revolve around adoption, she pointed out: "It's not our sole identity."