For our annual Love & Marriage Issue, we decided to look for unusual love stories. That is, we wanted to find couples whose meetings or relationships were a little out of the ordinary, for whatever reason. And we thought it would be easy. It wasn't.
Turns out, most of the people we already knew had hooked up at a bar or party or found each other online — the kinds of meetings so prevalent in modern romance. Others we queried simply wanted their private lives to remain so.
But then an unexpected theme emerged — let's call it international relations. In each of the three couples who agreed to share their stories here, at least one partner is from another continent. All of them ended up in the Green Mountain State, which just shows that true love can go the distance.
— Pamela Polston
Got the Moves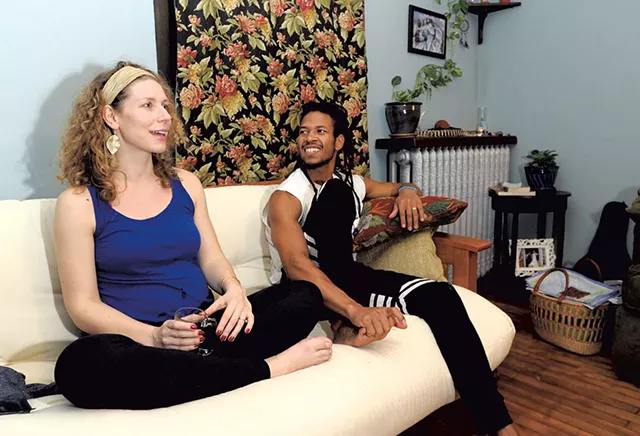 Jeb Wallace-brodeur
Kaitlyn and Fabio Nascimento
Kaitlyn and Fabio "Fua" Nascimento now live happily as a married couple in a riverside apartment in Montpelier. But their love story began in 2009 on a faraway dance floor in Brazil. Fate and appreciation for capoeira — the acrobatic Brazilian art form that combines dance and elements of martial arts — brought the two together against the odds of geography, language and culture.
The Nascimentos shared their story one evening last week, sitting on a couch in their tidy living room. A gas stove warmed the space as the rushing of the nearby Winooski River provided a soothing soundtrack.
When Kaitlyn O'Donnell and Fua Nascimento met, she was a translator taking a capoeira class in São Paulo, Brazil, a city of 11 million. It's on the other side of the Western Hemisphere from where she grew up: West Brookfield, Vt., population 1,292.
He was a young capoeira teacher, performer and occasional model who had grown up in the São Paulo ghetto and happened to come to the class at a friend's studio. There Fua immediately noticed Kaitlyn's smile, blond hair and — this being Brazil, where appreciation for a certain body part runs deep — her "nice butt," he recalled.
For her part, Kaitlyn observed Fua's friendly manner and well-chiseled physique: "I remember being behind him and noticing his back muscles. I remember that I thought, You should probably control yourself."
She was 24. He was 28.
After that class, Fua accompanied Kaitlyn to the subway and boarded her train, even though it was going in the wrong direction for him. They walked along the Avenida Paulista, flirting and talking. And then they kissed. Within months, they had decided to move to Vermont, where they soon married.
Their different backgrounds have pushed the partners to be flexible, and their willingness to try new things has made them stronger both individually and as a couple, they said. Fua summed up his relationship advice: "Get to know yourself, try new things, learn new skills, get out of your comfort zone."
"Not that we have it all figured out," Kaitlyn added with a smile.
Now 31 and 35, Kaitlyn and Fua are expecting their first child in June. The parents-to-be are already pondering the question that faces all dual-language couples: Should they speak Dad's native tongue (Portuguese) or Mom's (English) with the child?
They've decided they will be pai and mae — Portuguese for father and mother — and will speak Portuguese at home. They figure it's the best way to help the child grow up bilingual — something they both care about.
Kaitlyn, the daughter of a professor and a high school teacher, carries on the family trade. She studied dance and romance languages at Wesleyan University, graduated in 2007, and now teaches Spanish at Cabot School. She learned Portuguese in Brazil and spoke it most of the time at the start of her relationship with Fua.
Now he speaks English, and they flip back and forth. They have favorite words in each language — such as "cuddle" — that they use regardless.
Fua, who earned his bachelor's in arts and education at Goddard College last year, teaches capoeira in schools and local studios, as well as at the University of Vermont and other colleges. His classes incorporate the music, language and culture of Brazil along with the athleticism and choreography of capoeira, whose origins can be traced to African slaves in Brazil in the 1600s.
Fua started capoeira dancing at age 8 and was a teacher by 17. He also worked from age 12 at his father's small screw-manufacturing company. But it was capoeira that pulled Fua out of his poor neighborhood, giving him opportunities to teach upper-income families and perform on cruise ships. His international shows included a dinner-theater stint in Munich, Germany. "Capoeira took me a lot of places," Fua said.
Now, teaching the dance form in Vermont is satisfying, he noted: "For me, it is like a tool to free you from cultural barriers."
Kaitlyn also teaches dance part time. For both of them, movement is a powerful form of self-expression. They choreographed a dance and performed it at their wedding party for 150 friends and family members — including a big contingent from Brazil.
"It's just something we share, and so it made sense that it would be part of the ceremony," Kaitlyn said.
Relating their love story in movement was completely natural, Fua added. "That's how I see people in everyday life," he said. "How they move is who they are."
— MOLLY WALSH
In Love and War
Matthew Thorsen
Kenan and Slavojka Avdibegovic
When Slavojka Avdibegovic heard her father's voice over the phone in January 1992, she trembled. "Ask your husband if he wants to come with you," she remembered him saying. It had been three years since Slavojka went against her father's wishes and married Kenan Avdibegovic, a Muslim Bosniak, after a seven-month courtship.
No one from her Orthodox Serbian family had attended their wedding, and Slavojka hadn't been allowed back into her family home in Doboj, Bosnia (now Bosnia and Herzegovina). She wasn't sure if Kenan would be willing to visit her parents after having been snubbed for years. But to her relief, he agreed.
In the northern border town of Šamac, where Kenan and Slavojka had met while working at a hotel, mixed marriages were not uncommon. "It was an open-minded town," Slavojka said. Indeed, according to the 1991 census, nearly 19 percent of new marriages in Bosnia were interethnic.
Even as Slavojka's father came to accept their relationship, ethnic divisions were worsening across the Balkans in the months leading up to the Bosnian War. It was courageous of Kenan to travel to the predominantly Serbian town of Doboj, Slavojka noted.
Across the Sava River from the couple's home in Šamac, the war in Croatia had been raging for a year. Slavojka remembered hearing gunshots and whizzing bullets. "You can see dark clouds above your head. But you still don't want to believe it. It's Bosnia. We're very multicultural, very diverse," she remembered thinking.
Then, in April 1992, Serbian soldiers marched through the streets of Šamac and rounded up Catholic Croats. Kenan, like most male Muslim Bosniaks, was forced to dig trenches for the army. He would be gone for days and return home exhausted and traumatized, said Slavojka.
In December of that year, two grenades hit the Avdibegovics' apartment. A neighbor's son was killed, and Kenan was sent to a hospital in Belgrade, Serbia, with serious injuries. The couple lost all their property. With her head still wrapped in bandages, Slavojka took their young son across the border to visit Kenan. There, she was told that her husband would be a paraplegic for the rest of his life.
After Kenan was discharged, he was sent to a rehabilitation center in central Serbia, where Serbian soldiers were also recuperating. From across his room, Kenan watched one of the soldiers taunt him by drawing a finger across his throat. Slavojka kept a vigil at her husband's bedside.
Kenan spent a few days at the center before the couple and their son moved to a nearby refugee camp. If life in Bosnia during the war was hard, life at the camp was even harder. "You never know when they're going to com e to your door and shoot you because you're the only one who's different than everybody else," said Slavojka.
She was viewed as a traitor for marrying a Muslim. When they were out together, the couple would hear people whisper, "Muslim, Muslim, Muslim" behind their backs. Her family pressured her to leave Kenan, but Slavojka refused to abandon her husband.
"We needed each other. I see beauty in him. I never see Kenan in a wheelchair. He's my husband who's walking with me," she said.
The Bosnian War raged on and would result in some 100,000 deaths — the majority of the victims Bosniak.
Kenan, Slavojka and their son endured the perils of the refugee camp for four years before they were finally resettled in St. Louis, Mo., in September 1996. In July of the following year, they made their way to Vermont, where Kenan's sister and her family had settled.
Today Slavojka, 48, is a lab supervisor in the custodial services department at the University of Vermont. Kenan, 64, wakes up at 3:30 in the morning to make coffee so the couple can drink it together — Slavojka starts work at 5 a.m. When she returns home in the afternoon, Kenan repeats the ritual.
"Not many husbands will do that. Not many wives will do that. It's a ceremony for us to have coffee," Slavojka said.
These days, the two enjoy cooking, going to antique shows and walking their dog. Their son is pursuing a degree in computer science at UVM. "This is good life," Slavojka said. "Why need more?"
— kymelya sari
African Union
Matthew Thorsen
Ali Dieng and Angela Smith-Dieng
In 1999, when Angela Smith learned that her Peace Corps assignment was in Mauritania, she had to check the country's location in an atlas. Just a few years later, the Catholic-raised Adirondack native married a Mauritanian man in an Islamic wedding ceremony that neither of them attended.
In many respects, theirs was a typical Peace Corps romance. Angela met her husband-to-be, Ali Dieng, in the small Mauritanian town of Rosso. He'd returned from neighboring Senegal, where some of his family lives, to finish his high school education. She was working as an education volunteer, as Mauritania had recently instituted English in its public schools but lacked English teachers.
One day, Ali approached Angela for help in developing a high school English program. He was fluent in French and four native languages and agreed to teach her the local dialects, which were essential for daily life in the town. As Angela recalled in a conversation last week, "It began as a mutually beneficial relationship."
The two soon struck up a friendship and began having conversations about religion and philosophy. Mauritania is an Islamic republic, and many locals tried to convert Angela to Islam. Ali was not among them.
"Ali was really good about not pressuring me but just being open to my questions," Angela remembered.
"We'd been friends for a long time," Ali said with a thick Mauritanian accent. "I remember us going together to my girlfriend's house."
"I don't remember that," Angela put in with a laugh.
"She used to read the poems I was writing for my girlfriend," Ali said.
"Until he started writing poetry for me," she clarified, smiling.
Angela and Ali dated from the spring of 2001 until her Peace Corps assignment ended later that year. Both in their early twenties, they agreed it was too soon to get married or even commit to a long-distance relationship. Still, they stayed in touch as best they could.
Angela returned to the United States, where she studied international development at the School for International Training in Brattleboro. Although she'd initially planned to go abroad again, she took a job combating inner-city homelessness in New Jersey. While there, Angela said, she began studying Sufism, Islam's mystical tradition. She then converted to Islam.
In 2005, Angela returned to Mauritania to be with Ali, and the two decided to marry. But his uncle, the family patriarch, adamantly opposed the match — mostly, Ali said, because he hadn't followed the tradition of formally asking the uncle's permission.
"We had to talk to all the people, close friends and family members," Ali recalled. Friends and family held multiple conversations over weeks, he noted, debating whether to let the marriage proceed.
Ali's uncle finally relented but refused to perform the ceremony, which was held in the family mosque on October 5, 2005. Neither Ali nor Angela was present — an absence that is customary. They waited at the Dieng family's house to be notified when they were wed.
How did Angela's family back in Chateaugay Lake, N.Y., take the news? She chuckled before answering.
"I didn't give them any warning that this was going to happen," she admitted. "Mostly, I didn't want to be swayed by anyone's fears or opinions. I wanted to go back [to Mauritania] and make this decision myself without worrying what other people were thinking."
Ultimately, her family was OK with the union.
"They were just concerned I would choose to not come home, and we're a pretty close family," Angela said. "But us being from different cultures, races and religions didn't bother them at all."
Because Angela was in Mauritania on a tourist visa, she had to return to the U.S. without her husband. It took Ali more than a year to join her in Washington, D.C., where she was working for an immigration advocacy nonprofit. The couple later held a second, Sufi-style wedding ceremony for her family and friends on a beach in Chateaugay Lake. About a year later, they relocated to Burlington to be closer to Angela's family, as her father's health was declining. Angela is now executive director of the Vermont Association of Area Agencies on Aging.
Ali acknowledged the difficulties of his transition to life in Vermont. The first year, he felt isolated without friends or family nearby. After the couple's first daughter, Apsa, was born in 2008, he became the primary caregiver — not a typical role for men in Mauritania. By 2009, however, things were improving. Ali got work through AmeriCorps, made friends and formed an African drumming group. Then he landed a job doing community outreach for the Burlington School District. "And I was like, 'Wow! Summer here is beautiful!'" he said.
Today, Angela and Ali, along with their daughters, Apsa and Aisha, live in Burlington's New North End. Asked about the abundance of "A" names in the family, Angela insisted, "That wasn't intentional."
— ken picard