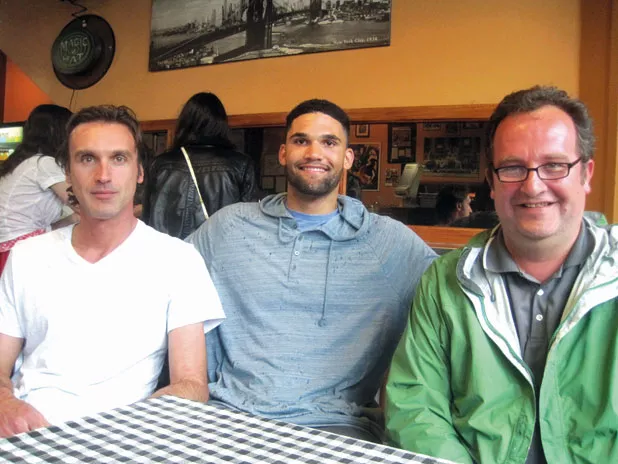 Where can you get gyros, red Thai curry, Philly cheesesteaks and Junior's Italian pizza? At the beach, of course. Memorial Day brought the opening of a seasonal stand called the Beach House on Burlington's North Beach. Owners Amir Jusufagic and Sani Pasagic have been managing partners at Junior's Downtown since April, but each also runs a Church Street food cart. Jusufagic has owned Amir's Kebab since 2006, while Pasagic took over Wicked Mountain Hot Dogs four years ago.
Favorite dishes from all three businesses are on the menu at the Beach House. Manager Luke Apfeld, a 6-foot-7-inch University of Vermont basketball forward, began training his fellow college athletes last week to run the stand throughout the summer.
They'll prepare Hebrew National hot dogs in two sizes, including 10 specialty dogs named for local celebrities such as UVM basketball coach John Becker. Jusufagic says he hopes to get local potatoes for hand-cut French fries; most produce will come from the Sam Mazza family farms, he says.
The snack shack will soon offer 40 to 50 seats on an adjacent patio and serve most of the Amir's Kebab menu, including a new Thai curry dish that Jusufagic learned from the chef at his former Church Street neighbor, Bangkok Bistro. Even vegetarians will be well fed with salads, freshly fried falafel and pizza brought down from Junior's.
Once the summer is over, the hits will keep on coming. Jusufagic and Pasagic's deal with Burlington's Department of Parks and Recreation includes running the snack bar at nearby Leddy Park Arena, which will serve an abbreviated version of the Beach House menu all year.
The original print version of this article was titled "Life's a Beach"