Ambient Photography
Brian David Johnson and Mater Christi students.
As chief futurist for the microprocessor manufacturer Intel Corporation, Brian David Johnson spends his days forecasting how people will interact with computers 10 to 15 years from now.
So what was he doing with several dozen sixth graders in the Mater Christi School science lab this week?
Johnson, an energetic self-described nerd, came to Burlington to give a talk and visit classrooms at Champlain College, which recently formed a partnership with Mater Christi. (Erik Oliver, director of major and annual giving at Champlain College, is the president of Mater Christi's Board of Trustees.) Johnson stopped in at the pre-K-through-eighth-grade Catholic school on Wednesday.
After explaining his work to the kids, Johnson made an emphatic declaration: "The fact of the matter is, the future isn't fixed; the future is made by people everyday."
He then asked the sixth graders to imagine what kind of robot they would create if they had the chance. How would they interact with the robot? What would they like the robot to be able to do?
[jump]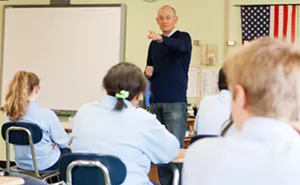 The kids shared their visions, which included robots that could play chess, help them practice the violin, feed their pets and — in true preteen fashion — dominate the world.
"Anything you could imagine, that could happen," Johnson told the students, before asking them to get into groups and draw a robot they would like to create.
Johnson usually speaks to adult audiences, but since he embarked on his newest venture, the 21st Century Robot Project, he's visited many schools. The project's motto, "Every Robot Has a Name," alludes to the idea that Johnson would like anybody to be able to imagine, design, build and program their own robot. A robot, as Johnson describes it, is basically a smartphone with legs. Users can download apps onto its "brain" to create a customized creature that can perform functions based on their preferences.
Johnson has also written a science-fiction book called
21st Century Robot
featuring a robot from his own imagination, Jimmy. The book will eventually include open-source design files that will make it possible for readers to create their own 3D-printable robots.
After the student session, about a dozen Mater Christi faculty members met with Johnson to pick his brain about the potential for Mater Christi's collaboration with Champlain College and the future of education.
Johnson stressed how important it is for students to learn to code in school. "Code is the language by which we interact with machines," he explained, "and there are going to be more computers in the future than there are today."
Still, Johnson urged teachers to help build emotional intelligence in their students, too. "These are the things that machines will never be able to do," he said. "Ultimately everything we do is about humans. Technology is just the tool."