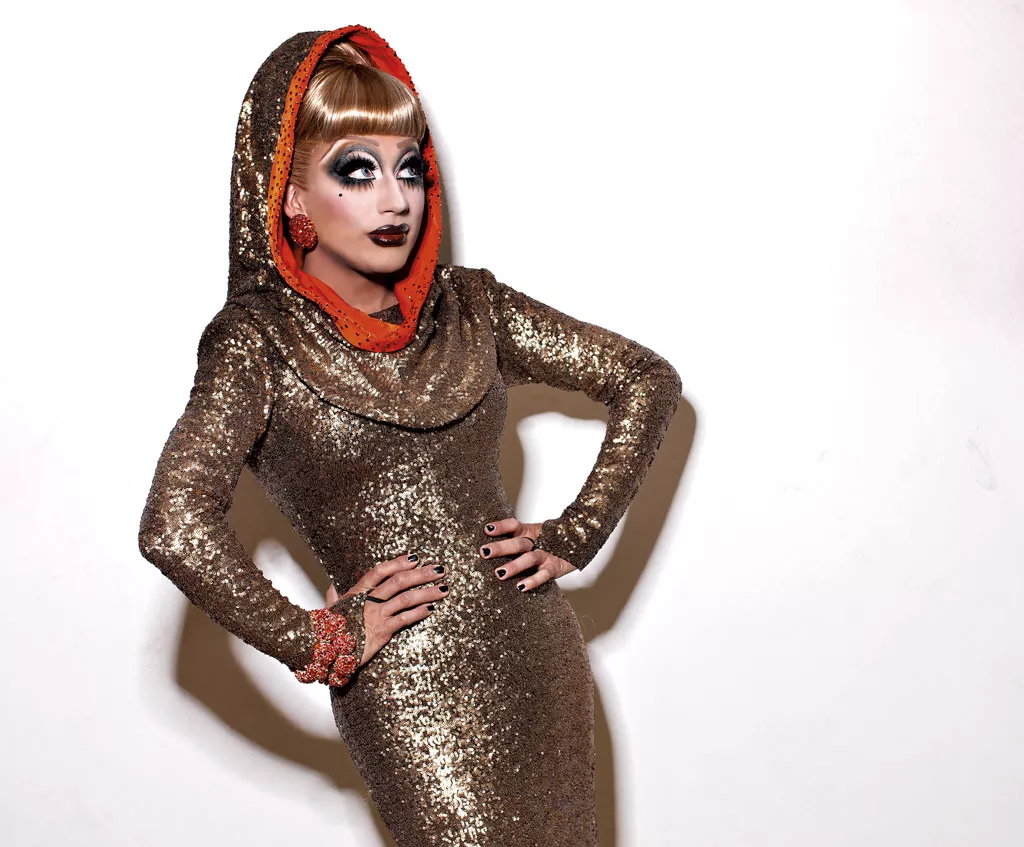 Courtesy of Magnus Hastings
Pageant queens, old-school club queens, goth queens and fishy queens all have their own performance styles. Drag artistes are a diverse lot, but only Bianca Del Rio would sum up her style, as she did for the New York Times, as "erotic clown."
The razor-witted insult comic, 39, could pass for a filthier Don Rickles if it weren't for her exaggerated eye makeup and nipped-in waist. Born Roy Haylock, the former costume designer from Louisiana is a staple in New York and New Orleans nightclubs, and last season won the top-rated reality competition "RuPaul's Drag Race" on Logo TV. Del Rio emerged as the supreme queen thanks to her fierce Judge Judy impression and facility for whipping up campy cocktail dresses.
The winner's world is not all tantrums and tiaras. Del Rio is currently riding a wave of popularity that's taking her from sold-out shows in New York and Los Angeles to humbler venues such as bingo halls and college campuses. Like one of her role models, Joan Rivers, Del Rio is loath to turn down any gig. "I've been fortunate enough to have everything come my way that has," she says demurely by phone from Los Angeles. Next week, that dedication to performing will bring her to Stowe High School's auditorium.
Del Rio's Rolodex of Hate Tour stop in the Green Mountains is part of Winter Rendezvous Gay Ski Week, a five-day event now in its 31st year. Other entertainment acts include returning drag comedian Dixie Longate, DJs and Burlington drag gals the House of LeMay. Will Del Rio's fellow performers be the butt of her insult humor? "Most of it is flying off the cuff," she explains of her act. "Most of the time, I don't even know what will come out."
Straight from a Logo shoot whose nature she can't reveal, Del Rio chats with Seven Days about her upcoming performance.
SEVEN DAYS: Have you been to Vermont before?
BIANCA DEL RIO: No, but what I've learned is that, after three drinks, no matter where you are, it's all the same. I don't have much time to prep myself about where I'm going. I'm in a city one night and out the next. It is work, but it is fun. I don't get to see much of the places I go. I wish I had a little more time.
SD: Filmmaker John Waters likes your act. Do you have any other unexpected fans?
BDR: That happened many years ago when I was in my twenties in [my native] New Orleans. I love him and love his work. After "Drag Race," I haven't had a tweet from Sarah Palin yet, but I heard from Neil Patrick Harris, Alan Cumming, Cheyenne Jackson and Margaret Cho. It was great to hear their response. I never experienced that before — people are watching this television show, and they get to know you.
SD: How do you toe the line between making someone laugh and upsetting them?
BDR: If you're coming to see a drag queen in an enclosed space, that's already half the battle. You're not going to please everyone, and that's just the way of the world. People are much more sensitive on social media, but nine times out of 10, people will go out and type up things on Facebook they would never say in person.
SD: Most "Drag Race" alums immediately record a dance track. Where's yours?
BDR: I'm not doing that shit. I'm doing a comedy album. That's definitely not my cup of tea. There are people who do that well and people who don't, and I'm one that 'don't.' I like to break the rules.
SD: Most of your professional life has been in theater. Any hopes to return to the "legitimate" stage?
BDR: I've never stopped. I've always been involved in theater in some way, acting and designing, and both in New Orleans and New York. I always did drag at night. It wasn't until "Drag Race" that I took a leave from work. It's definitely my passion. I never rule anything out.
INFO
Bianca Del Rio, Thursday, January 22, 9 p.m., at Stowe High School Auditorium. Tickets are included in the Winter Rendezvous package or may be purchased individually for $45. mjwadventures.com
The original print version of this article was headlined "Take That: A Rendezvous in Stowe With Insult Diva Bianca Del Rio"