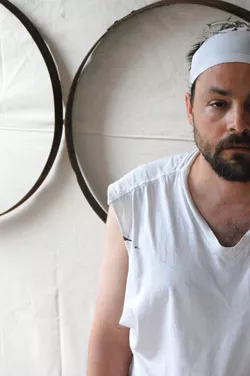 M P Landis' summer isn't turning out exactly as he'd expected. For starters, he was supposed to be in Dufftown, Scotland, right now serving as an artist-in-residence at the legendary distillery Glenfiddich. If things had worked out, he, his partner, Sarah English, and their infant daughter would be living on the distillery grounds with seven other international artists. Instead, they're staying with English's parents in Cornwall, Vt., and Landis is working out of a former bank on Merchants Row in Middlebury. But the Brooklyn-based artist is learning to love his Plan B.
Landis, 44, is a scruffy-bearded painter with acrylic-spattered shoes and funky, seafoam-colored glasses. After receiving the residency offer from Glenfiddich in January, he prepared his family to travel to the Scottish Highlands, where the single-malt Scotch is made. But new visa requirements for artists entering the United Kingdom put the kibosh on Landis' opportunity. The stringent rules require artists to show they have at least $1400 of savings, and each artist's sponsor — in this case, Glenfiddich — must be able to provide additional financial support and constantly monitor the artists to ensure they don't abscond during the stay.
Lacking the necessary artist visa, Landis and his family were turned away at London Heathrow Airport and loaded on a U.S.-bound plane shortly after they arrived. Since the couple had already sublet their Brooklyn apartment, they needed someplace to stay for the summer while Glenfiddich's lawyers addressed the snafu. "We figured we'd just move in with Sarah's family and figure it out. And it's been great," Landis says. "It's good to get out of the city. It's the first time I can envision not living in the city."
Middlebury doesn't exactly have the cachet of the Scottish Highlands, but Landis' remote residency has been working out well. He spends his days painting canvases in the old Citizens Bank building, where the safe and all the teller counters are still intact. When he rented the unlikely studio space, Landis was told he could do whatever he wanted to the property, since it would soon be gutted to make way for a dental clinic.
Inside the studio, new paintings dry on the carpeted ground. Hoops from the oak casks in which whisky "matures" serve as inspiration for the work that will go into the Glenfiddich show. Landis' paintings will be shipped to Scotland for the show's opening, but he will be staying here. After his debacle with British immigration authorities, Landis doesn't expect he'll be allowed in the country any time soon.
Over the couple of months of his makeshift Middlebury residency, Landis has created a number of abstract paintings that employ the iron hoops sent by Glenfiddich. He coats them in paint and rolls them on the canvas. The muted earth-tone painting develops wherever the hoops land, yielding works based on a grid that are organic and playful. Landis has also made use of charcoal from the brick oven at American Flatbread and basalt from Bridport. "I love to use materials that are found," he says. "I don't like unused things. That comes from when I was really poor, starting out at zero."
Though Landis won't make it to Glenfiddich, the distillery is coming to him: At a studio open house this Saturday, Glenfiddich Whisky Master Heather Greene will host a complimentary tasting of her company's single malts. Landis recommends arriving early.