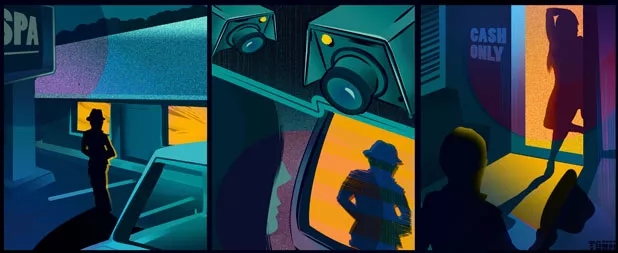 Here's how I landed the seediest assignment of my journalism career — and wound up naked on a massage table in Williston, turning down sex from a Korean woman in a pink thong.
It all started on May 7 when FBI agents and local police raided two Asian massage parlors in Bennington. According to police affidavits, federal authorities had been investigating allegations of suspected prostitution and human trafficking at the two "spas" — the Green and the Cozy — for almost two years. Their actions were prompted by reviews posted on an adult website, USASexGuide.info, as well as "rumors ... circulated around town that a happy ending could happen at that location," according to the affadavit. A "happy ending" is code for a hand job.
According to the FBI, Cozy Spa's owner, Young Shin, has a history of prostitution in Kentucky, Louisiana, Pennsylvania and Texas. Another "person of interest" is Inson Everitt, who police say is also connected to both spas and has her own rap sheet of prostitution-related arrests. Everitt has not been questioned by police, but Bennington Detective David Rowland said that "we know where to get a hold of her if we need to."
In the Bennington raids, police seized computers, cellphones, business records and several thousand dollars in cash but made no arrests and filed no criminal charges. Rowland said police are now processing all the evidence. It's still unclear whether the women, all of whom are Asian, worked there willingly or were victims of forced prostitution — aka human trafficking.
While such establishments regularly escape police scrutiny, Rubmaps.com, an adult-entertainment website, has known about them, and others around Vermont, for years. Rubmaps — whose slogan is "Find your happy ending!" — bills itself as a nationwide guide to "erotic" massage parlors and other services one may procure there.
For a $14.99 premium monthly membership, Rubmaps users can see online reviews, one- to five-star ratings and, presumably, read or write firsthand accounts about massages and sexual favors, including how much they cost.
The reviews include names and details about the women — including height, ethnicity, hair and eye color, breast and ass size — as well as a checklist of what the women did or allowed, such as "ass play," "breast play," "hand job," "blow job," "finger the pussy," "lick the pussy" and "FS." Rubmaps' glossary noted that FS is short for "full service," or a blow job plus sex.
In all, Rubmaps offers reviews and write-ups dating back to 2011 of 10 "rub-and-tug" joints in the state — six of which are in Chittenden County. Two of those have had connections to Everitt, of Bennington-bust fame. Last week, I went to see whether Rubmaps users were talking shit or telling it like it was.
From the start, I made it clear to my editors — and, more importantly, my wife — that I wouldn't solicit or accept sexual favors. But as I discovered at three of the four spas I visited, it wasn't necessary to ask, hint, flash a fifty or even nod suggestively toward my crotch. It was just assumed that my massage would close with the proverbial happy ending, like a fortune cookie at the end of the meal. And when I turned it down — evidently a rare occurrence in these places — it caused confusion, embarrassment and, judging from the looks on the women's faces, fear.
The working conditions I witnessed, or which female employees described to me, were consistent with what law-enforcement officers say characterize businesses engaged in forced prostitution. In fact, many of the red flags for sex trafficking outlined in the Bennington police affidavits were also evident at three Chittenden County establishments: no apparent cash registers or documentation of transactions; all-male clientele; an abundant use of surveillance cameras, locked doors and buzzers to screen customers; windows covered with bars, boards or curtains. The workers were all Asian women who claimed to work seven days a week and live on the premises. Though the women's names were obviously pseudonyms, I've changed them all to protect their privacy.
To find evidence of prostitution, all I did was walk in the door at each place and ask for a massage. It took me less than a week and cost about $500, including tips.
"Suzy"
At 200 Battery Street in Burlington, River Spa seems out of place in the historic waterfront neighborhood it shares with an art gallery, marketing agency, architectural firm, hair salon and law offices. The building's doors and windows are completely shrouded. Only the neon "OPEN" sign, which glows at all hours, hints at any life inside.
The white metal door in the lobby sports bumper stickers from the Vermont Police Association and Vermont Troopers Association, one of which reads, "Troopers are your best protection."
The next door was locked. "Suzy," my masseuse, buzzed me in and asked if I wanted a massage, then offered me a shower. According to Rubmaps, many Asian massage parlors offer table showers, where the women lather clients up, rinse them down and towel them dry. I declined.
Suzy appeared to be alone, though I suspected she wasn't. I followed her through the dimly lit spa, which had zero natural lighting, into a large, carpeted room with a swinging half-door. The place lacked the gritty, urban feel I'd come to expect from the nine Rubmaps reviews, all which described hand jobs and various other sex acts.
In the room were white robes, fresh towels, tea candles burning on end tables — even a poster of the human skeletal-muscular system. But no cash register or computer. Classical guitar music was playing softly.
Suzy was a short, stocky woman who looked to be around 40. She requested $80 upfront. When I handed her the cash, she left the room briefly, then returned and told me to undress and get on the table face down. When I asked for a receipt, she smiled and shook her head. Then she covered me with a towel from my waist down and began working my neck and shoulders.
Suzy, who said she was Korean, spoke broken English and was selective about which questions she answered, perhaps because she didn't understand them. When I asked which days she works — in case I wanted to come back — she said, "Every day."
"What time?"
"All day," she said.
A half hour into the massage, when I was starting to think I'd misjudged the place, Suzy yanked off the towel and tossed it on the floor, leaving me totally naked. She then climbed on the table, positioned her knees against my inner thighs, nudged my legs wide open and began massaging my lower ass. Feeling extremely vulnerable, I squirmed, then realized that the music playing was "Speak Softly Love," aka the love theme to The Godfather.
Near the end of the hour, she said, "Turn over." When I did, she turned around and immediately grabbed my penis by the shank and started to massage it, too.
I was startled but not surprised. I pulled away, shook my head and said, "No, that's OK. I'm married." She apologized but remained otherwise stoic. She then grabbed a hot towel, wiped my front clean, then helped me dress, kneeling to put on my socks and shoes.
On the way out, Suzy offered me hard candies from a bowl. I handed her a $20 bill, which she stuffed in her bra. I hurried out of the dark and claustrophobic space, which felt more like a prison — or a tomb.
Several days later, I called the building's owner, Sam Bloomberg, to find out who owns River Spa. He identified the owner as Sin Grzelecki, an Asian woman who "doesn't understand much English." That's the same name listed in the Vermont Secretary of State's corporation database. But Bloomberg had no contact information for Grzelecki other than the spa's business number. A Google search turned up only one person by that name in the United States, in New Market, Md., with no phone number.
Before Grzelecki, Bloomberg rented his space to another massage operation — Eunhwa Spa, then owned by Inson Everitt. The place shut down after November 6, 2009, when John Green, a 49-year-old homeless janitor, tried to force a female masseuse to give him a blow job. When she refused, he allegedly slapped her around, grabbed her by the throat and tried to force her mouth open. He then allegedly threatened to kill her if she didn't comply. Burlington police responded to the assault.
At Green's arraignment, Chittenden County State's Attorney T.J. Donovan raised concerns that the victim, a Korean national, may have been a human trafficking victim who was forced into prostitution, a claim Everitt later denied. Green later confessed to paying for sex there, but Donovan had to dismiss the case because past spa employees either refused to cooperate or simply vanished. Green later confessed to an unrelated aggravated-assault charge.
At the time, Everitt ran another Asian massage parlor in Chittenden County: Seiwa Spa in Essex Junction. My next stop.
"Rose"
At 39 Park Street in Essex Junction, Seiwa Spa hides in plain sight. Located upstairs from Five Corners Variety liquor store and Rocky's N.Y. Pizza, it has a large, blue sign that depicts a palm tree, beach and full moon. The place has three entrances. A Rubmaps user recommended the covered stairwell off the rear parking lot.
I headed upstairs one weekday afternoon, as couples sat outside eating slices and creemees, and backpack-laden kids cut across the parking lot on the way home from school.
"Rose," a smiley and affectionate Korean woman, unbolted the door, which sports the same police stickers as River Spa. She hugged me, removed my shoes, handed me slippers and led me inside. Before we reached the massage room, she requested $80, then stuffed the cash in a drawer — no register or computer used, either.
When I declined her shower offer, she told me to get undressed. Since there was no towel or sheet in the room, I donned a thin cotton robe and lay face down. When Rose returned, she giggled and removed it, then slapped my butt and complimented me on my body. Solo saxophone music created a bizarre ambiance, especially later, when a slow, sultry version of "Hava Nagila" suddenly turned upbeat and Klezmer-paced.
Rose, who was very chatty, told me she's 31. I would have guessed much older. She claimed she'd been in the United States for eight and a half years and moved to Vermont two years ago from Flushing, N.Y. (Owners of the Bennington spas have known ties to Flushing.) The timing of Rose's arrival was consistent with the Rubmaps reviews about her, which began to appear in June 2011. In fact, four of the seven reviews for Seiwa mention Rose and her happy endings.
Despite having been in Essex Junction for two years, Rose seemed to know virtually nothing about the area except that there's a Macy's in the mall, where she buys makeup. She'd been to Burlington but didn't know the name of the "big lake." When I asked if she ever sees female clients, she said no. One comes in maybe once or twice a year, she noted, but they never return.
"So, Rose. Where do you live?" I asked.
"Here," she said.
"In Essex Junction?"
"No, here," she clarified.
"In this place?" She nodded matter-of-factly, then continued kneading my shoulders. She said I could come back and see her anytime, as she works seven days a week, 9:30 a.m. to 10:30 p.m.
With seven minutes left in the hour, Rose told me to flip over, then immediately gripped my penis and began to rub it. When I shook my head and said, "No, that's OK," a range of emotions washed across her face, from confusion to embarrassment to fear. She apologized profusely.
I, too, apologized and felt terrible, reassuring her many times that I wasn't a cop. She relaxed a bit but seemed chastened and unsure what to do next except help me dress. When I explained that I'm married, she said, "You good husband."
Unsure whether anyone was listening, I whispered, "They pay you well?" She shook her head silently.
"Just tips?"
She nodded. Only later did I learn from anti-trafficking experts that many women in Asian massage parlors only get paid in gratuities. I handed Rose all the cash I had in my pocket, about $30, and left.
I have no way to confirm whether anything Rose said is true. For all I know, she receives a livable wage, with full health benefits and four weeks paid vacation. But when I called the building's owner, Bob Sophia, to find out who owns Seiwa Spa — the registered agent listed on the Secretary of State's website, Rance Champion, had no phone listing in Vermont — Sophia wanted nothing to do with me and didn't return follow-up phone calls.
Downstairs, the kid slinging slices at Rocky's didn't know a thing about Seiwa except, "No women go in there, that's for sure." Ditto the scruffy twentysomething cashier at the convenience store. In the one year he's worked there, he said, the place always seemed to be open. I described Rose and asked if he'd ever seen her. "Nope," he said.
As I drove away, I spotted a lone desk chair facing west on the roof of the building.
"Johns"
Such establishments aren't new to Vermont. In July 2004, the Essex and Williston police departments, along with the FBI and U.S. immigration agents, raided three Asian brothels disguised as massage parlors, including the Tokyo Health Spa in Essex Junction. In all, eight women were taken into custody, including three who admitted to performing sex for money. All were briefly detained, then released and ordered to appear in immigration court in Boston. None ever showed up.
Lieutenant Rick Garey of the Essex PD, who participated in that investigation, explained in October 2010 to Vermont's then-newly formed human trafficking task force how police botched that investigation by mistaking trafficking victims for prostitutes.
"Our witnesses floated into the wind," he said, "and our investigation ground to a halt."
There are more than 4000 brothels in the U.S. that are disguising themselves as legitimate spas and massage parlors, according to the Polaris Project, a Washington, D.C.-based nonprofit group, Many advertise openly in magazines and newspapers — some have run ads in Seven Days — as well as in phone directories and online forums such as Craigslist and Backpage.com.
According to the Polaris Project, they operate pretty much the same way everywhere. Typically, the customers, or "Johns," pay a "house fee" of $60 to $90 — all but one in Chittenden County charged $80 — for one hour of service. Clients are expected to bring additional cash for the women, but the tips can be varied and unpredictable.
In many cases, the women have been smuggled into the United States illegally and are forced to repay the cost of their passage by working as prostitutes. Once here, the women, who are predominantly Asian, are expected to work from 10 a.m. to 2 a.m., seven days a week. It's not uncommon for one woman to service six to 10 men a day. Surveillance cameras are used not only to keep an eye on the customers but also on the women, to prevent them from fleeing.
"In general, fake massage businesses control women through many means, including psychological abuse, threats, document confiscation, isolation, debt bondage or capitalizing on language barriers or the unfamiliarity of the women to their immediate surroundings," Polaris explains in a detailed fact sheet about fake massage parlors. "Physical abuse and violence may also be present. However, relative to other sex trafficking networks, it is less frequently used as a method of control."
Just last week, Vermont's anti-trafficking task force completed the protocols for a new, rapid-response support system that can offer such victims safe haven, food, shelter and medical care. However, the experts say that it's often hard to get the women to leave their places of employ. After police raided the Bennington spas last month, none of the workers accepted their safe-haven offers.
The affidavits were "a real interesting challenge to write," admitted Bennington Det. Rowland, "because in one respect, you could be looking at prostitution, but at the other end you're potentially looking at them as victims."
None of the six Asian massage parlors in Chittenden County is currently under investigation, according to the Burlington PD, Essex PD, Williston PD and the Chittenden Unit for Special Investigations.
CUSI Director Dennis Duffy said his staff is just "too slammed" to have much free time for "proactive stuff." For its part, the FBI won't comment on whether it has active investigations, but Duffy said he assumes the feds would have alerted him if they had anything under way in Chittenden County.
Neither Duffy nor other police officers contacted for this story seemed aware of the existence of Rubmaps or its contents.
Of the three spas Vermont police raided in 2004, undocumented sex workers were found in only two. One was Tokyo Health Spa, which is now closed. The other was Harmony Health Spa in Williston. That was my next and last stop.
"Candy"
Tall hedges off Williston Road conceal Harmony Health Spa, located in a shabby, windowless, one-story storefront near Taft Corners. Its corporate status is "terminated," according to the Secretary of State's office, but the massage parlor is still open for business.
Out front, a huge roadside sign displays the hours of operation as well as a red digital clock that tells the time. There's even a handicap-accessible ramp. On the day I visited, the only car outside was a white Lexus with Florida plates.
Inside the front vestibule, an older Asian woman unlocked an inner door and waved me inside. I told her I was looking for "Chi-Chi." Rubmaps has seven reviews about her dating from January 2012, all of them positive and full of happy endings.
"I'm Chi-Chi," she said suspiciously. "Who told you Chi-Chi?"
"A friend," I said vaguely.
Chi-Chi, who behaved more like a madam — in Asian massage parlors, they're sometimes called mamasans — led me by a surveillance camera and down a long narrow hall, past a man taking a shower, into a dimly lit but clean and well-kept room.
Chi-Chi yelled something down the hall in Korean and a tall, thin and busty Asian woman named "Candy" walked in, wearing black spandex pants, a lacey pink skirt and a tight, low-cut blouse. She hugged me affectionately and asked for $80. I forked over the cash, and she briefly left the room.
I undressed and laid face down on the table. Candy returned with Chi-Chi, who patted me on the rump and whispered in my ear, "She take care of you, you take care of her, OK?"
Candy drew the half-curtain in the doorway closed, dimmed the lights further, then got down to business. She was very friendly and talkative, originally from a town outside of Seoul, South Korea. She said she'd just arrived in Vermont a day earlier from Manhattan, where she'd lived for 10 years. I asked if she was more a city girl or country girl.
"City girl," she said, giggling.
I asked if she had a boyfriend back in New York City.
"No, you my boyfriend," she said with a flirty smile.
Candy's massage was athletic and rigorous. She sat on my ass, stretched my legs in all directions and deliberately pressed her breasts against my head several times. As a new employee, she said she'd work seven days a week, from 10 a.m. until 11 p.m. for about a month before she gets a day off. She also claimed to live on site.
As I lay on my stomach with my arms draped over the sides of the table, Candy lifted my hands and planted them firmly on her thighs. Next, she asked if I wanted to see her breasts. When I smiled but said nothing, she removed her top and bra, then pulled down her pants.
She fingered her pink thong seductively and began pulling it lower, asking if I wanted to see more. I knew exactly what she was offering, and it sure as hell wasn't foot reflexology. When I declined, she asked, "You shy guy?" then gripped my penis firmly with one hand and made it clear that everything was on the table, including her, if I wanted it. I turned her down.
A few days later, Tom Booska, who owns the building, confirmed by phone that Harmony's owner is a woman named Nam Son Yim. When I asked for her contact info, he said, "Well, if you call there, they're going to refer you to me because of the language barrier. Not that I'm fluent in Korean at all."
When I mentioned the Bennington spa raids, Booska said he was aware of the human trafficking allegations there but insisted nothing of the sort was happening at Harmony. How could he be so sure?
"I'm very careful to make sure that I have only U.S. citizens in this building," Booska said, adding that he checks the I-9 immigration forms of all the women working there to ensure they're legit.
Any reason, I asked, to suspect prostitution?
"I'm sure there's not," he said. "The Williston Police Department and U.S. immigration check in from time to time. There's nothing going on there that shouldn't be."
Several hours later, I got a phone call from a Vermont Rubmaps user I'd interviewed in person previously. He agreed to talk to Seven Days on the condition his real name not be used in this story.
"Adam" said that he'd just returned from Harmony Spa, which he'd never visited before. He paid $80 cash for a one-hour massage. He said his masseuse was Asian but he didn't catch her name. She didn't sound like either of the two women I encountered there, but his description of the spa's interior, as well as the nature of the transaction, were consistent with my own experience.
Adam said his masseuse kept him covered under a blanket while she walked on his back. Then, toward the end of the massage, she tickled his legs and belly lightly.
"That's when she flopped me over and got rid of the blanket altogether," Adam said. "I didn't even have to ask. She just went to town."
By "went to town," he clarified that she began giving him a hand job.
"She asked me, 'You appreciate me? You know what I mean?'" he added. "I said I did."
After Adam ejaculated, he said he got dressed and handed her $40. She begged for another $20, and got it. Another "happy" ending — at least for him.
MORE ON THIS STORY
Vermont Police Take Hands-Off Approach to Investigating Massage-Parlor Prostitution [06.12.13]
State's Attorney: Massage Parlor Women Will Not Be Prosecuted for Prostitution [06.12.13]
Williston Landlord Charged With Allowing Prostitution, Customers May Be Identified in Court [06.14.13]
The original print version of this article was headlined "Unhappy Endings"