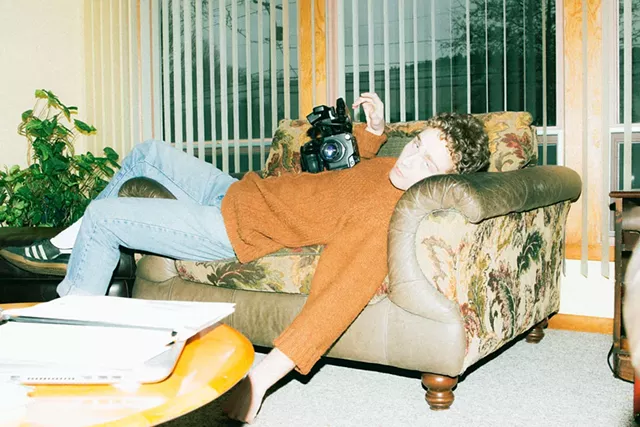 Courtesy Of Kayhl Cooper
Kayhl Cooper
Records, live gigs and music videos are a musician's holy trinity. They work in harmony to create a vivid, multifaceted world for fans. Of the three, music videos can be the trickiest to produce well.
For one, they're hard to pull off technically. Not everyone who steps behind a camera is blessed with a mastery of media aesthetics. Furthermore, high-concept premises can sometimes come off as cheesy, insincere, divorced from a song's meaning or out of step with the band's overall aesthetic.
What an artist needs is a director like Kayhl Cooper. In the last two years, the 22-year-old Essex Junction native is now an in-demand talent for music makers, locally and beyond. From his early days as a content producer for the Essex Junction Recreation and Parks department, Cooper has become a burgeoning local auteur.
The lead videographer for Burlington production company Noise Ordinance, Cooper is a bundle of energy. He talks a mile a minute, but in a charming way.
The director's growing list of clients includes singer-songwriters Stace Brandt, Francesca Blanchard and Casey Dubie. He's also worked with indie bands And the Kids, J Bengoy, the Dead Shakers and Fever Dolls. In August, Cooper debuted a stunning clip for the Essex Green's song "Don't Leave It in Our Hands," taken from the Merge Records rockers' new album Hardly Electronic. And just last week, he traveled to New York City to meet up with another artist on Merge's roster: Seattle's Telekinesis.
Cooper claims that when he first started making videos — such as the early Noise Ordinance vids — he was just trying to "get out of the way" to leave room for his subjects.
"I was pretty business-forward for a long time in the way I did concepts," he says. "What are you trying to achieve? What is it that you think would be the best way to do that? What is it I think will be the best way to do that? It was very objective-driven."
Now, Cooper takes more ownership of his works.
"I've started to come at [projects] with a really specific concept from the beginning, which can be really scary," he says.
Seven Days recently talked with Cooper to dissect some of his videos. We discussed his recurring themes — hands and arms, travel, body spasms — as well as his visual style, which often features slow push-ins and confrontational static shots. He also gave us certain key insights on how his pieces come together.
"Right before things are about to happen, there's a breaking point where people go insane," says Cooper. "I think, hopefully, that's where most of my videos reside."
"I want to show how people feel when they're writing the music."
Stace Brandt, "Highwire"; Francesca Blanchard, "Free"; Casey Dubie, "Silver"
These three songs are almost like parts of a trilogy. We see the artists in intimate places: their bedrooms, cars and studios. They seem to search for something, but we never quite see them find it. The implication is that making art is a pilgrimage with no defined end point.
Though they may not be the flashiest parts of Cooper's canon, these videos serve as a sort of template, a Rosetta Stone for the director's artistic palette, if you will. From cool, temperate lighting to frequent eye contact from his subjects, Cooper employs many of the same basic concepts within his more complex work.
"I try to use practical effects whenever possible."
The Essex Green, "Don't Leave It in Our Hands"
Detachment, self-involvement and despair run rampant in this song, and the video echoes that. Smartphones are replaced with triangular shards of glass, reflecting the holder's eyes directly into the viewer's.
Cooper adds a bit of magic to this piece in two ways. A simple, practical effect, fishing wire, creates the illusion of cellphones defying gravity, dangling and spinning in midair. Meanwhile, a group of elementary school kids treks into the woods, only to discover an odd sight: a massive pink plexiglass structure. The artwork, by sculptor Lydia Kern, has only been erected twice: for the Waking Windows music festival and for this video.
"I like my videos to be very artist-forward."
And the Kids, "Champagne Ladies"
The members of this Montréal-via-Northampton, Mass., trio take the lead here. Cooper refers to this vid as both "artist-forward" and "style-forward," meaning that he puts his subjects and their personalities front and center. We see the band prancing through the streets of Montréal, decked out in avant-garde outfits and goofily dancing like nobody's watching.
"With a low budget, it's always a question of what's easy to do."
The Dead Shakers, "Medfield"
To shoot this one, Cooper accompanied the Dead Shakers' Kevin Bloom to the Medfield State Hospital, a famous and forbidding former psychiatric hospital in Massachusetts. The property was prominently featured in spooky feature films Shutter Island and The Box.
With a typically limited amount of time to shoot, they had to work fast and used only natural light. Serendipitously, fast-moving clouds resulted in a couple of perfectly timed — and completely unintentional — lighting cues.
"I try to imagine things at the breaking point."
J Bengoy, "Armchair"
Lethargy is the watchword in this frigid clip. In its contemplation of winter madness, seasonal affective disorder, the icy blahs, whatever you want to call it, we see the five members of J Bengoy strung out, listless and utterly apathetic. But as the video progresses, tension builds through claustrophobic cinematography and disorienting mise-en-scène, erupting in an unhinged, head-banging catharsis.
"The ability to feel really crazy is something I circle back to a lot."
Bohdi, "Not Different"
Here the New York City-based rapper (and Cooper's brother) flails and flops through public parks and subway tunnels. Utilizing a bit of The Parent Trap-style digital trickery, Cooper creates three versions of the MC side by side: one standing, one dancing and one convulsing. The schism of self suggests the maddening realization that true individuality is a falsehood. Bohdi repeatedly raps the track's title phrase, like a thought bouncing around in your head that won't let you sleep.
"I try to walk a fine line on shtick-iness."
Fever Dolls, "Gennifer Flowers"
Working from a script penned by Fever Dolls' co-front person Evan Allis, Cooper lets his subject run wild with his kitschy inclinations on this infomercial-meets-tent-revival mashup. What begins as a sort of product placement for the band itself explodes into a one-man dance party as the song kicks in halfway through. Like a soul man possessed by the Holy Spirit, Allis testifies and hoofs up a storm. Faux VHS deterioration, treacly elevator background music and a rounded-edge, 16mm-style crop add to the video's late-1970s retro feel.