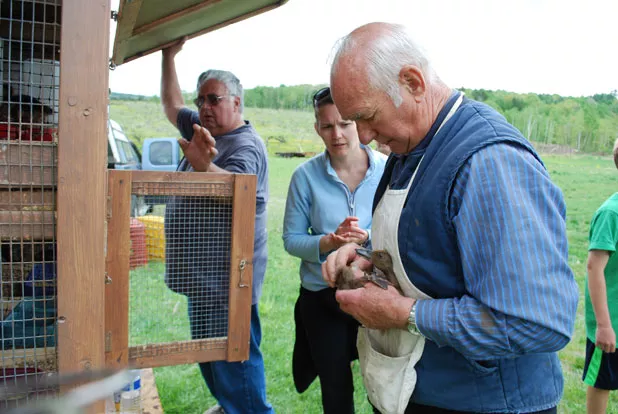 I was bumping down a dirt road in Springfield, worried I'd made a wrong turn, when I came upon what was clearly my destination: the monthly poultry swap and meeting of the Vermont Bird Fancier's Club. This was tailgating with tail feathers — birds arranged in truck beds, in cages under tents, in homemade, tow-behind trailers. I knew I'd found the right place when I spotted a woman examining the chickens in a T-shirt that read, "Don't ruffle my feathers."
I put my car in park and steeled my resolve. I didn't care how cute the chicks were, how delightful the ducklings. I was not coming home with any birds today.
My husband, Colin, had surprised me with a homemade chicken coop for Christmas, and in the following months I started researching poultry in earnest. Storey's Guide to Raising Chickens took up residence on my bedside table, alongside the hatchery catalogs I perused for inspiration.
And I discovered the bird fanciers. I knew that the group hosted monthly poultry swaps starting in early spring, but in the meantime, I found myself a voyeur observing a buzzing Facebook and email community of some 250 backyard bird enthusiasts.
There was cyber-talk of chicken breeds, of common predators, of rare birds and new hatchings. Sparking one particularly lively conversation, a woman wrung her hands over a neighbor's dog, which she estimated had killed at least 20 of her mother's chickens. "When is enough enough???" she wrote. "I like dogs. Have two myself. I don't want to shoot the dog! Would rather shoot the owner!!!"
Most people recommended trying the official channels, such as town animal-control officers or nearby humane shelters. Another proposed option: "Just make the dog disapier dont say nothing an denie if asked."
It wasn't until earlier this month, when I traveled to Wellwood Orchard in Springfield for the May poultry swap, that I could put a face to the bird fanciers. About a dozen sellers had lined up their stalls — some peddling birds from the backs of their trucks — on the side of the dirt road. I arrived at 10:30 a.m. for the Sunday-morning swap, just a half hour after the official start time, but insiders told me I'd already missed the biggest action of the day: Most buyers and sellers are making deals hours before the swap officially opens.
Immediately, the ducklings at John Peters' stand captured my attention. Peters put in a 50-year career as the manager of a tire store and embarked on raising poultry in his retirement. Last year he raised 1500 golden comet pullets, and he supplies several regional pet stores with rabbits and guinea pigs.
Peters traveled from about an hour away in Massachusetts to attend the swap. He proudly showed off the tow-behind trailer he'd constructed especially for transporting his birds to and from swaps: 16 little coops ready to rattle behind him on the highway.
Peters attributes the success of his little retirement project to the backyard poultry craze — which is in full swing, according to Rob Ludlow, owner of backyardchickens.com. Ludlow's site is the largest and fastest-growing online community of chicken enthusiasts in the world, drawing more than a million unique visitors every month.
Raising chickens, especially egg-laying hens, is one relatively easy way for homeowners to tap into the locavore and slow-food movements, Ludlow says, even if they don't have the land or financial resources to raise more of their own food. He also thinks more and more people prefer eggs that come from humanely raised chickens. And, not least, chickens are fun. They're "a pet that makes you breakfast!" Ludlow wrote me in an email.
Unlike Ludlow, the poultry fanciers in Springfield had a surprisingly difficult time articulating just what they love about their birds. Some, like Ryan Breen of Bristol, 31, got into the hobby as children and just stuck with it.
"He started with two little ducks back when he was about 7 years old," said Breen's mother, Linda — she of the "Don't ruffle my feathers" shirt. "And it's just been exploding since then."
Some talked up the joy of observing the birds and their distinct personalities. A few mentioned the thrill that comes from producing their own food. Others were clearly collectors, taken in by the different breeds of rare poultry stock.
"I say, chicken people are weird, aren't they?" said Dolores Clark of Guilford, selling hens from the back of her pickup. Then she corrected herself. "Weird wouldn't be the right word. They just know what they want."
And that, apparently, changes from year to year.
"One year it will be decorative birds," said Wayne Hoage of Hartland. "The next year it will be layers." He and his wife, Charylene, were staffing a small tent with a few birds and some pet rabbits for sale.
"This year —" chimed in Charylene.
"Back to egg layers," Wayne finished.
Of course, those eggs aren't free. Costs are associated with keeping a flock of birds, and those costs are rising.
"People aren't just impulse-buying anymore because of the price of grain," Wayne Marcelte of New Haven, the club's vice president, told me. "It's gotten to the point where you go to the grain store and drop a couple hundred bucks for a hobby. It's taken a bite out of us."
The costs weren't deterring mother-and-son pair Chelsea and Noah Farnsworth of Plainfield, N.H., who were taking home two 4-week-old Blue Swedish ducklings from Peters' stall.
Noah, 12, forked over a $20 bill (a gift from his grandmother) for the birds. Peters fetched an empty Milk-Bone box and set the ducklings inside. Box in hand, Noah gazed at the downy little birds, then slyly suggested to his mother, "We could get another box for more animals." She nixed that idea.
"He wants to be a farmer when he grows up," Chelsea said. "But only for animals you don't eat."
What I did take home from the poultry swap, if not birds, was fresh inspiration. The next morning I headed to my local farm-supply store, where I purchased two watering stations, pine shavings for bedding and chicken feed. That evening Colin and I put the finishing touches on the chicken coop that had been on standby since Christmas.
And later that week, bright and early, I popped down the road to Doolittle Farm in Shoreham — source of Bay Hammond's organic eggs, which, with their bright-orange yolks, are the best I've ever tried. Hammond had six young hens ready and waiting for me, and a few minutes later they were introduced to their cozy new home.
While I'd obsessed on protecting the chickens from predators, it turned out I should have been more worried about my own ignorance. The next few days were humbling. First, three chickens escaped the electric-net fencing I'd set up around their yard — which sent me racing back to the farm-supply store to buy a fence specifically designed for corraling poultry.
We wrangled runaways that first morning, chasing birds across the pasture until most were safely contained. One escapee never resurfaced, and I gradually made peace with the fact that my flock of six was now five.
A few days later, disaster struck again. Colin called me at work with this bad news: A red-tailed hawk had killed one of my Black Australorps. Now we were four.
Demoralized, embarrassed and frustrated, I cried on the way home and thought of Wayne Hoage, whom I'd met at the poultry swap.
"We had a mink problem this spring, and we lost three coops," he'd told me. "It makes you want to give up."
But the Hoages weren't giving up. Wayne was particularly proud of a lovely Indian Blue peahen he took home from the swap. "Now to find her a mate," he said.
For now, my own flock has stabilized. By night, the four hens roost in their snug coop, and by day they explore a small, fenced pasture on our farm. Every afternoon I collect three or four eggs from their nesting boxes. The first two I whipped into a King Arthur Flour recipe for fluffy pancakes. Over breakfast with a friend, Colin fried up six on our cast-iron griddle. And before the first week was out, I was making mental lists of all the egg-heavy recipes I could call on to put my bounty to use: custards and quiches and pound cakes, oh my!
Between the new fence and supplies — not to mention the birds themselves — it made me a little queasy to tally up just how much each of those eggs cost us. But I thought of the bird fanciers and made my resolution: I wouldn't let it ruffle my feathers.
The original print version of this article was headlined "Spring Chickens"