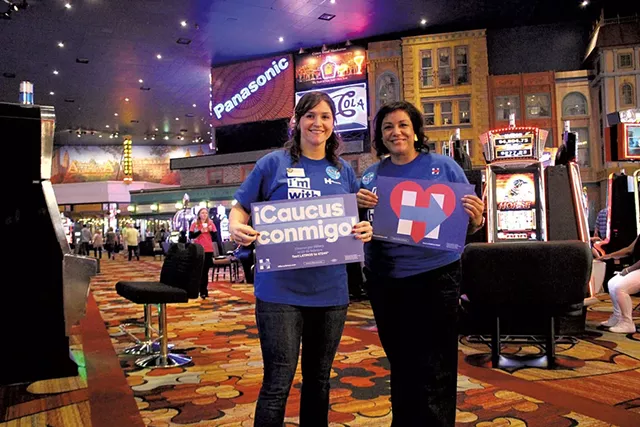 Paul Hientz
Oregon state Rep. Shemia Fagan and Andrea Cooper
Slot machines blinked and whirred behind Fabiola Gonzalez as she waited in line Saturday morning at the New York-New York Hotel & Casino on the Las Vegas strip.
Gonzalez, a 26-year-old cashier at the nearby Aria Resort & Casino, had clocked out early so she could take part in Nevada's Democratic caucuses. Though she had moved to the U.S. from Mexico 21 years earlier, this would be her first opportunity to take part in a presidential election since becoming an American citizen in 2013.
"It's pretty awesome," she said. "I mean, I've felt American since I was little. But once you're actually a citizen, then you really feel like one."
All around Gonzalez was a mosaic of working Americans, most still in uniform, on breaks from their jobs as chefs, housekeepers, valets and blackjack dealers. They were there to participate in perhaps the most peculiar quadrennial tradition in presidential politics outside of New Hampshire's Dixville Notch: the casino caucus.
To accommodate the roughly 100,000 people who make their living on the Las Vegas strip, the Nevada State Democratic Party allows those on duty during the first-in-the-West presidential caucuses to take part in one of six "at-large" caucuses held inside the casinos. At the New York-New York, Gonzalez and her coworkers waited in line for an elevator to take them, 20 at a time, to the Staten Island room, where employees of MGM Grand, Hooters, the Monte Carlo and six other casinos would make their preferences known.
Gonzalez, for one, planned to caucus for Sen. Bernie Sanders (I-Vt.).
"It feels like, for once, we finally have a real candidate," she explained. "He doesn't change his position on things depending on who he's speaking to or where he's speaking. He didn't pay for his campaign through billionaire dollars, you know?"
Elsewhere in line, Maria Espinoza argued that former secretary of state Hillary Clinton was the more experienced of the two candidates — and that she stood a better chance of defeating Republican businessman Donald Trump in a hypothetical matchup.
"I'm just scared to death that he's going to put us in jeopardy with the way he communicates," the Vdara Hotel & Spa porter said of Trump.
Vegas may lack the presidential gravitas of Des Moines, Iowa, and Manchester, N.H. After all, Nevada has hosted an early caucus only since 2008, when the Democratic National Committee sought to diversify its lineup by race and geography. But everyone in town, from tourist to entertainer, seemed to have something to say about the year's unpredictable presidential election.
"Who can't? You can't not!" said Ron Cardell, an Orlando retiree playing a Far East Fortunes slot machine across the gaming floor from the elevator to the Staten Island room. "I wouldn't vote for Sanders. I wouldn't vote for Trump. But they're making it more entertaining."
Nearby, in a sports betting alcove, a middle-aged cocktail waitress in a short maroon skirt and skimpy top said she was too busy to talk politics. But as she walked away with a tray of drinks, she turned around and said, "I'm for Bernie, though."
This being Vegas, the last-minute campaigning on the casino floor was unusual, to say the least. Sanders supporters roamed the room complaining that the Clinton campaign was up to dirty tricks. And a man holding a Clinton sign claimed he was doing so only to "pick up girlfriends."
"So far, I've gotten a few numbers," he said. "I haven't, like, been out on any dates, but I've had some nice conversations."
Paul Heintz
Clinton supporters at a Las Vegas caucus
There was also a touch of celebrity — of the political sort, anyway. As an Oregon state representative was explaining why she had flown to Vegas to campaign for Clinton, Congressman Joaquin Castro (D-Texas) approached her. His twin brother, Secretary of Housing and Urban Development Julián Castro, is considered a possible vice presidential pick for Clinton.
"Oh, my gosh!" the state representative, Shemia Fagan, said. "Are you Julián or —"
"Joaquin," he interjected.
"Joaquin. OK. You get that a lot, I'm sure," Fagan said. "I'm hoping that Hillary pulls this off today, and then we're hoping your brother's the vice president."
Three floors up, in the Staten Island room, caucus chair Maureen Monahan and her deputies labored to check in the nearly 300 casino workers who had showed up to caucus. Those hoping to participate had to be in line by noon, but it took another hour to get everybody through the door.
"I know many of you are worried about getting back to work," Monahan told the assembled workers before passing along a message from the casino's management. "If you are an employee of any of the MGM properties, you're fine. You can stay. You do not need to leave to get back to work."
The caucus-goers applauded.
"We're a hospitality town. We're 24 hours, seven days a week," explained MGM Resorts International spokesman Gordon Absher, who was monitoring the caucus from the back of the room. "We want them to participate and prevent them from having to make the choice between going to work or caucus."
Once it had commenced, Monahan asked Sanders supporters to gather to her right and Clinton supporters to her left. Near the back of the room stood six voters who could not make up their minds.
Vivian Gray, a housekeeper at MGM Grand, said she was leaning toward "Bernie Smith" but remained "in between" the two candidates.
"My most important issue is whoever's for the union," she said.
Gray's friend, Mandalay Bay housekeeper Joyce Lewis, said she planned to support whichever candidate would do the most to protect Social Security and Medicare.
"I'm at the age of retirement, and I want to make sure I'm secure in my benefits," she explained. "Because as a union member, I was. But if I retire, I don't have no security, if they don't keep Social Security and Medicaid."
After counting the Sanders and Clinton camps twice, Monahan told the six undecideds they had 15 minutes to make up their minds. She said that the precinct captains were free to lobby them.
With that, the room exploded.
"Bernie! Bernie! Bernie!" the Sanders fans chanted.
"Hillary! Hillary! Hillary!" the Clinton fans countered.
The undecideds looked like deer in the headlights. The Clinton precinct captain, a slim man with thick, hipster glasses and an undercut, was the first to pounce.
"Do you have questions on Hillary?" he asked. "Do you guys have questions?"
A minute later, Lewis turned to Gray and said, "I don't know where you're going, but I'm going over to Bernie."
The two women walked to the right side of the room, waving their right hands in the air. The Sanders supporters erupted in applause.
Then there were four.
The Sanders and Clinton captains focused their lobbying on a large man in a white chef's uniform, with an American flag protruding from his left breast pocket. He later identified himself, by first name only, as Derick, a 42-year-old cook at Mandalay Bay who grew up in Puerto Rico and the Dominican Republic.
Reporters swarmed around Derick and three young women who also could not make up their minds. An MSNBC crew, broadcasting live from the room, kept its camera trained on the four.
"They're taking their sweet time, Chris," an MSNBC reporter informed host Chris Matthews.
Clinton supporters waved blue "Estoy Contigo" shirts in the air, prompting a Sanders fan to yell, "Wall Street paid for those shirts!"
Monahan tried to break the stalemate. She warned the undecideds that they had "one last shot" to make up their minds, or their votes would not be counted. She invited each of the precinct captains to make a final, one-minute pitch.
The Clintonite tried a conciliatory approach.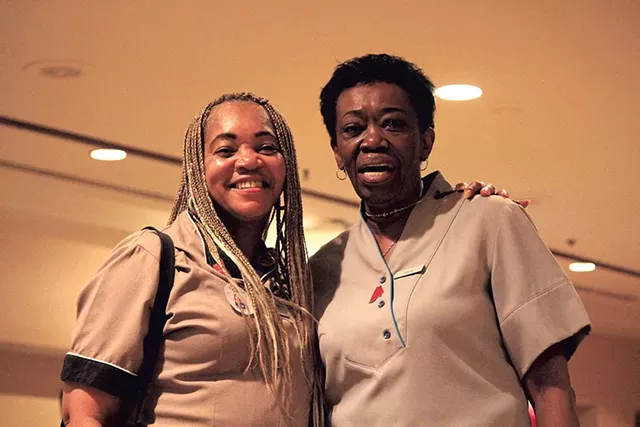 Paul Heintz
Vivian Gray and Joyce Lewis
"Regardless of which side you're on, at the end of the day we're Democrats, so we stand united on a lot of our views," he said before launching a cheer for Clinton. "I'm with her!"
The Sanderista told the crowd that he had voted in six election cycles, and "this is the first time that there's a candidate that is not the lesser of two evils that I have to choose from." He said that Sanders had "never wavered" from his commitment to fighting for civil rights, LGBT rights, immigration rights and campaign finance reform.
"I hope you four go to the left and join us for the revolution!" he concluded. "You stand for the revolution, or you sit for the coronation!"
Derick deliberated for a minute longer and then walked to the Sanders side of the room. The three women went the opposite direction. After all that lobbying, the six undecideds had split evenly.
In the end, 196 caucus-goers at the New York-New York sided with Clinton and 97 went with Sanders. The former picked up 23 county delegates and the latter, 11.
The former secretary of state prevailed across the Las Vegas strip, winning all six at-large caucus sites, from Caesars Palace to the Wynn Las Vegas. Throughout the state, Clinton took 52.6 percent of the county delegates to Sanders' 47.3 percent. That netted her five national pledged delegates and gave her a one-vote lead.
On his way out the door, Derick explained that he had been persuaded by the precinct captains' speeches.
When the Hillary people had a chance to speak, "there was no message," he said.
Lewis said that she had been convinced that Sanders would do more to protect Social Security and Medicare.
"And if I can retire when he comes in and he fixes everything like he says, I'm fine," she said.