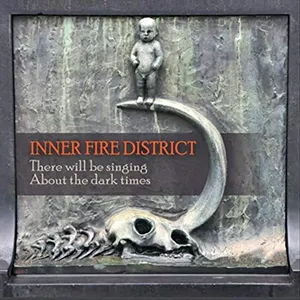 Inner Fire District, There Will Be Singing About the Dark Times
(Self-released, CD, digital)
Like many other expat Burlington musicians, accordionist and musical visionary David C. Symons keeps coming back, literally and figuratively, to Vermont. Symons lived and played music in and around the Queen City for years before moving to New Orleans in 2012, where he repairs accordions by day and contemplates his next musical moves the rest of the time. Symons' most recent project, There Will Be Singing About the Dark Times, is a recording by his five-piece combo Inner Fire District. The name of that band is derived from the designation given to the trucks and firemen that respond when there is a fire in Burlington's center city. Another Burlington reference worth mentioning is that respected local musician Brett Hughes mastered the recording.
The album's 12 tracks feature masterful playing by all involved, especially clarinetist and New Orleans resident Jennie Lavine. She sails and swoops effortlessly through klezmer-ish dance tunes, prayerful melodies and Symons' musical settings of dark poetry. Lavine's playing is featured on practically every track — a sound decision — and echoes shades of Giora Feidman, Andy Statman, Dave Tarras and other Yiddish clarinet masters in her every note.
Most of the album's instrumentals are partially or entirely played using the Freygish scale, a musical scale common in Eastern European, Romani, Indian and central Asian music, among others. Your average ethnomusicologist might explain that Freygish is actually the Phrygian dominant scale. But it's a lot less intimidating to learn that Tevye's "ya ba dibba dibba ... dum" part on "If I Were a Rich Man" from Fiddler on the Roof is a nearly perfect Freygish scale.
One of the joys of this disc is the wide variety of flavors on the menu. Symons wisely mixes a good percentage of original compositions by band members with traditional melodies. Three of my current favorites are "Lighthouse," composed by band guitarist and second accordionist Tim Lang, which sounds as if it hails from Sussex, England, instead of from Slutsk, Belarus; "After Maariv/Hora for Jeff," a Lavine original that showcases her chops; and "Sophia's Waltz" by Symons, a sinuous beauty of a dance tune.
Three vocal tracks are also included in this collection — one in Yiddish and two in English, all sung by Symons. But they are eclipsed by the power and beauty of all those fine instrumentals.
There Will Be Singing About the Dark Times is available at CD Baby. Inner Fire District perform throughout the Vermont International Festival, which takes place Friday through Sunday, November 30 through December 2, at the Champlain Valley Exposition in Essex Junction.