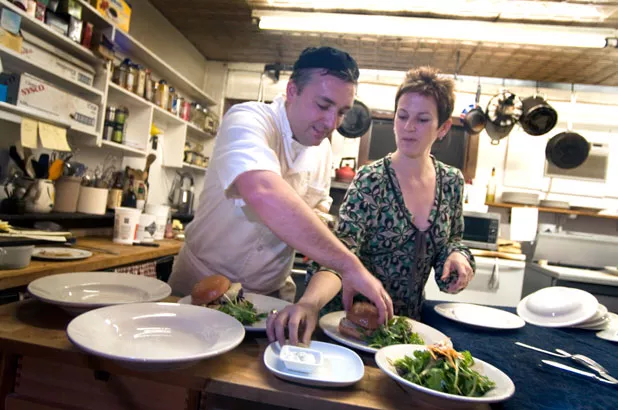 Dominic and Molly Francis
If you wanted to film a "cozy" mystery in Vermont, the pub of the Shoreham Inn would make a great location. On an early fall evening, the small-town watering hole feels like a home away from home. Locals line the bar, munching on potato chips and swigging mugs of Switchback and bottles of imported Old Speckled Hen ale.
The inn has its urbane visitors, too. At one table, four fit, well-dressed, 30ish sisters — in Vermont for a biking vacation — play cards and contemplate the menu. "I was thinking about the beef stroganoff," the elegant eldest confides to a stranger at a neighboring table. "We're pretty picky," notes another.
The sisters, who booked their rooms sight unseen on the recommendation of an innkeeper in Middlebury, seem pleased with the Shoreham's gastropub eats. Although the offerings change every week, classic English dishes such as cottage pie and bangers and mash make regular appearances. There's flashier fare, too. Grilled swordfish comes with cantaloupe salsa, verdant broccoli and thin slices of Golden Russet Farm blue potato tossed in vinaigrette. Folks flip for the Chocolate Guinness cake.
Not surprisingly, given the menu's Old Country touches, innkeepers Molly and Dominic Francis last lived in the UK — but not in such a bucolic setting. When the two London dwellers began looking for an operating bed-and-breakfast for sale, their goal was to run a restaurant in a small village like Shoreham. "We stumbled on this place, it met all the requirements and it had a good feel to us," says Molly, 41, who's originally from the U.S.
In 2003, the Francises purchased the venerable colonial structure, which dates from the 1790s and was turned into a hotel in 1828. The couple say their business has grown steadily: This year, despite the economy, they managed a handful of renovations. "When we got here, not every room had its own bathroom," Molly explains. Giving each room a private commode required reducing their number from nine to seven, so the couple also erected a building to house three new rooms. Last weekend, those became available to the public.
While the accommodations in the main building exude old-fashioned charm — one with a fish theme features nets and tackle in its décor — the newer, two-story lodgings are modern and minimalist, with sleek gas fireplaces, funky furnishings and neutral-toned stoneware in the kitchenettes. When it comes to typical B&B bric-a-brac, "our sensibilities are a little more simple," says Molly. In the inn itself, she admits, "we repainted and redecorated some. There are fewer flowers and chintzy things."
Historical details remain intact, though. The former Civil War room, now part of the Green Mountain Suite, features framed photographs from the 1860s. Before the building became an inn, part of it was used as a general store, and a ledger displaying rows of neat, old-fashioned handwriting is on display in the dining room.
Although you wouldn't know to look at it, the bar is one of the Francises' additions. "Putting [one] in was important to us," Dominic says. Its centerpiece is a handsome wooden mirror brought over from Greenwich, England. A few Scotches are on display, and a chalkboard advertises wines available by the glass. "We both like wine, so we like to play around with things you wouldn't recognize from the supermarket," Molly says, noting that the list always includes Vermont selections in both red and white.
Molly is a psychologist by trade, but Dominic, 42, who holds a degree in hotel and catering from a university in Manchester, has always worked in the food industry. His jobs have ranged from pub cooking to getting new restaurants up and running to working at Diageo, a company that calls itself the "world's leading premium drinks business."
At the Shoreham Inn, he wanted to make sure the food would appeal to visitors and locals alike. "People want to have nice food, but they don't necessarily want to have fancy food, or even eat in a fancy environment. There doesn't always have to be linen," Dominic opines. "They want bangers and mash, but they want them to be good bangers and mash."
To keep things fresh, the couple buys meat, cheese and produce from local farmers. But, at a pub in a rural area — Shoreham is an hour and 15 minutes from Burlington and 15 from Middlebury — balancing quality with reasonable pricing can be tricky. "We can't charge $30 for a steak," Molly says. "So there are certain cuts of meat and certain producers we can't have. We're not the cheapest place around, but we hope we're doing a better product."
Last Thursday, entrées ranged from a $10 burger to a $21 filet mignon Stroganoff. The "smaller stuff" section of the menu features a handful of less expensive options. "Some of the smaller things we put on the menu are hefty enough [to be a meal]," says Molly. An arugula salad with sweet yellow beets and local chevre isn't one of them, but it's a lovely rendition. Flavorsome curried lamb skewers with minted yogurt are a bit more filling.
To give his casual fare more zip, Dominic plays around with traditional recipes. Cassoulet, for example, is a classic French dish that typically features lots of beans and a bit of meat, usually duck. His spicy pork version is loaded with tender meat and served over Basmati rice. Salmon replaces the traditional tuna in the inn's salad Niçoise.
But Dominic doesn't do dessert. "It's not something [he]'s interested in," says Molly. She's the one who makes seasonal fruit treats such as apple crumble, as well as the inn's signature Banoffi Pie, a decadent mix of bananas and toffee topped with a thick layer of whipped cream. It's the only dessert that's always on the menu.
Though Molly learned to bake "really young" at home, she never expected to do it professionally. "I never thought anybody would ever pay anything for anything I baked," she says with a chuckle. "But the more I've done it, the more I've loved it."
Molly also never imagined she'd move across an ocean for a man. The story of her relationship with Dominic sounds like something out of a romantic comedy. After graduating from Chicago's Northwestern University, Molly flew with a friend to spend the summer in England. The day after they arrived, a flatmate mentioned that her restaurant, the Windy City Bar & Grill, was hiring. "We went in the next day and got jobs," Molly recalls. Dominic worked in the kitchen.
After she returned to the real Windy City, "We sort of stayed in touch," says Dominic. Over the next nine years, they shared a handful of visits, but at that young age, says Dominic, "in terms of economics and distance and what you're doing with your life, [a long-term relationship] never seemed possible." Finally, he says, "I realized I wanted more. As times change, suddenly 3000 miles didn't seem as unattainable."
Somebody had to make a move, and Molly decided to take the plunge. "It was a big risk because we really didn't know each other," Dominic recalls. "She said, 'If it doesn't work out, I'll just get on a plane and go home.'"
Luckily for hungry locals and visitors to Shoreham, the couple ended up taking that flight back to the States together. For Dominic, buying the inn was an opportunity to practice a style of cooking different from the one he learned in England. "There, you'd say, 'This is what's on the menu; this is what I need,'" he says. "Here, I go to Will and Judy [Stevens of Golden Russet Farm] and say, 'What do you have?' It's always evolving."
To Molly's mind, the inn simply "feels like the right place, the right fit." And the regulars making themselves comfortable in the pub seem to agree.