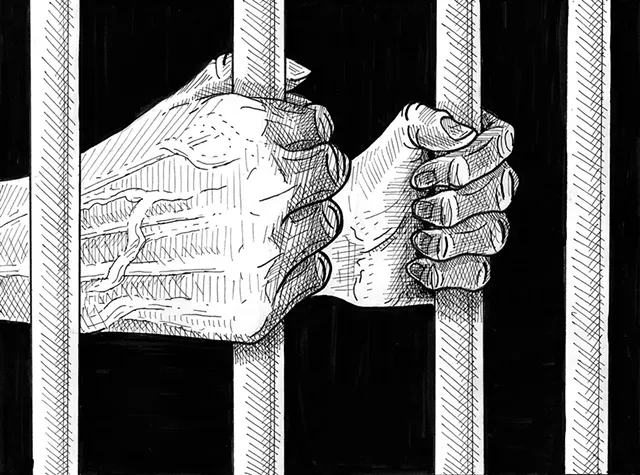 None of the professionals involved in his case thinks that 90-year-old Emery Woodall Jr. should be in prison. Not the police who arrested him for a relatively minor infraction, the prosecutor who filed charges against him, the Department of Corrections — or the lawyers, nonprofits and government agencies that weave together Vermont's social safety net.
Woodall is a military veteran. He is believed to suffer from an early stage of dementia, which may have contributed to the violent outburst that led to his recent arrest.
For the past seven weeks, Woodall has been held in Vermont's largest and most secure prison, Southern State Correctional Facility in Springfield.
Woodall has long been estranged from his three adult children, two of whom told Seven Days he was abusive. That leaves him in the hands of the state — specifically, the systems of criminal justice and social services.
Prosecutors have pursued charges against Woodall and asked that he be held on $500 bail, they said, because he has no place else to go, and no one will take him in. Even if they were interested in prosecuting him, according to the same sources, his transgressions would not warrant a sentence that includes time behind bars.
"The only reason he is in the criminal justice system is because if he were released tomorrow, he would freeze to death," Windsor County State's Attorney David Cahill said in an interview. "Were he not lodged in a correctional facility, he would literally be out in the street in the winter with no housing and no nursing home or assisted care facility willing to take care of him."
Woodall was arrested on February 1 after allegedly striking a nurse inside Brookwood Estate residential care facility in North Springfield, where he had been living. Officials said he is no longer welcome there.
Over the course of several weeks, a smorgasbord of groups tasked with taking care of people such as Woodall — the Veterans Affairs Medical Center; the Department of Disabilities, Aging & Independent Living; the Vermont Veterans' Home; and several Upper Valley eldercare facilities and nonprofits — has been alerted to his predicament.
To date, their efforts have failed to change the circumstances of inmate No. 144711.
"It's absolutely horrifying," said Kelly Green, an attorney from the Defender General's Office who has represented Woodall. "It's disgusting to think that this is what we, the people of Vermont, have come to with respect to housing our elderly citizens."
Woodall had a room at Brookwood, which offers independent living options and daily support services, at the time of his alleged assault. When a nurse came in to deliver his medication, Woodall became upset, according to a police affidavit. He got out of bed and blocked the door, preventing her from leaving. He knocked the dishes she was carrying to the floor and hit and kicked her, according to the same document.
Woodall told the police who were called to the assisted-living facility that the nurse had attacked him. When police asked him for identification, Woodall reached into a backpack, pulled out a lanyard attached to an ID and slung it around his neck, according to the affidavit. Officers tried to take it from him, so he kicked one in the knee. In the process of being handcuffed, he swung his fist at another. As officers escorted Woodall from the building, he yelled incoherently.
Springfield Police Chief Doug Johnston said his officers had little choice but to arrest Woodall.
"He's obviously got ... issues that need to be addressed, and is the prison the proper place for him? I don't think so," Johnston said. "But we've got to look at the safety of others and his own safety." A staffer who answered the phone at Brookwood hung up on Seven Days.
Prosecutors charged Woodall in Windsor Superior Court with two misdemeanor counts of assaulting a police officer and a felony charge of unlawful restraint. Documents show they immediately started looking for a suitable place for Woodall.
Progress has been slow.
Green, who learned of Woodall's case from a concerned DOC caseworker, said she tried to get the DOC to convince Woodall to sign a form so she could access his medical file and get him the services that he needs. Another attorney assigned to the case, Sandy Nelson, has asked for a psychiatrist to evaluate whether Woodall is competent to stand trial. The exam has not been scheduled, according to court records.
DOC Commissioner Lisa Menard said she could not discuss Woodall. But she stressed that Vermont prisons are not well equipped to look after elderly residents with mental health troubles.
"There are certainly mobility issues, issues of confusion a lot of the time, and those are obvious problems in a correctional facility," she said.
Court records indicate the lawyers involved requested that Woodall be held in a prison medical unit. Menard declined to identify his exact location — only that he is not among the general population.
For weeks, officials pondered where else Woodhall could go.
The Vermont Veterans' Home, in Bennington, has 130 skilled nursing beds and eight assisted living beds that provide around-the-clock care for veterans who, for whatever reason, can't live at home. The facility currently has bed space and is operating at roughly 90 percent capacity. But it has apparently been ruled out.
Administrator Melissa Jackson declined to discuss Woodall's case, citing patient confidentiality. But she did say the home does not take all veterans; it can reject people who may be disruptive.
The home has in recent years sought to hire an in-house psychiatrist to treat higher-needs patients, Jackson said, but has been unable to find anyone.
"At the end of the day, I'd gladly take everybody," Jackson said. "But there are some people, unfortunately, we can't meet their needs, and it would be a disservice to bring them here and then have to send them to an ER."
The story is the same at the VA Medical Center in White River Junction, a mile from the courthouse where Woodall is being prosecuted.
VA caseworker Mike Owens, who tries to divert troubled vets from the criminal justice system, said the hospital is not equipped to handle patients who may have complicated, long-term mental health needs. They prefer sending such patients to other providers.
The state Department of Disabilities, Aging & Independent Living makes some of those arrangements. The agency, tasked with caring for residents who are older than 60 or suffering from a disability, has also been notified of Woodall's situation.
Deputy commissioner Camille George declined to discuss Woodall. But she said that in cases such as his, the agency works diligently to have a patient placed with a community provider or with certified residents willing to open their homes to a patient. The state does not have its own nursing home.
"We don't want seniors to be inappropriately incarcerated or hospitalized," George said. "Whatever their situation is, we take it very seriously. And our partners do, too."
But they may still choose to refuse someone.
Woodall's case is not unprecedented, according to Menard and the attorneys involved. Elderly people have occasionally become ensnared in the prison system, they said. But none could recall a nonagenarian languishing in a cell for so long.
Prosecutors, who are willing to drop Woodall's criminal case as soon as he has a place to live, are waiting in frustration.
"His story is how easy it is to fall through the cracks even when you serve the country," Cahill said.
Woodall's family members, including two of his three adult children, were unaware he was in prison. When informed, his only son had an unexpected reaction: "That's a good place for him," Emery Woodall III told Seven Days from his home in the state of Georgia.
Woodall went on to say that his father had abused him during his grade-school years in the South Londonderry area. A sister who did not wish to be named gave a similar account. Seven Days was not able to confirm their allegations. They said they hadn't spoken to their father in decades.
To outsiders, they said, Woodall appeared to be a charming, successful businessman. In the 1960s, he was the proprietor of a well-known ski shop in South Londonderry, Woody's Cracker Barrel, where he taught the then-fledgling sport of Nordic skiing. An accomplished athlete, he spent much of his free time hiking and skiing, according to his children. He designed and got a patent for an improved ski pole.
As they aged and moved away, his children had less and less to do with Woodall. They think he remarried once or twice and spent some time living in Europe. He wrote for ski magazines and did some carpentry work, they said. Officials involved in his case could find no previous criminal record.
Woodall's current predicament was the subject of a brief court hearing on Tuesday afternoon in Windsor Superior Court, nearly two months after he was arrested.
"He's still in the facility?" asked Judge Theresa DiMauro. "Ooof." VA caseworker Owens, whom attorneys invited to the hearing, told DiMauro that 29 area nursing homes had been unwilling to take Woodall, for one reason or another.
Then defense attorney Nelson and Deputy Windsor County State's Attorney Glenn Barnes announced that a Calais couple had tentatively agreed to take him in. Woodall, who was not present for the hearing, could be freed in the next several days, they said.
Nelson told the judge that she had visited Woodall in prison and found him in good health.
"He was safe, and he did tell me everyone was very kind to him," Nelson said. "He was clean and warm and well-kept and said he was OK being there for the time being."
After the hearing, Nelson declined to comment on the allegations made by Woodall's family but said she was now aware of them.
In an interview shortly before the hearing, Cahill acknowledged that in recent days, he, too, had learned of the alleged abuse.
But since no charges had been filed and the statute of limitations would have long since expired, Cahill said, it did not change his desire to see Woodall freed.
"The allegations that have been made against him are quite serious," Cahill said. "But, ultimately, he presents as an ornery 90-year-old with some stage of dementia and the question for us is: What to do with him? That's the immediate question."
Sasha Goldstein contributed to this report.