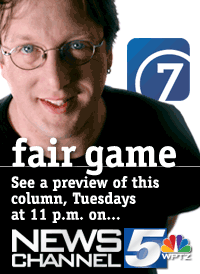 It's on: Entergy versus Gov. Peter Shumlin.
A little more than a year ago, then-Senate President Pro Tempore Peter Shumlin landed the first major blow in Vermont's battle with the owners of Vermont Yankee, the state's lone nuke. Shumlin led a successful Senate vote to reject an extension of VY's license beyond 2012. The final tally was 26-4 — not even close.
Last week, Entergy filed two complaints in federal district court aimed at undoing that decision. It'll come down to whether the state can preempt federal law and shut down a nuclear power plant that has received a 20-year license extension by the U.S. Nuclear Regulatory Commission.
Shumlin and VY opponents claim that Entergy waived its rights to sue the state on the issue of federal preemption when it bought the plant in 2002. Perhaps. But, three key words are included in the sales agreement: under current law.
Before U.S. District Court Judge J. Garvan Murtha unravels this Gordian knot of who signed what when, he'll first decide whether to grant Entergy's request for an injunction that would stop the state from forcing VY to shut down in March 2012.
Entergy argues that a law change in 2006 — giving the legislature authority over VY's future operation — fundamentally altered the rules spelled out in that original document.
Murtha, a semiretired federal judge, presides a stone's throw from VY, in Brattleboro. He's had mixed reactions to Vermont's progressive lawmaking. Even less Green Mountain friendly is the U.S. Court of Appeals for the Second Circuit in New York, where any appeal of Murtha's ruling will land.
In 1995, Murtha ruled in favor of Vermont's labeling law governing dairy products that contained bovine growth hormone. The industry appealed, and the Second Circuit overturned Murtha's decision.
Since 1995, Murtha has tended to yield to federal law in his rulings.
In 1998, lighting manufacturers asked Murtha to stop Vermont's mercury labeling law from going into effect because they said it was too costly. Murtha ruled against the state and granted the injunction.
In 2000, Murtha rebuffed the state's effort to restrict Internet communications to minors as part of a sweeping new set of laws designed to stop Internet crimes.
In another high-profile case, Murtha refused to stop federal agents from seizing a flock of sheep in Greensboro suspected of carrying a brain-wasting disease.
In short, Murtha doesn't like to buck authority. With the Obama administration and Congress pushing for new construction of nuclear plants, it may go against Murtha's judicial instincts to set a precedent that puts state's rights before a federal policy interest.
Vermont Law School professor Cheryl Hanna, a Constitutional law expert, believes Entergy has a strong case against the state, despite the state's position that Entergy is reneging on the original sales agreement.
"When I read the complaint, it struck me that the memorandums of understanding are almost background noise. Entergy is making the case that the federal government is the ultimate decider [of] where nuclear power plants can operate," said Hanna. "It's not as if VY and the state can get around federal preemption by signing separate agreements."
If Murtha does grant the injunction, it would allow Entergy to keep VY running and making money. Vermonters wouldn't likely get any power from the plant, because no Vermont utilities have signed contracts with the plant after 2012.
At least two Vermont utilities will profit, though — in the form of cash. How, exactly?
When Entergy bought the plant in 2002 it agreed to share excess revenue from power sold above a "strike price" of about 6.1¢ per kilowatt to the former plant's owners, including Green Mountain Power and Central Vermont Public Service. This deal is good for 10 years.
"Entergy is obligated under a revenue-sharing agreement in place that will continue until 2022," said Dotty Schnure, GMP's spokeswoman. CVPS spokesman Steve Costello concurred. "From our point of view, the revenue-sharing mechanism is in effect through 2022 as long as the plant is operating."
It's good to know someone other than lawyers could make some real money off this case.
Solicitor Shumlin
The Vermont GOP is alleging that Democratic Gov. Peter Shumlin violated state campaign-finance laws by soliciting money from lobbyists via email.
Republican Party chairwoman Pat McDonald called on Shumlin Monday to explain himself and apologize to Vermonters for violating their trust. The GOP has yet to call for a full-fledged investigation of the alleged infraction. But it might. McDonald also won't say which lobbyists received the emails.
State law prohibits lawmakers and the governor from soliciting donations, or accepting solicited donations, from lobbyists during a legislative biennium.
In response to the charges, Jesse Bragg, executive director of the Vermont Democratic Party, said the Shumlin campaign would scrub its email lists of registered lobbyists to ensure future compliance.
I'm sure squeaky-clean Gov. Jim Douglas never, ever did anything like this, right? Wrong.
In March 2009, "Fair Game" noted that Douglas sent hundreds of campaign fundraising letters. On that list was at least one Montpelier lobbyist whose letter "Fair Game" obtained. Scandalous!
It gets even better: Douglas accepted a $200 donation from at least one registered lobbyist — IBM's John O'Kane — during the 2009-10 session. It's unclear if the donation was unsolicited.
Solicitation screwups happen often, according to Secretary of State Jim Condos, and are usually due to a campaign volunteer or staffer not carefully vetting a list.
To me, it sounds like the Vermont GOP is trying to revive the "Shumlin is ethically challenged" theme for the 2012 election.
That worked out real well for them in 2010, eh?
The Rich and the Rabble
By a more than two-to-one margin, Vermonters support the idea of temporarily taxing wealthier Vermonters as a way to close the budget gap.
That's the finding in a recent poll conducted by ICF Macro on behalf of the Vermont State Employees Association, the union that represents active and retired state employees.
Of 400 people polled, 67.8 percent said "yes" when asked: "Do you support a temporary tax increase on Vermont's wealthiest to help our state address its ongoing fiscal crisis?" Only 26.5 percent answered "no."
As "Fair Game" has detailed, a group of wealthier Vermonters asked Gov. Peter Shumlin to raise their taxes by $17 million, collectively, to help close the $176 million budget gap. Hundreds of other Vermonters earning more than $100,000 pay zero in taxes, including seven millionaires.
House Speaker Shap Smith and other legislative leaders claim they may have to raise income taxes in 2012 to cover federal funding cuts.
Riiight.
Pols just love to raise taxes in the same year they're up for reelection.
Many for Mayor
Plenty of potential candidates are sniffing out a run for Burlington mayor. The newest name is Rep. Jason Lorber (D-Burlington). The Old North End Democrat penned an op-ed in the Burlington Free Press that blamed the city's troubles not just on Mayor Bob Kiss but on the entire Burlington City Council.
Councilor Ed Adrian (D-Ward 1), who chairs the seven-member Democratic council caucus, didn't take kindly to Lorber's broadside. Adrian suggests Lorber should serve on the city council before criticizing it.
Expect the "throw the bums out" chorus to get louder as the mayor's race approaches and noncouncilors look to box out council competitors.
Councilors Karen Paul (I-Ward 6), Joan Shannon (D-Ward 5) and Kurt Wright (R-Ward 4) are among the growing list of mayoral hopefuls.
Another lawmaker considering a bid is Rep. Mark Larson (D-Burlington), who has spent most of this session shepherding the gov's ambitious health care reform agenda through the legislature.
As for Kiss, he looks and sounds more like a candidate every day — especially with the resignation of Chief Albatross, er, Administrative Officer Jonathan Leopold.
Lorber tells "Fair Game" he'll give more thought to a mayoral bid after the legislative session, which could end as soon as May 7.
Total Recall 2
By a 6-4 vote, the Burlington City Council approved a resolution Monday night requesting that its Charter Change Committee tweak the law so that voters can recall elected officials — particularly the mayor and city council.
This is the second such recall resolution in two years. Last year's essentially died in committee.
Mayor Bob Kiss intimated he would kill any new proposal before it got on the ballot. "Recall portends a dismal course for the city of Burlington, and I will certainly wage efforts in any way I can against it," Kiss told councilors.
The resolution's lead sponsor — Councilor Kurt Wright — tells "Fair Game" the tepid support Monday night means the measure would not likely survive a mayoral veto. At least nine councilors are required to override a veto, and most of the measure's supporters were at Monday night's meeting.
Wright said supporters of a recall provision will move to Plan B: Collect the roughly 1600 petition signatures necessary to put the proposed charter change on the March 2012 ballot.
Bernie's Moment of Zen
Sen. Bernie Sanders (I-VT) will make his debut on "The Daily Show" tonight to promote his book The Speech: A Historic Filibuster on Corporate Greed and the Decline of Our Middle Class — the text version of his eight-hour faux filibuster.
Sanders will also appear on "The Rachel Maddow Show," where he's been a pretty frequent guest.
On Tuesday night, Gov. Peter Shumlin was Maddow's gues to talk about the passage of health care reform and his hope for a single-payer system in Vermont.
Might be time to get TiVo to keep up with our pols.