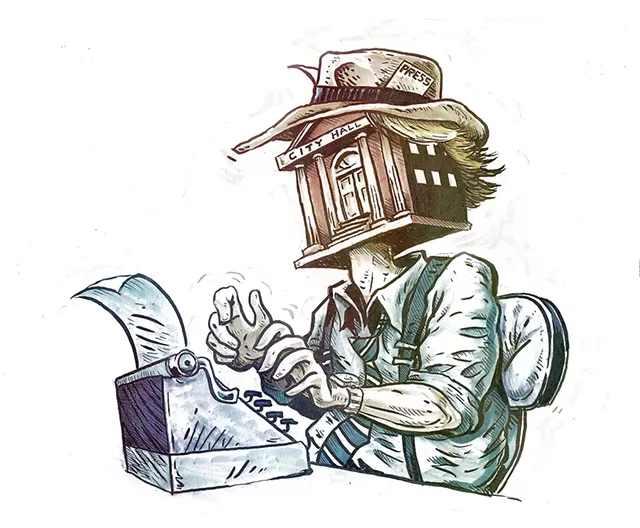 Luke Eastman
Illustration
City leaders in South Burlington think the local newspaper has stopped doing its job. Other Paper reporters are skipping government meetings, they say, and the publication's Stowe-based editors are serving up too many irrelevant stories.
So the city leaders have started a news outlet of their own.
Last week, Vermont's second-largest city published the inaugural issue of the South Burlington Times, a biweekly publication about city business that is written by city officials.
For the most part, the first issue's contents mirrored those in any government newsletter. It included a notice about an Interstate 89 corridor study, a listing of library hours and a link to a proposal to amend the city's sewer ordinance.
Yet the city packaged those municipal tidbits in an unusual way. Underneath the slogan, "Local Government News Direct to You," city manager Kevin Dorn introduced the Times to readers as a "fully electronic newspaper" that will be "presented at no cost to the taxpayer." Next to his column were "commentaries" from "two distinguished South Burlington residents expressing concern over the decline in local coverage by the newspaper published in our community."
In one of those columns, retired Southern Vermont College president and seasonal SoBu resident Barbara Sirvis argued that the Other Paper's advertisers were no longer getting their money's worth. In the other, longtime municipal board appointee Jennifer Kochman said that more reporting was needed to help restore residents' connection to their local government.
South Burlington officials insist that the Times will not become their propaganda arm, nor that its launch is intended to undermine the Other Paper. It is published on the city website, and people can sign up to receive an emailed copy.
During an interview for this story, Dorn was quick to backtrack on his published description of the project as a "newspaper" with its journalistic connotations, instead saying "e-newsletter" is a more appropriate term. He and other city leaders nonetheless believe it will take on the role of a newspaper.
"When a void is created in local news, we need to fill that," Dorn said.
The venture comes as the Other Paper, like most local newspapers in Vermont, faces financial struggles that have been compounded by the pandemic. Started in 1977 as a hyper-local alternative to the Burlington Free Press, the Other Paper was sold in 2018 to the Vermont Community Newspaper Group, which operates the Stowe Reporter and several other weekly papers.
As the coronavirus lockdown took hold in March, publisher Greg Popa shuttered the Waterbury Record, then laid off several editorial employees over the summer. Now just three full-time reporters and two editors produce content for five weekly publications, managing editor Jessie Forand said.
Popa's status at the company, meanwhile, remains unsettled. The publisher walked out of the company's Stowe offices last week and raised the possibility of resigning, according to Bob Miller, majority owner of the Vermont Community Newspaper Group.
"Clearly something was going on and he wasn't happy, and I don't know if he's resigned or not," Miller said on Monday afternoon.
After the two dined together that night, according to Miller, Popa agreed to stay on as publisher. "We've been chatting for a while about refocusing his responsibilities, and we're in the process of finalizing that," Miller said on Tuesday.
Popa did not respond to requests for comment.
The Other Paper, which still maintains a South Burlington advertising office on Williston Road, also uses freelancers and student reporters to help fill the paper. It is mailed at no cost to every residence in the city and is distributed for free on racks at local businesses.
For decades, the Other Paper had a strict editorial mantra. Founder Ruth Poger used to quip that her paper wouldn't write about Burlington if the Queen City disappeared into Lake Champlain "unless it happened to pull the city of South Burlington into the lake, too," longtime resident and Vermont Press Association executive director Mike Donoghue recalled.
Since its sale to a regional newspaper group, the Other Paper now reprints some stories from its sister publications in Stowe, Shelburne, Morrisville and Hinesburg, and it has scrapped the detailed meeting recaps that were once a fixture of its coverage in favor of issue-driven reporting.
"We are here to ask questions to hold our elected officials and our government officials accountable," Forand said. "If someone wants meeting minutes, they are readily available on city websites."
The changes distressed Kochman, who has served as chair of the library board and recreation and parks committees. She thinks "piecemeal" coverage of municipal business by the Other Paper is allowing public trust in city officials to fray.
Kochman cofounded an alternative newspaper, the Vermont Freeman, in the early 1970s. It fashioned itself as an anti-war counterpart to the Free Press. Despite her anti-establishment media roots, Kochman said it makes sense today for the city to "put out the news" if independent outlets won't.
"We've got a hardworking city staff and a lot of very involved people who give a lot of time and talent to making the city work," she said. "That should be out there consistently and easily made available to people."
Kochman complained to Popa this summer about the Other Paper's lack of municipal coverage, then forwarded their email exchange to city officials, who said they shared her frustration.
At the time, the newspaper and the city were engaged in a dispute over public records after South Burlington police initially declined to release the names of several residents whom police had discovered dead in their homes. The Other Paper pressed for the disclosures on its editorial page and through its attorney.
During a mediation meeting about the records dispute, city officials decided to raise their more general critique of the paper's coverage, Dorn said.
"We kind of got the stiff arm," he said. "Their perspective was, 'We're not going to have the city tell us what we should cover.'"
Dorn described the meeting as a "precipitating event" for the city's own newspaper. City Council chair Helen Riehle, meanwhile, strenuously argued that the new publication is unrelated to the records dispute.
In explaining her support for the project, Riehle described the city-run publication as a kind of alternative news source.
"So as a newspaper, as a journalist, you spin the story — and I don't mean that in a pejorative way — but you find different perspectives to add to a story," she said. "This isn't meant to be that." It's intended to report news from the perspective of city employees and elected officials, she said.
Dorn, who is retiring next year, anticipates that the city manager, communications team and department heads will hold regular meetings to plan coverage decisions. Future stories could include profiles of city employees and columns in which elected officials offer their thoughts on key issues. Dorn said he's looking forward to a video feature that showcases a snowplow driver in action, "so the public can see what it's like to sit in these machines when it's snowing like hell."
Officials also plan to cover city council and other committee meetings, though it's not clear what that will look like.
Riehle told Seven Days that, despite the critical words included in the first edition, the city's publication isn't intended to hurt the Other Paper.
She isn't particularly concerned about its survival, though.
"We can't save everything, I guess, in this COVID world," she said.
In an interview, Forand questioned why officials used city resources to criticize a local business, especially given the obvious financial crunch caused by COVID-19.
"We have pending litigation, and this comes out of nowhere, it seems," Forand said. "I think it's very convenient to say it's done on behalf of transparency when the city is actively refusing to be transparent."
Donoghue, who also freelances for the Other Paper, further doubted Dorn's assertion that the city-run newspaper wouldn't cost taxpayers money, given that city employees will create it on city time.
"It appears the city has managed to do something that nobody else has done in the history of this country: They claim they're going to produce a newspaper at no cost," he said mockingly.
Riehle said the use of staff time is warranted. "It's part of the job description of every employee," she said. "They're supposed to keep everyone informed, and I think this is just adding a connection to the public."
Whether taxpayers agree with her judgment is unclear. Sirvis, the commentary writer for the new paper, presented her complaint about the Other Paper during the public comment portion of a September 21 city council meeting.
"We can potentially, at another meeting, discuss some of the issues that Barb raised," Riehle said after Sirvis finished speaking. The concept of a city-run newspaper was not discussed.
The first issue of the Times appeared eight days later, before the next council meeting.
Riehle explained that councilors offered their "blessing" to Dorn's concept.
"He came up with a plan and shared it with us through email, and I think people responded back by email," she said. "It probably was not a public public conversation."
For whatever reason, that detail didn't make it into the city's paper.
Paul Heintz contributed reporting.