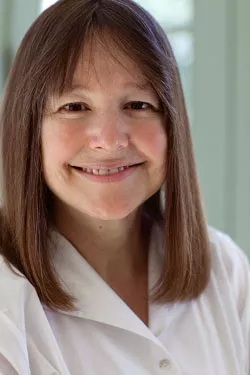 Anne Fadiman spent eight years researching and writing her book The Spirit Catches You and You Fall Down, about the cultural collision between a Hmong refugee family living in Merced, Calif., and the doctors who treated their daughter for epilepsy. (The title is the translation of the Hmong name for epilepsy, qaug dab peg.) When the book came out in 1997, Fadiman — who lives in western Massachusetts — expected its audience to be small. Instead, Spirit won the National Book Critics Circle Award and has become required reading for humanities and medicine students around the country, including every incoming Yale med school class for the past 10 years.
It's not hard to understand why. Spirit tells the moving story of Lia, the 14th child of Foua and Nao Kao Lee and their first to be born in the U.S. (The Lees arrived in 1980 as part of a wave of 150,000 Hmong refugees from Laos.) Lia's early signs of epilepsy indicated to her doctors that she needed to be put on a permanent regimen of anticonvulsant medications to prevent brain damage. The Lees, however, believed a shaman was needed to recall Lia's errant soul through animal sacrifice. And they espoused the Hmong belief that qaug dab peg is a mark of spiritual distinction.
Lia's parents and doctors both wanted the best for her, but miscommunication doomed her case from the start. Fadiman's book explores the context of each side's beliefs — social, historical and emotional — and provides the very information that might have prevented the resulting tragedy.
Fadiman, who teaches nonfiction writing as the Francis Writer-in-Residence at Yale, talked with Seven Days in advance of her talk at the University of Vermont. UVM's first-year Honors College students, who were assigned Spirit as part of a required general humanities course, will be in attendance, but Fadiman says she "will not assume anyone has read the book."
SEVEN DAYS: How did you become interested in the Hmong, or in Western medicine?
Anne Fadiman: Bill Selvidge, a close friend from college [at Harvard], was chief resident of family practice at the Merced County hospital. He told me about the conflicts between Hmong patients and their doctors. I stayed with him for months, sleeping on a foam pad in his study. My early temptation to romanticize the Hmong and blame the doctors was shot to pieces quite quickly because of seeing, on a daily basis, how hard his job was.
SD: What has happened to Lia Lee in the 13 years since your book was published?
AF: She's still in a persistent vegetative state, and she's still living at home … Lia's now 27; she had her neurological crisis when she was 4. So the family has essentially confounded all the expectations of her doctors and American medicine.
SD: What responses do you get when you update audiences on Lia's state?
AF: A common reaction is "I know they love her, but it must be so hard to take care of her. It would be a blessing if she died." It wouldn't be a blessing if she died, and it makes me angry that people assume that they know what other people value.
SD: The U.S. government partly caused the Hmong to become refugees by using them as proxies in the "Quiet War" against Communist forces in Laos, then failing to deliver on its promise when the offensive failed. What was that promise?
AF: "The Promise" is something that every Hmong of a certain age remembers. It was the CIA who promised the Hmong military leaders — who were working for the CIA in the Lao theater of the Vietnam War — that they would help save the Hmong if the Hmong were to fall. Instead, after a brief evacuation that lasted only a few hours, the United States just disappeared.
SD: Your book has changed medical practices and attitudes around the country. Would your approach work for other cultural divides, such as that between Western feminists and cultures that practice female genital mutilation?
AF: I don't believe that, just because something is a tradition, it is valid. In the case of genital mutilation, I would feel that the well- being of the girls should trump the maintenance of a cultural tradition. However, I do think a lot can be learned by trying to get inside a different culture...
SD: What is the main thrust of your talk?
AF: Most of the piece is about the experience of doing it — that is, an experience in which I had to negotiate many of the same pitfalls that my characters did, though in somewhat different ways.
SD: It's funny that you call them "my characters," as if you've written a novel.
AF: I do think of them as people playing literary roles in a narrative, so to that extent they're characters. "Sources" is another word, but sources are people who you use. My relationships with all of the people in this book are so rich and complicated — and in many cases I've known them for 22 years — that to think of them merely as "sources" would be to diminish the richness of the role that they've played in my life.