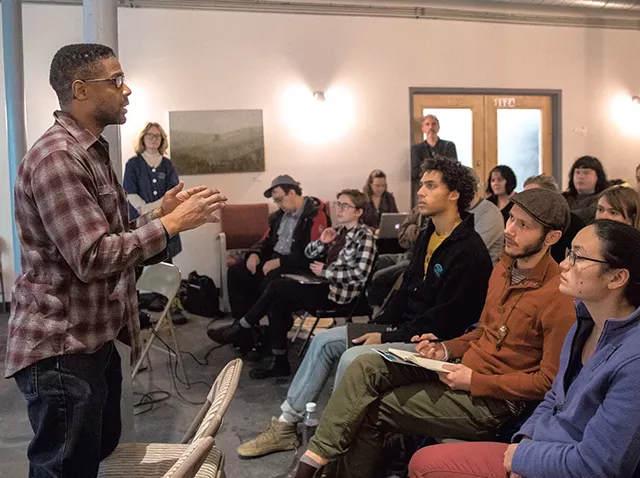 James Buck
Infinite Culcleasure speaking at a campaign meeting
At a February 7 organizing meeting for Burlington mayoral candidate Infinite Culcleasure, three dozen supporters discussed the art of "guerilla-style canvassing" as they munched on tofu stir-fry.
With 28 days remaining until the Town Meeting Day election, the group couldn't afford to run a typical campaign, organizer Parker Beaupré told attendees, who sat in rows of folding chairs in the atrium of North End Studios.
Instead, they would talk up their candidate everywhere: as they shopped at City Market, Onion River Co-op; at yoga class; or barhopping on a Friday night, Beaupré explained.
The candidate himself spoke very little. Volunteers, a diverse crowd of musicians, artists and community organizers who have fervently dedicated themselves to the Culcleasure cause, led most of the evening's proceedings.
The 44-year-old Culcleasure sat in the back for much of the meeting, chiming in with clarifications on policy positions and happily taking advice and questions from his adherents.
Such a meeting style serves as a model for the city government Culcleasure envisions. He wants to differentiate himself from the other candidates as a man of the people who has vowed, if elected, to run city government collaboratively by engaging new voices and "leading from behind."
"We know there are folks in the community that have untapped wisdom, that are not being listened to. We've experienced that firsthand," he told supporters at a January gathering.
So it was Beaupré, not Culcleasure, who fired up the volunteer crowd last week. "So many people voting don't a) know there's an election, b) know who Infinite is, c) know that they should be supporting him, because if they're not supporting him, it's going against their own self-interest," Beaupré said. When he was finished, a supporter snapped her fingers, the group's signature sign of appreciation.
Culcleasure, a community organizer with no electoral experience, faces the longest odds of the three candidates in Burlington's mayoral contest. Democrat Miro Weinberger benefits from incumbency and a well-oiled fundraising machine. Independent Carina Driscoll has established political networks and capital from her time spent in the state legislature, on the Burlington City Council and on the local school board. And she's Sen. Bernie Sanders' (I-Vt.) stepdaughter, a connection she's already used in appeals for money and volunteers.
Victory for Culcleasure, he acknowledged, would require mobilizing the 23,330 registered Burlington voters who did not participate in the last election — and doing so with no campaign headquarters or paid staff. He's raised $5,000 in campaign contributions compared to Weinberger's $80,000 and Driscoll's $33,000.
But winning isn't his team's only goal, according to Culcleasure. He's running to establish a grassroots-organized left that can build up leadership among "the most vulnerable" and help decentralize power in city hall.
"This is not about beating Miro," Culcleasure said. "That's very shortsighted and not really in line with what I want to accomplish."
Nor does Culcleasure intend to back down or drop out before March 6, he assured supporters at a meeting last week. He's not concerned that splitting the vote with Driscoll will hand the victory to Weinberger.
That scenario, examined in a Seven Days cover story two weeks ago, earned a sharp rebuke from Culcleasure and his supporters. The candidate refused to sit for a one-on-one interview with this reporter after the story ran. Among his concerns: The cover illustration made him look like Kanye West; his platform was not portrayed as credible; and the story itself perpetuated stereotypes of black men, he said in a 90-minute meeting in which he outlined his complaints and said he had no interest in speaking with Seven Days again.
"We are being marginalized based on such superficial grounds as how we look and our lack of campaign resources," he wrote on his website last week in a critique of the article.
In reply to an email that contained some biographical questions, Culcleasure responded, "I don't think Seven Days is qualified to tell my story."
Without Culcleasure's full cooperation, it's hard to piece together his narrative. Born and raised in Brooklyn, he started life with the given name Percy — same as his dad. In 1991, soon after graduating from high school, he wound up in Vermont with $20 in his pocket.
Within months, he started selling cocaine out of his Old North End apartment.
"I didn't want to go on food stamps," Culcleasure said during a February 5 mayoral forum, "and I did the stupidest thing and dealt drugs."
He was arrested as a result of a yearlong police investigation, one of eight swept up in a May 1992 drug raid, according to federal court documents. Culcleasure, who was 19 at the time, was sentenced to two and a half years in prison for conspiracy to distribute cocaine, according a Burlington Free Press article.
The prison stint served as a "coming-of-age period for me," Culcleasure wrote in a January email to Seven Days.
Matthew Thorsen
The mayoral candidates
It was also when he changed his first name. Men in prison who "nurtured" Culcleasure "tried to school me on how to respect myself and bestowed the name Infinite upon me as something that I should aspire to, so that I would be confident in defining my own identity and purpose in the world," he added in the email.
When he got back to Burlington, Culcleasure started exploring the city's nascent hip-hop scene.
He's still a DJ, said Eric Maier, a leader on the campaign team. Even now, the loft of Culcleasure's Rose Street apartment is "half full of records, and the other half full of municipal, wonky policy documents," Maier said. "That's a good illustration of where his head is at."
Culcleasure started taking classes at the University of Vermont but was arrested again in 1998 when police found crack cocaine in his apartment. Culcleasure pleaded guilty to conspiracy to distribute cocaine and was sentenced to more than three years in prison, according to court records.
He eventually returned to UVM and earned his psychology degree in 2004.
Graduation marked the beginning of Culcleasure's "story of redemption," according to Melo Grant, a longtime hip-hop DJ on WRUV 90.1 FM. Grant's friendship with Culcleasure began in the 1990s, and she now backs his run for office.
Culcleasure got his master's degree in urban policy analysis and management in 2012 from New York's New Schools for Public Engagement, in part to prove that "maybe two felonies might not matter. Maybe I'd demonstrate I'd rehabilitated myself," he told supporters at a January meeting.
Back in Burlington, Culcleasure worked with teens of color and helped integrate felons into the community after their release. He also served on the steering committee of the Old North End Neighborhood Planning Assembly.
In 2015, he advocated for voting rights for noncitizens, a measure that failed at the ballot box.
Culcleasure has spent the last several years working as an organizer with Parents and Youth for Change, a program that works within Burlington and Winooski schools.
His efforts resulted in a pilot school-bus program in Winooski, where the kids have long walked to school. But last month the mayoral candidate discovered he was not welcome aboard the buses, even as a volunteer.
A background check is required to work in the district, including for bus monitors, and Infinite never submitted one, according to Superintendent Sean McMannon. Under current policy, people with felony convictions are not allowed to work in the school.
Culcleasure didn't reveal his criminal background when he announced his candidacy, so local news outlets did it for him. Most reporters learned of his past convictions through an anonymous email tip.
The resulting press coverage upset Culcleasure, who is black. He told Seven Days he considered it racially biased and sensationalist.
To counter that coverage, he and his supporters have decided to do their own messaging.
The campaign has embraced social media and posts regularly to Facebook. In one video, Culcleasure answered questions about his favorite cookie (oatmeal-raisin) and his desired superpower (invisibility, so he could "set my people free"). The group also touts the diversity of its campaign by posting photos of transgender supporters and people of color, along with descriptions of why they support Infinite.
Culcleasure is admittedly more organizer than politician. At his first campaign meeting, he said, "I'm not really used to the public speaking part of this."
In fact, Culcleasure expresses himself with an air of calm self-assurance. But he gets sharp-tongued when talking about his political opponents and lashed out at Seven Days and other news media at a recent community-organizing event.
That strategy has worked for Sanders, and Culcleasure has publicly compared himself to Vermont's junior senator: Both were born in Brooklyn and spurn party affiliation and media coverage.
"In the first few pages of his last book, Bernie reflects on the way mainstream media outlets either mocked him or didn't even cover his campaign trail at the beginning of the race because his platform was dismissed as unrealistic," Culcleasure wrote in an article in the Burlington magazine 05401PLUS.
Also like Sanders, he's pitching himself as the only candidate with the firsthand experience needed to represent the working class. He notes that, unlike Driscoll, he's working full time as he campaigns, and he lives in a housing co-op with his pregnant partner — who's due the day after the election.
If he wins, he'll be the Queen City's first nonwhite mayor.
A big part of Culcleasure's platform is the way he thinks decisions should be made.
He advocates for participatory budgeting, community benefit agreements with developers, and more public input before moving forward on planned projects such as Champlain Parkway and the redesign of City Hall Park.
Attending a Ward 2/3 NPA meeting with Culcleasure on the agenda is "like going to a church and saying, 'Do you want to hear about Jesus?'" quipped supporter Andy Simon.
Indeed, at the NPA's mayoral forum last week, Culcleasure earned applause — and finger-snapping — as he advocated for NPA decision-making power and rent control. Culcleasure has lived for decades in the Old North End, and his left-leaning platform will certainly find support there, the most progressive and diverse area of the city.
He touted his bare-bones campaign as a resourceful use of money. "As a mayor, I'd do a lot more with $300 million than the current administration is doing," he said to chuckles and applause. (Burlington's budget is actually just over $200 million.)
Such leadership, said Simon's wife, Ruby Perry, will inevitably lead to long-term change — even if Culcleasure loses in March.
The candidate "has his feet deep in the soil that is democracy," Perry said. If new people "vote and stay active, everything will change, no matter who's in that corner office."