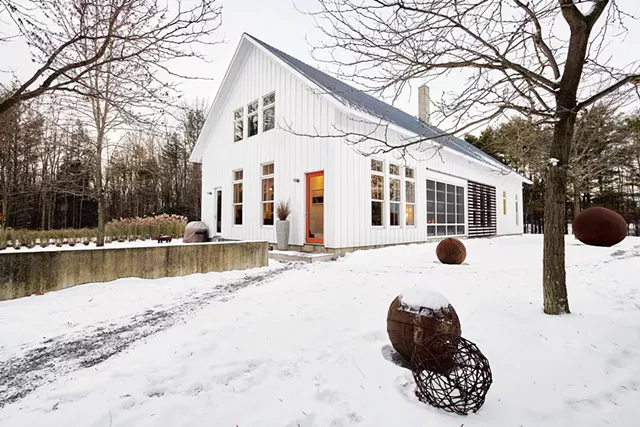 Bear Cieri
The Wagner-Katz residence with Keith Wagner's ball sculptures
Keith Wagner and Sara Katz once contemplated having a house in Marfa, Texas. The desert outpost, refashioned over decades as a town-wide homage to minimalism by sculptor Donald Judd, was too remote for casual visits. Instead, the couple built a house in 2003 in North Ferrisburgh that thoroughly embodies the spirit of that quintessentially minimalist artist.
If Judd's aesthetic can be summed up by his untitled installation of 100 aluminum boxes inside a long, windowed military barracks in Marfa — a work of light, land, geometric form and utilitarian materials in exquisite interaction — the Wagner-Katz residence is its lived-in kin.
The owners bring their own artistic experience into the mix. Wagner is a landscape architect and founder of Wagner Hodgson, one of Vermont's premier firms in the business with a second office in Hudson, N.Y., that opened three years ago; he is also a metal sculptor. Katz is a painter and the assistant director of Burlington City Arts. The couple's son, Hudson, is 7 years old, and Wagner has a grown daughter, Viscaya.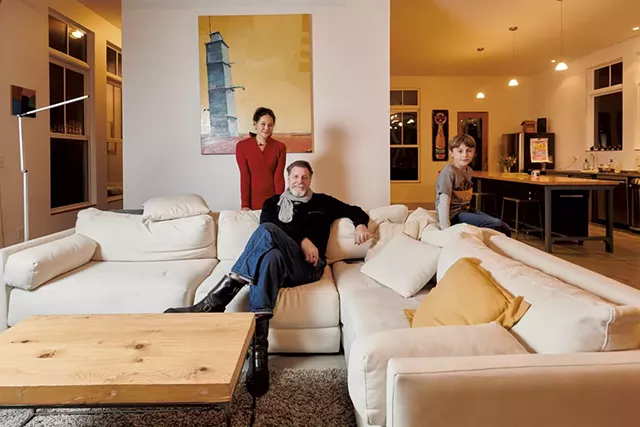 Bear Cier
Keith Wagner and Sara Katz and their son, Hudson
Set at a peacefully remote distance from the main road, the house is located toward the back of a 16.5-acre lot. The approaching dirt road winds through cleared agricultural fields and past guest quarters. There is nothing imposing about the starkly rectangular house when it appears, set against a forest with its long end perpendicular to the approach. The elongated gabled structure is framed by two smaller studio buildings, positioned forward of the house on either side. The trio recalls the simplified forms of a New England farmhouse, barn and shed.
All three are clad in vertical siding: white board and batten for the house, corrugated galvanized metal on the studios. Centered on the long side of the house are a garage door and an equally large screen of horizontal wood slats hanging beside it on rolling barn-door hardware. Together they occupy the central section of the house. An identical set on the opposite side allows for uninterrupted airflow in the summer and ever-changing interior bars of light.
In the snow, this severely simple exterior layout is punctuated only with Wagner's rusted metal spheres (the largest of these sculptures is human height) and a brief allée of honey locusts. The latter, along with a low concrete wall, guides visitors from the gravel parking area on one side to the door.
For doubters who think homes made from industrial materials can't be homey, Wagner and Katz' house provides irrefutable proof that they can. The two themselves are warm and welcoming. Katz is the petite daughter of farmers who raised her in Cabot. Wagner, from near Rochester, N.Y., towers over her at 6 feet 8 inches.
The house, which won an Honor Award from the Vermont chapter of the American Institute of Architects in 2004, is "Keith's vision," says Katz. "He'd been collecting ideas for years."
Wagner designed it with the help of Brian Mac, an architect and founder of Birdseye Design, who contributed drawings for the contractor and suggested certain alterations in the design. Wagner calls one suggestion — to pull the coatroom and master bedroom away from the walls, leaving room for more windows — "brilliant."
"I did it as a friend. The real story is that I was thrilled to be working with Keith Wagner that early in my career," says Mac, who had founded Birdseye Construction's design arm five years before. Mac lauds Wagner's "agrarian aesthetic" and "the effort it took to get it to look that simple in the landscape."
The house has influenced his firm's approach ever since, Mac says: "I started Birdseye with a very contemporary aesthetic. Keith's project helped me root that in a Vermont vernacular."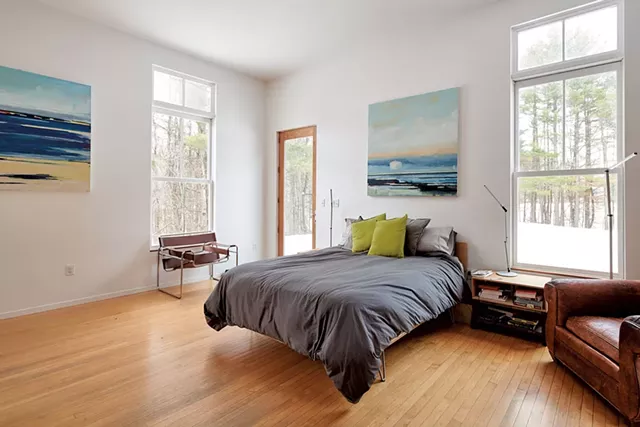 Bear Cieri
Master bedroom with paintings by Sara Katz
Even on a cloudy winter day, the trimless, lofty interior is filled with light and warmth. Doors are eight feet high to accommodate Wagner's stature; ceilings are 11 and a half feet. Heat emanates from the poured-concrete radiant floor, whose sweep down the 75-foot-long house's interior is intermittently punctuated by subtle grooves that create a large-scale grid.
A fireplace and chimney are built of simple concrete block, devoid of detail, in the same gray hue as the floor. Tall, molding-free windows are distinguished by only one subtle detail: They have thin maple sills that float over shadowed reveals, or gaps in the wall. The garage doors overlook a meadow with Mount Philo on one side and a forest-side pool on the other.
An enviable art collection punctuates the few un-windowed wall spaces, including a commissioned painting by Ethan Murrow of an abstract industrial scene, baseball-themed works by Lance Richbourg and Deborah Kass, photos by Jordan Douglas and R. Elliott Katz (Sara's brother), several of Bill Davison's geometric prints, Wagner's sculptures, and paintings by Max Schumann, Tom Cullins and Katz herself.
Bear Cieri
Living area with prints by Bill Davison
A large, wall-hung sculpture by Aaron Stein in the shape of Texas, made from discarded Texan license plates, dominates the wall under the stairs — a reminder of the couple's Marfa dreams.
Wagner also collects vintage signs. An old "Super Shell" sign pricing gas at 33 cents hangs over the coat rack, and visitors who climb the stairs are met with a construction sign announcing in capital letters, "This highway improvement is for your future safety and convenience."
Typically, houses that appear in Landscape Architecture magazine, where the Wagner-Katz residence was featured in 2010, are filled with artwork-like furniture. (The house also appeared on Apartment Therapy in 2011.) Wagner, however, cleaves to the minimalist edict, which favors industrial materials in order to erase all trace of an artist's hand. The couple's kitchen cabinets are Craftsman tool chests on castors. They're pushed under a wood-topped island mounted on steel legs made by Grainger, an industrial supplier. The counter is fabricated in cast stone. An enclosed walk-in pantry hides most of the kitchen clutter.
Bear Cieri
Master bath tub
Two Mies van der Rohe-designed Barcelona chairs do grace the living room, but they sit unpretentiously beside an ordinary sectional couch. Wagner made the long, glass-topped dining table from two curved balustrades salvaged from an old Adirondack camp, anchoring them together with steel crossties but leaving their aged patina and hacked-off ends untouched.
That sense of utility is echoed throughout the house. In their son's room, the exposed back of the chimney serves as gallery space for the budding artist's colored drawings, which are taped all over the concrete block. Much of the upstairs is a combined double office and family room. The couple's bedroom has its own exit and outdoor shower affixed to the exterior wall for easy summertime use.
In summer, too, Wagner's professional touches are visible: a 200-tree nursery and grounds landscaped to show potential clients his ability to create outdoor rooms using minimal linearity and attention to materials.
"You can have minimalism without having it cold and harsh," Wagner assures. "It's all in the materiality." And, of course, the touch of a true artist.