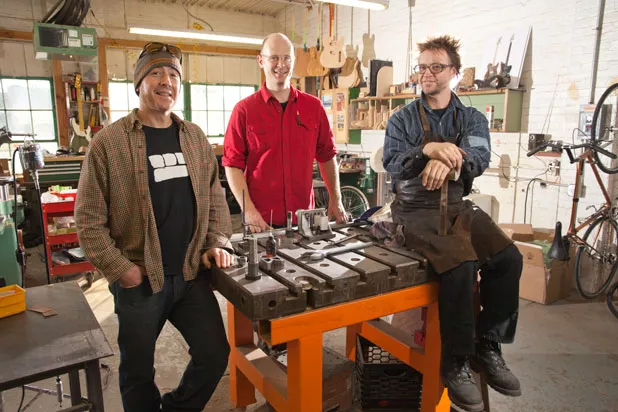 Matthew Thorsen
Matt Penney, Creston Lea and John Marius
It's a chilly morning, and the heater is blasting noisily as Matt Penney, John Marius and Creston Lea pull chairs into a loose circle among hulking machine-shop tools to talk about how Pine Street Studios came to be.
Trouble is, everyone's a little fuzzy about exact dates and the order of events — the kinds of nitpicky details a visiting reporter tries to extract. What's irrefutable is that today the three do their work here in the funky, 3000-square-foot quarters just south of Curtis Lumber: Penney, 44, builds bicycles and teaches fabrication (Penney Cycles); Lea, 40, makes guitars (Creston Electric); Marius, 41, creates custom metal pieces (Champlain Metals) and hosts iron pours. And together, they provide a residency program to assist other local artisans with their own work.
"We're Burlington's industrial-arts answer to the Intervale," Marius suggests.
What Pine Street Studios offers those residents depends on their needs: It might be simply the use of tools, or a focused class, or the kind of research-and-development mentoring that helps an arty business get off the ground. The trio seems pretty laid-back, but their collective skills have been sanctioned by the Vermont Student Assistance Corporation — that is, participants can use student loans to pay for a residency at Pine Street. Limited scholarships are available, too.
Incubator space is rare in Burlington's creative economy. All the more reason why Pine Street Studios is committed, as its website says, "to provid[ing] opportunity to artists and artisans who, otherwise, would be unable to realize ambitions." Residents come in for two-month stints — occasionally up to six months — generally with a specific project in mind.
"Our abiding principle in choosing residents is, if it didn't happen here, it couldn't happen at all," Lea clarifies. "It" might be the rocking chairs being built by current 25-year-old resident Andrew Russell, or it might be stained glass, mixed-media sculpture, silk-screening or blacksmithing. Artisans in all those media, and more, have been nurtured here. "This has been a great opportunity for us," says Lea, "but it's also been great to help so many people."
The building, which also houses ReSOURCE's building materials center, looks a little gnarly from the outside. Though the eastern, street-side wall is adorned with colorful stripes, the place is largely obscured from passersby by a chain-link fence, some evergreens and a ramshackle ell that is filled, Penney says, with discarded materials. Besides, all the signage points to the recycling drop-off out back. Only a towering kiln in the yard — installed last September for a firing during the South End Art Hop — and a bold metal sculpture near the entrance suggest something artful might be going on here.
A decade ago, the city-owned garage "was falling apart," Penney says flatly. "I think the street department was using it for storage." Enter Burlington artist Lars Fisk. He was looking for a space in which to create a large sculpture (and would soon need that space to design installations for Phish's outdoor festivals, as well). Through his friend Pascal Spengemann, then curator of the Firehouse Gallery, Fisk made a connection with Burlington City Arts and got permission to use a bay in the Pine Street facility. He and a handful of other artisans, including Penney, offered to clean out the space, make repairs and bring it up to code — at their own expense — in exchange for its use as a studio. "We hauled away piles of trash," Penney recalls.
The group also put in a new roof, wiring and heat and "brought in arts culture," as Penney puts it. The following year, they did the same in the neighboring bay and adjacent rooms, though, as Marius notes, "There are constant upgrades." Doreen Kraft, director of BCA, became a strong advocate of the group, Penney says.
Fisk eventually moved on; he's now the studio and facilities manager of Socrates Sculpture Park in Long Island City, though rumor has it he will be returning this winter to make another sculpture. Marius came on board in 2004, Lea a year later. The trio brought Pine Street Studios to a new level: making it an LLC with a mission statement. "Now all our expenses are recorded, and we can actually keep track of what it costs to rent a space in this market," Marius says.
The place isn't just a "boys' club," he points out. A number of female artists have passed through here, Oriana Shaplin, Abbey Banks and Sarah Jumonville among them. In rooms adjoining the shop shared by Lea and Penney, Missy Bly runs her fragrant-smelling business, Clean City Soaps. In the building's only fine-art studio — away from the noise and dust of the builders — Sarah Ryan creates custom artwork for Lea's guitars.
"It's been a really easy place for me to be, because I've known everyone for so long," says Ryan, 41, who met Marius and Fisk when they were all students at the University of Vermont. "And it's so exciting when someone is doing something in the residency space," she adds. "There's always something new."
Pine Street Studios — and ReSOURCE, for that matter — remain vulnerable to the city's potentially changing plans for that chunk of South End real estate. But in the meantime, there is work to be done. Guitars, bicycles and fine metalwork to make. Iron to pour. And a community of industrial artists to aid and