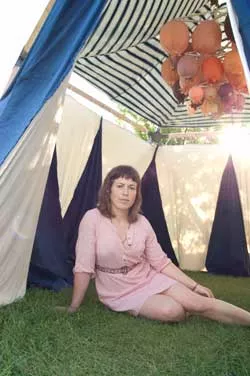 Matthew Thorsen
Britt Browne
It's a safe bet that most people don't think about the origins of the color in their cardigans and coats. We take for granted that our shirts are red or our jeans are blue without worrying about how they got that way. Clothing companies don't make a big deal out of it, so why should we?
Burlington artist Britt Browne would say we should care, because rich hues of saffron, crimson, verdigris and ochre are more than just chemical dyes made in some far-off factory. They are pigments originally sourced from nature — earth, plants and metals that, when mixed with binding agents, make lush dyes and stains. The acknowledgment that color actually comes from nature is part of the idea behind Browne's latest endeavor: growing indigo from seed and using it as a dye in her artwork.
Browne is the driver behind the Paper Moon Project, which encompasses her many endeavors, including a luxe letterpress stationery business and a boutique graphic design house, as well as the 2-year-old indigo experiment. The Paper Moon Project is based on the Bauhaus approach of combining fine art and crafts, and her work is illustrative of the German design theory in practice. Her letterpress stationery, crafted with handmade paper and sumptuous inks, is high end — there's nothing Hallmark about it. With the indigo project, Browne, 32, takes the Bauhaus idea one step further. "I see what I do as a marriage between craft and agricultural," Browne says. "I wanted to see what I could grow in terms of colors and fibers that I was using in my own craft."
Browne's path to growing her own indigo and using it to make her own dyes has been long and winding. After graduating from the University of Vermont in 1999, she lived in Costa Rica, Panama and New York City, where she served as art director for W, the outsized couture magazine. But the California native eventually returned to Vermont where, as she puts it, she could "be a part of the community as an artist, not be away from it." She got a job at Adam's Berry Farm in the Intervale so she could learn about agriculture, while at the same time grow her understanding of natural dyes and stains. With the bounty produced at the farm, Browne developed a dye from blueberries and hosted a blueberry dye workshop two summers ago. "I wanted to talk to people about natural colors," she says.
The farm labor suited Browne, who, with au courant shaggy bangs and a keen eye for style, doesn't exactly look like one who would toil in fields. But she liked the hard work, the sweating, the dirt under the fingernails. "When I worked in an office, I disconnected," Browne said. The work at Adam's Berry Farm brought her closer to her craft and the basics of dyeing and printing. She calls her experience with the blueberries "heaven." The fruity experiment pushed Browne towards the path she's on now, working with indigo.
The word "indigo" generally calls to mind the seventh hue in the visible spectrum, or the purplish color in a rainbow. It does not typically inspire images of where that color came from. Ask the average man on the street the origin of indigo and you're apt to get a blank stare. Few know that indigo the dye comes from indigo the plant. Browne is hoping to change that.
A quick primer on indigo: Polygonum tinctorium, or Japanese indigo, is a plant in the buckwheat family whose leaves are used to make a deep-blue dye. The color that comes from the plants is a natural dye, and is the only one that does not need a chemical mordant, or binding agent. The dye will adhere to both plant and animal fiber. The plants are resilient and varieties are grown all over the world. El Salvador is the leading exporter of natural indigo; it is also produced in great volume in Japan, where demand exceeds supply. In South Burlington, Browne is cultivating 600 plants at the farm at South Village with the help of farmer Bobby Young, her partner in the project.
The cerulean to aubergine color is achieved by composting the leaves for three months. Once the leaves turn purplish-blue, they are packed into balls that are used in the dye baths. While indigo is one of the world's oldest natural dyes — it is referenced in Indian manuscripts from the 4th century B.C. — it is rarely used in commercial production today. In the U.S., some premium denim companies are using natural indigo, but it's rare to find a commercial textile house that chooses natural indigo over a chemical dye.
At the 2-acre farm plot on Spear Street, Browne's indigo plants grow in long, neat rows next to heirloom varieties of garlic and potatoes. If the two rows weren't marked with strips of cotton dyed a dark indigo, it would be hard to distinguish the plants from invasive weeds. The indigo plants at South Village are healthy and verdant, despite this summer's seemingly endless rain. Soon, the indigo will be ready for harvest. If Browne and Young time it right, they should be able to get three cuttings from the plants. Browne's current indigo experiment won't yield enough to sell commercially, but it will help her plan a larger business in the future. She's also interested in helping people grow their own indigo plants, so she's selling starter plants, as well as seeds, at the Tick Tick cart on Church Street and at City Market.
Browne was drawn to indigo — as opposed to other natural dyes such as onion skins, madder or cornflower — not only because it does not need a mordant, but because the deep color it produces is "extremely seductive" and potent. "Getting those intense, rich colors ... I'm just captive," she says. "Indigo is an unsolved mystery for me."
She's not alone in recognizing the dye's appeal. Recently, she and boyfriend Graham Keegan were commissioned by Burlington City Arts to create a fort in celebration of the Lake Champlain Quadricentennial. The structure, called "Fort Sub Rosa," was installed across from the ECHO Lake Aquarium and Science Center and is draped in hand-sewn, indigo-dyed cotton.
Ideally, Browne will own and operate a full-scale indigo farm, possibly in Mexico, that produces the highest quality natural color. The long-range plan is to sell her indigo to boutique denim companies such as Earnest Sewn and Rogan. "The opportunity for natural indigo in the denim market is huge," Browne says. "If capitalism can support this venture, then it's going to the right people."