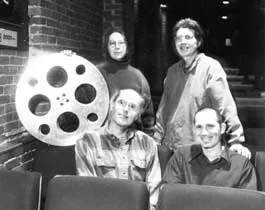 GMff Organizers Andrea Serota and Rick Winston (standing), and Chris Wood (seated, left) and projectionist Michael White.
Don Robisky would rather see "a marginal movie from Mongolia" than virtually any slick Tinsel Town release. The Montpelier engineer regularly takes a chance on the selections at the Green Mountain Film Festival, which plays out in Vermont's capital city from Friday through March 29. He's never been disappointed.
"I'm willing to live with a few flaws," Robisky says. "I still find them interesting because they are someone's vision from another country or another culture. It's exciting to see things that will never be shown commercially."
That adventurous attitude has translated into success for the annual gathering of cinéastes, which began in 1998. "We had a quantum leap in attendance last year," recalls Savoy Theater owner Rick Winston, who organizes the festival with a committee that includes his wife Andrea Serota and business cohort Chris Wood. "There were close to 3000 admissions, up about 1000 from 1999."
Apparently, ticket-buyers often mistakenly assume the event is calculated to take place the same week as the Academy Awards. "We've heard, 'What a great idea: You're sort of the anti-Oscars,'" Winston says. "We think this time period works just fine, if there's not a blizzard or a freak 70-degree day, because people are restless after being dug in all winter."
With a schedule of 23 screenings, including documentaries, features and compilations of shorts, the event boasts an accessible downtown location — the Savoy and the City Hall Arts Center are directly across Main Street from each other. The programming is eclectic, from a drama by the legendary Hou Hsiao-hsien set in late 19th-century Chinese brothels entitled Flowers of Shanghai, to Sound and Fury, Josh Aronson's nonfiction look at the impact of deafness in a family. The latter is up for best documentary at next Sunday's Oscar ceremonies.
Two other entries on the roster that have met with critical acclaim are Paragraph 175, which details the Nazi persecution of homosexuals, and George Washington, about African-American youngsters coping with tragedy in a small Southern town. Both are nominated for Independent Spirit Awards that will be handed out Saturday and televised on Bravo.
Rebels With a Cause, a history lesson on how Students for a Democratic Society tried to make a difference in the 1960s, will be followed by a panel discussion, with two of the film's activists. The Vermont Traveling Filmmakers' Showcase, coordinated by the Vermont Inter-national Film Foundation, encompasses eight pieces by five local people, who will all be there to talk about their work. "An Evening With Rick Prelinger" spotlights some of his 48,000 short instructional films from the 1940s and 1950s — such as "how to set the perfect table," Winston explains. Prelinger believes they offer insight into our civilization, beyond the obvious kitsch.
Vulcan Junction, which had a North American premiere at the Montréal World Film Festival last August, is one of four movies about teenagers at the Montpelier shindig. Director Eran Racklis depicts the lives of six Israelis and one American, several of them hippies in a suburban Haifa rock band, in the weeks leading up to the 1973 Yom Kippur War.
The festival's first-ever "family show" will be Princes and Princesses, a French feature-length animation accompanied by Montpelier High School drama students reading the English subtitles for children too young to parler français.
On the other end of the maturity spectrum, Winston thinks Live Nude Girls Unite! is "bound to raise some eyebrows" in tracing the unionization efforts of exotic dancers in San Francisco. Even Mother Jones might have blushed at this documentary by Julia Query and Vicky Funari, which precedes a discussion with women from Vermont's labor movement.
In order to obtain opening night's Himalaya, a new co-production from France and Nepal about the generation gap in a remote mountain village, the festival was required to show a second selection from the distributor's catalog. "We decided on The Bicycle Thief," he explains, referring to the 1948 Vittorio De Sica masterpiece about poverty in post-war Italy. "It's the quintessential neo-realist classic, not usually seen in 35 millimeter any more."
A Swedish tale about the off-beat consequences of an illiterate farmer's newspaper ad seeking a housekeeper is likely to be a crowd-pleaser. "Everybody on the programming committee really responded to Under the Sun, which is guaranteed to make people forget for two hours that it's late March in Vermont," Winston suggests.
Committee member Susan Ritz agrees. "It's my favorite film so far."
At last year's festival, this mother of three young children managed to catch three screenings in a row every day. "It's such a festive atmosphere. It really feels like something big is going on," Ritz says. "Every-body's on the street talking about what they've just seen. This is a deeper experience than, 'Gotta get to a movie tonight!'"
Winston knows that sense of connection is crucial to the enterprise. "We're always looking for films that make you feel like you've been somewhere, you've seen something," he notes. "They are provocative in ways most Hollywood movies are not. People have come to believe they can trust our films will have a certain level of quality. They're not just entertainment."