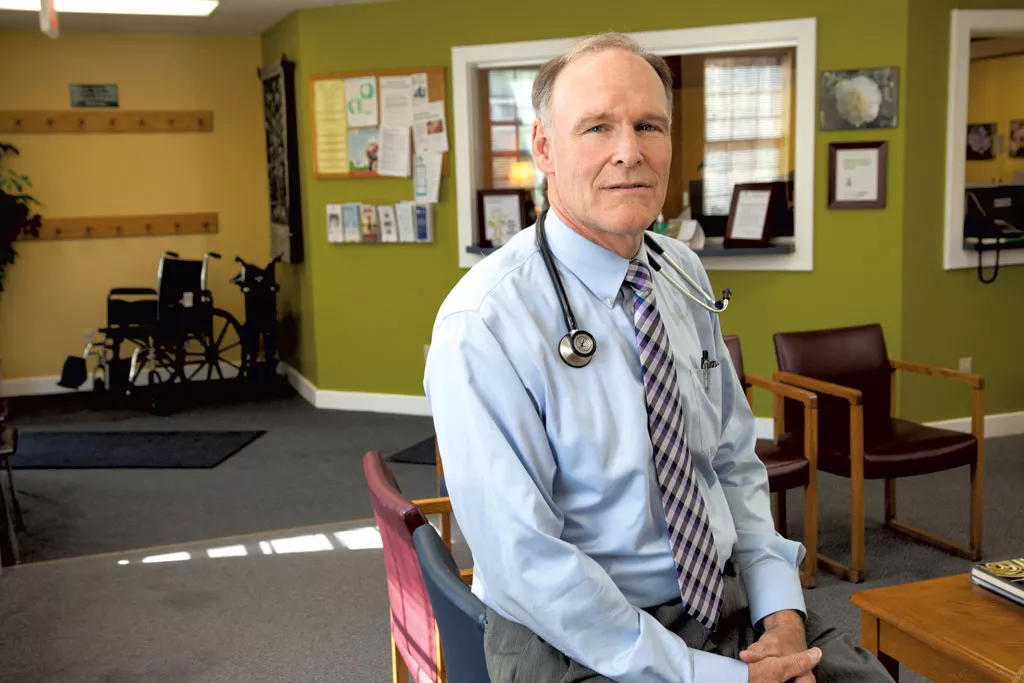 Matthew Thorsen
Dr. Paul Reiss
Consider your run-of-the-mill colonoscopy. According to paperwork generated by MVP Health Care, the insurer paid an independent physician roughly $550 to complete the procedure. The same insurer paid a doctor employed by Fletcher Allen Health Care nearly $1,800 for the same test.
Independent docs in Vermont complain that such rate discrepancies are putting the squeeze on small practices. Hospitals, they say, have significantly more negotiating power with insurance companies — and are able to command higher payments as a result. It's one more burden on docs trying to go it alone in private practice — and it's pushing some of those to sell out to hospitals.
"We're just talking about people with the exact same training, the exact same degree, being paid differently," said family medicine doctor Paul Reiss, a partner at Evergreen Family Health in Williston and the chairman of Healthfirst, Vermont's 4-year-old association of independent physicians.
The state is taking notice: In an act passed last spring with amendments to Vermont's health care laws, Sen. Tim Ashe (D/P-Chittenden) called for the secretary of administration to study disparate reimbursement rates and recommend whether or not the state should prohibit insurers from reimbursing independent physicians at lower rates. That report is due December 1.
In the meantime, independent physicians are making their case, and Healthfirst hired its first executive director. In a letter addressed to Secretary of the Administration Jeb Spaulding on September 10, South Burlington gynecologist Kym Boyman wrote that different reimbursement rates "jeopardize the survival of practices like ours," and that the status quo is "simply and obviously unfair."
The Vermont Medical Society estimates that roughly a third of Vermont physicians are in private practice — a much lower percentage than the American Medical Association estimate of 60 percent nationwide.*
It's difficult to find out how much insurance companies pay health care providers for medical procedures; Vermont's two insurers — MVP and Blue Cross Blue Shield of Vermont — consider the negotiations to be proprietary. So Healthfirst relies on Vermonters to turn over their "explanations of benefits" paperwork that arrives post-procedure detailing how much the insurance company has agreed to pay.
Analyzing those EOBs, Healthfirst found that Blue Cross, the state's largest private insurer, paid Fletcher Allen Health Care $195 in professional fees for basic consults with outpatient specialists. That's compared to $119 for independent docs. Fletcher Allen pulled in $2,344 for gallbladder surgery; independent doctors received less than half — $1,020 — for the same procedure.
Hospitals are quick to point out that their doctors are on salary; the professional fee doesn't go directly into the doctor's pocket. Where it does go, presumably, is to the bottom line — and, hospital officials say, to subsidizing more expensive specialties that don't see a lot of patients. Think neonatologists or trauma specialists.
"We provide the service for the area and the community, but there really isn't the volume to completely support those programs," said Rick Vincent, the interim vice president of finance at Fletcher Allen. "If we didn't provide them, they wouldn't be offered in the region."
Independent physicians don't buy the subsidization argument, because hospitals already charge "facility fees" to Medicare, Medicaid and private insurers. In theory, the extra income is supposed to finance the overhead required to run a larger medical operation: keeping the lights on, staffing the ER and so on.
In practice, the facility fees are problematic, according to Allan Ramsay, a former Fletcher Allen family medicine doctor who now sits on the Green Mountain Care Board.
"They're an incentive for the hospitals to consolidate and buy up practices," said Ramsay. When hospitals acquire formerly independent practices, he explained, they can start charging both professional and facility fees for the services provided there.
Ramsay's board is crunching the data on price variation in Vermont, using a statewide database — the Vermont Health Care Uniform Reporting and Evaluation System — that compiled claims information from Medicaid and commercial insurers. That report is being presented at the board's October 2 meeting. Data, and not anecdote, should guide Vermont's decisions about health care reform, according to Ramsay.
Medicare and Medicaid reimburse independent practices and hospital facilities at the same professional rate for services — but they also don't negotiate those rates with facilities. Vincent, at Fletcher Allen, said that's what's responsible for the so-called "cost shift" in health care. Because increases to Medicare and Medicaid payments haven't kept up with inflation, hospitals and private practices alike rely on commercial insurers — like MVP and Blue Cross — to make up the difference.
Vincent said that Fletcher Allen sits down to negotiate payment rates with commercial insurers on a yearly basis; by contrast, Reiss, the independent family doc in Williston, said that standalone practices have to practically beg insurers to even come to the table. Only after private practices threaten to drop patients covered by a particular insurance plan, or to refuse new patients, will insurers participate in the rate conversation, Reiss said. Even then, the negotiations are "pretty one-sided," he said. "They say, 'Well, we respect you, we know you're a good practice, but we can't afford to pay you more.'"
Reiss said that with just two major private insurers in the state, independent physicians can't afford to walk away from the rates being offered.
"For smaller practices, it's 'Take it or leave it,'" said Reiss. "They know we can't say no."
"It isn't about trying to squeeze independent physicians," countered Cory Gustafson, the director of government and public relations at Blue Cross. He said insurance companies have to work with hospitals, which provide services patients in the region need, to make sure the institutions can cover their costs.
Gustafson said the company is "in with both feet" when it comes to pursuing health care reform. "We're working on ways to change how physicians are reimbursed so that it's fair and adequate," said Gustafson.
The kind of major health care reform efforts Vermont is exploring could potentially make moot the issue of unequal professional fee payments. Robin Lunge, the state's director of health care reform, says Vermont is exploring ways to move away from the "fee-for-service" model — which is at the root of independent physicians' complaints.
Reiss supports the state's push for single-payer health care. But he doesn't want to see the state pursue so-called "single-provider" health care; he argued that private practices and hospital-employed physicians alike are crucial for Vermont's health care ecosystem.
Ramsay, with the Green Mountain Care Board, agreed that diversity is important. Some doctors, like Reiss, prefer to work for themselves rather than for a bigger organization. Patients, meanwhile, like to have choices.
For now, though, Reiss said his practice is running on "razor thin" margins due to the lower reimbursement rates. He pointed to recent improvements and acquisitions at Fletcher Allen: a $51 million land deal to expand on Tilley Drive in South Burlington; a $15.8 million renovation to the hospital's maternity unit; and a new inpatient building with 128 private rooms. By contrast, he said, "We have our own kids painting our rooms, doing the landscaping, mowing the lawn."
Doctors aren't the only ones with a stake in reimbursement rates. Reiss pointed out that patients rarely realize that the same procedure could cost less or more depending on the doctor who performs it. "With these large deductibles and copays they have now, those costs come right out of their pocket," said Reiss. "They have to pay the rates those insurance companies negotiate."
Reiss experienced this firsthand when he found himself in the patient's shoes: He needed an MRI of his shoulder, and his doctor in Chittenden County ordered the test at Fletcher Allen.
Reiss called his insurance company. He had to push hard to get the insurer to reveal different provider rates. He learned that if he had the MRI done at Copley Hospital in Morrisville, it would cost $1,100 — $1,700 less than the same procedure at Fletcher Allen.
"I saved a lot of money, just by driving out there one beautiful winter morning," said Reiss. "I don't mind doing that, and lots of people don't mind doing that, but most people don't even know to ask."
Disclosure: Tim Ashe is the domestic partner of Seven Days publisher and coeditor Paula Routly.
*Correction 10/03/14: An earlier version of this story cited a study that found 39 percent of doctors are employed in private practices. A more recent study by the American Medical Association puts that number at 60 percent.