Margaret Grayson
The Inconceivable Theatre Company
The Inconceivable Theatre Company assembled in a community art space in the basement of the town center building in Richmond under the watchful eyes of children's art and large papier-mâché bumblebees. They cracked jokes and compared Goodwill jeans, and one of them scarfed down a prerehearsal hot dog. Bustling around them all was Sofia Carfaro, looking the part of an art teacher with swishy black hair and a bright Hawaiian shirt. She arranged tables, chalked the outline of a stage onto the cement floor and scoured the room for supplies to serve as makeshift props.
Carfaro, 20, is the cofounder and director of the Inconceivable Theatre Company, one of two youth theater groups in Chittenden County that will put on productions in August. They've been rehearsing nine to 12 hours per week through July, working around summer jobs and family vacations. They often meet at the library, but today they were in the Radiate Art Space.
"Scissors are a bad idea, right?" Carfaro asked the group.
"You mean for knives?" someone asked. The play includes a scene in which the whole cast wields daggers, but the stage daggers hadn't yet been purchased.
Everyone agreed that, yes, scissors as daggers were a bad idea, and Carfaro passed out paintbrushes instead. Her sister and assistant director, Raina Carfaro, informed Sofia that they would also need extra-thin condoms to make homemade blood squibs. Yes, someone's getting stabbed during this play.
Inconceivable Theatre Company, which Sofia Carfaro often calls a "youth theater garage band," was born out of a simple desire of a group of high schoolers in 2015: to put on a production of Dr. Horrible's Sing-Along Blog, a 2008 online musical miniseries starring Neil Patrick Harris. They were theater kids from Mount Mansfield Union High School, where the theater director picks the major productions, and the school administration has to approve them.
"It really started in a desire for a specific show, and sort of the independence and the ability to produce the kind of content we liked," Carfaro explained.
During that first show, she admitted, she felt in over her head "every single day."
"Never again in my life have I felt so both amazed by what we accomplished and overwhelmed and isolated," she said. "It's hard to rally your friends to do something without making it a burden on everyone else." She didn't expect the group to last longer than that first summer.
But four years later, they're rehearsing for August performances of Too Much Light Makes the Baby Go Blind, a show that crams 30 short works into 60 minutes. It's been the longest-running play in Chicago, where Carfaro attends the Theatre School at DePaul University. She called it "short, accessible theater" that can open audiences up to nontraditional performances without getting too pretentious. During rehearsal, she steered the group away from moments she called "black-turtleneck levels of artsy."
This year's show is much smaller than previous productions, with a cast of five compared to past casts of 20. Its success, Carfaro said, is due to the dedication of the core group of cast members, most of whom are old friends. They're all between the ages of 18 and 24.
"We really wanted to focus on making an ensemble and a group that worked well together and could trust each other, more than anything else," Carfaro said. "It's breakneck, and also some of the shows are very personal. They're fast, but some of them are intense or very sad."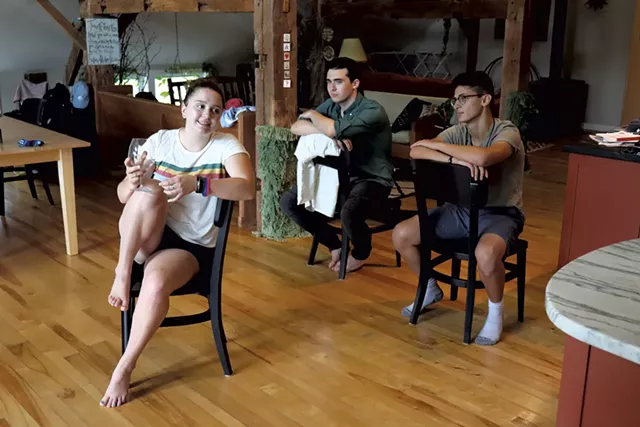 Margaret Grayson
Members of Verdantrics Production Company
Another pair of students found local summer musical theater options lacking for college-age Vermonters and decided to do something about it. Shea Dunlop of Hinesburg and Tommy Bergeron of Essex, who both attend the Hartt Theatre Division at the University of Hartford, said there's a dearth of opportunities except with professional theaters. (Bergeron is actually commuting to Montpelier for Lost Nation Theater's summer production.) So the two founded Verdantrics Production Company this year to provide peer-to-peer theater education and present a fun summer musical. As Dunlop put it, "No adults allowed."
Dunlop and Bergeron met as middle schoolers through the show-choir program at the Flynn Center for the Performing Arts; most of the other Verdantrics actors are Vermonters who attend theater programs at different colleges. One cast member lives in Connecticut and drives up every weekend for rehearsals. When not rehearsing, they work as servers and camp counselors.
Dunlop and Bergeron wanted the chance to share with each other what they'd learned over the school year rather than be directed and choreographed by professionals. They're putting on 35mm: A Musical Exhibition, a pop-rock show based on photographs.
"It's got excellent music," Dunlop said. "We picked it because we wanted to do a production where everyone had an equal opportunity." At a recent rehearsal, the five cast members alternated through solos and ensemble numbers. The musical's subject matter ranges from relationship troubles to a disgruntled nanny to a prom queen on a killing spree.
Both Verdantrics and Inconceivable Theatre Company have fundraised for their shows. Verdantrics crowdsourced more than $1,000, and a donor who has ties to both founders' families matched that sum. Inconceivable Theatre Company mounted two variety show fundraisers, in 2016 and 2017, to raise the cash they needed.
Dunlop said she hopes to pass Verdantrics off to younger theater enthusiasts when she and Bergeron graduate from college.
"We've been taught all year. We want a chance to hear what our friends have learned and learn from each other," Dunlop said. "It was like, 'Oh, we're bored? Let's start a theater company.'"