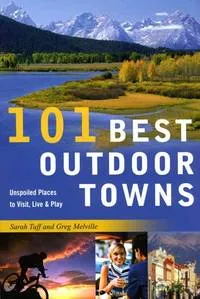 What makes a great outdoor town? It's more complicated than you might think. For South Burlington writer Greg Melville and me, finding the country's best turned out to be a surprisingly mathematical equation. It involved not just mountains and water but also money, gear, coffee and beer. The result of our research is 101 Best Outdoor Towns: Unspoiled Places to Visit, Live & Play, published by Countryman Press in June.
Since Melville and I had written several "dream town" features for national magazines such as Men's Journal and Best Life, we had a pretty good list to begin with — places such as Hood River, Oregon, and Ely, Minnesota. In choosing others, we decided that each of our 101 towns would have to be a) close to protected wilderness and/or large bodies of water, b) affordable, c) small, and d) "livable."
The requirements for population and proximity to parks and lakes weren't a problem — the country has thousands of small towns with spacious skies and purple mountains' majesty. But thanks to moneyed second-home owners, the cost of living has skyrocketed in such places as Aspen and Sun Valley, so the affordability factor narrowed our list. "Affordable" is relative, of course — we used median home values from the U.S. Census. Our chosen towns aren't dirt cheap, but neither are they Telluride or Park City, where a crumbling Victorian costs a cool million.
As many Vermonters would agree, adventures don't just begin and end in the woods. There's the anticipation and planning over a cup of joe and a plate of eggs, and the tales we share afterward while gulping a microbrew and scarfing fries. Though backcountry camping has its glories, so does sinking into a soft pillow after a hard day of mountain biking singletrack or hiking to a summit. So Melville and I required that each of the towns have independently owned eating and lodging options, along with a decent gear shop to sell or rent equipment and point visitors in the right direction once they arrive.
The project took two years from its initial conception — which happened over coffee on Burlington's Church Street — to its completion. The research was grueling at times, but also a lot of fun. Melville and I split the list in half, and tried to visit as many places as possible. The realities of life, such as the expense of a plane ticket to Alaska or Hawaii, prevented us from seeing some towns first hand. The addition of a son to Melville's family and a daughter to mine also inhibited travel. So, when necessary, we relied on friends in the "field" and our long-distance reporting skills to provide snapshots of each town.
The states with the most "best" outdoor towns turned out to be California and Minnesota, with five each. But Vermont's four — East Burke, Middlebury, Montpelier and Newport — represent a close second. That's as many as Alaska and Montana got. (Vermonters who disagree with our picks, or want to nominate their own nooks, should know that we'll probably update 101 Best Outdoor Towns in the future. Of course, some may prefer to keep their mountain-surrounded Main Streets all to themselves.)
We chose East Burke for the incomparable mountain biking on the Kingdom Trails, whose 100 miles of well-marked beginner, intermediate and expert paths guarantee a steady stream of helmet-clad riders at Bailey's & Burke, the combination general store and café. You can hop on a bike right from East Burke Sports downtown, tear around the singletrack for hours (sharing the space, at times, with horseback riders and hikers), and then unwind with ice-cold pints of Trout River ale at the Pub Outback.
Though I went to Middlebury College, I didn't appreciate the town's outdoor delights until I started researching this book, more than 10 years after graduation. Several of Vermont's must-do hikes, including easy Snake Mountain and tougher Mount Abraham, surround Middlebury, where the Otter Creek Falls provides a downtown play-hole for kayakers. And though our pick for post-hike panini — Eat Good Food — has closed since the book went to press, both Tully & Marie's and the Storm Café offer excellent wining, dining and river-watching opportunities.
Montpelier may have captured another 15 minutes of national fame with the recent "802" video on YouTube, but Melville and I discovered a more sporting cause for celebration in the long cycling routes that spider out from the gold-domed Capitol. Add the Onion River, Onion River Sports and the mountain biking just south of Montpelier at Millstone Hill, and you have a near-ideal itinerary for weekend adventures.
Newport earned a spot in the book because of Lake Memphremagog and its flatwater paddling opportunities, as well as the low-key, no-frills vibe around the border town. Adventure racers have discovered Newport through the annual Jay Challenge: Later this month, the event will send athletes on a 26-mile "crossover" of the lake, a 65-mile mountain-bike race and a 30.5-mile trail "marathon." But not many other people know about the town — yet.
These are just a few of the summertime options around Vermont. Each spot also has unparalleled access to lift-served and backcountry skiing and snowboarding in winter, and extensive Nordic trail networks. Plus, East Burke, Middlebury, Montpelier and Newport are all near airports, making them "accessible." Throughout 101 Best Outdoor Towns, Melville and I also highlight exceptional wild places, and Vermont has several: Lake Willoughby, the Catamount Trail, Mount Mansfield and the Northern Forest Canoe Trail.
So the Green Mountain State measures up pretty well to other unspoiled parts of the U.S. My own town of Burlington didn't make the cut (too big), but Lake Champlain, the Adirondacks and the Green Mountains — not to mention plenty of high-quality coffee and local microbrews — stave off the temptation to move to one of "the 101."
Except for the magnificent Homer, Alaska. I'd move there in a heartbeat.