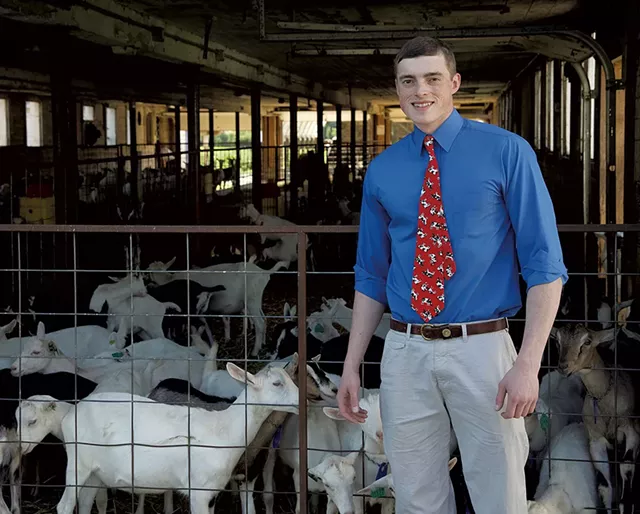 Jay Hooper on his family's goat farm
Jay Hooper, a newly elected Democratic state representative from Brookfield, vowed not to wear any green blazers in the Statehouse this January. He doesn't want to be mistaken for one of the middle school-age legislative pages in green jackets who roam the halls carrying messages between officials.
It's a reasonable concern for the lanky 23-year-old, but at least he can claim seniority over his district-mate. At 22, Ben Jickling, an independent from Brookfield, will be the youngest lawmaker in the building.
Voters in the two-seat Orange-Washington-Addison district, which covers Brookfield, Randolph, Braintree, Granville and Roxbury, did a curious thing on November 8: They ousted a well-liked seven-term incumbent in favor of two political neophytes.
How did Hooper and Jickling parlay their lack of experience into a selling point, given that the average age of state reps is 60 and incumbents often seem invincible? Equally mystifying, what possessed the two of them — a college kid and a recent graduate — to spend the summer campaigning for a political post that pays less than $700 a week?
Jickling, a member of Randolph Union High's championship baseball team in 2013, came home from college to pursue politics. Campaign lawn signs cover his apartment walls — "cheap wall art," he explained. He's adamantly independent and knocked on every door in his district twice, telling voters about his plans to address youth flight by expanding broadband and promoting economic development. "This is not a stepping stone for me. I want to be in Vermont for the rest of my life," Jickling said.
Hooper, equally comfortable in Carhartts on the family goat farm or in a blazer at boarding school, is energetic and voluble. "I have the ideals of a liberal," he said, but "I understand the culture of red Vermont." The Connecticut College graduate wants to increase the minimum wage, stem the opiate problem and preserve the state's farmland.
The five central Vermont towns the two will represent have a rich agricultural heritage. Randolph is the largest, with a population of about 5,000, a modest downtown and large employers, including Gifford Medical Center and the Vermont Technical College. The other four towns are more rural, with populations ranging from 300 to 1,300.
For 14 years, the district's voters had elected Democrat Patsy French, a 67-year-old former elementary school teacher. Her district-mate, Democrat Marjorie Ryerson of Randolph, didn't run for reelection this year. Ryerson's two predecessors both died in office.
Undeterred by the district's apparent preference for the older demographic, Jickling launched his campaign in February, months before Ryerson bowed out. It became a four-way competition when French, Hooper, and, lastly, Republican Bob Orleck declared.
By then Jickling, a political science major taking time off from Trinity College in Connecticut, already had a strategy. "I chose to really aggressively market my age as a potential strength rather than a weakness," he said during an interview in his apartment last week.
Though baby-faced, he is at ease in an older crowd. At a November 19 auction fundraiser for the parent-teacher organization at Brookfield Elementary School, Jickling, dressed in a blue sweater, gray khakis and worn suede shoes, mingled with gray-haired constituents. He and Hooper had been asked to introduce the items. If Jickling resented spending his Saturday night there, he showed no sign of it, earnestly presenting honey, clover potpourri and handmade dolls.
"I knew Ben from playing golf," said Mark Hutchinson, a 62-year-old mailman from Randolph who declared, "I'm no spring chicken." Jickling worked as a greenkeeper at Randolph's Montague Golf Club for the past four summers. "He would come sit with the older guys and ask questions," Hutchinson recalled.
Alicia Freese
Ben Jickling at home
Although Jickling has spent most of his life in Brookfield, he was born in Bolivia, where his forester father had a job. His mother is the librarian at the Brookfield Free Public Library. Jickling spent a semester interning with U.S. Rep. Bill Keating (D-Mass.), a gig he got by cold-calling the office. In 2014, Jickling ran his cousin Calvin McEathron's campaign for a Vermont House seat. The 20-year-old Middlebury College student nearly upset an 18-year incumbent, Democrat Betty Nuovo.
Jickling is renting an apartment above a weathered garage in Brookfield, where the downstairs tenant is a tractor. The lawn signs lining the walls are diverse and include ones for Republican gubernatorial candidate Bruce Lisman and President Barack Obama — evidence of Jickling's refusal to be politically pigeonholed.
During the campaign, he said, "a lot of people thought I was a secret liberal or a secret Republican." But he maintained, "I do consider myself a real independent."
Tending to avoid what he calls partisan issues, Jickling is more interested in talking about improving Vermont's internet connectivity than discussing, say, marijuana legalization. If the legislature is addressing drugs, he reasoned, it should focus on reining in opiate use.
He said he thinks towns should have more influence, but not veto power, over large solar projects, and he generally opposes industrial-scale wind turbines. He's studied Vermont's education finance laws and thinks the state should do more to incentivize frugal school budgets. He said his district is proof that small schools can be cost-effective.
In elementary school, Jickling played Little League with Hooper. The former teammates are still friendly, even though they technically ran against one another. Hooper entered the race in May immediately after graduating from Connecticut College with a double major in government and history.
Hooper lives with his parents in an old white farmhouse on a dirt road — off another dirt road. In 1984, his father, Don Hooper, became the first Democrat to win a House seat in the Orange-Washington-Addison district. After eight years as a rep, he was elected secretary of state, serving one term that ended in 1995.
When Ryerson decided to step down, she called the elder Hooper to see if he would run. Jay overheard the conversation and volunteered instead.
He had some political experience, if trying and failing counts. During his senior year at the all-boys Trinity-Pawling School in New York, he ran for head prefect and lost. As a freshman at Connecticut College, he went for class president. He said his opponent offered beer for votes and won.
But Hooper has charm. He was uncannily comfortable talking with a reporter and unabashed about his youthfulness. "We're practically preschoolers!" he said, referring to himself and Jickling. He sat in a rocking chair in his living room listening to Fleetwood Mac, occasionally stoking the fire.
Several people, including his father, described Hooper as a peacemaker. Hooper said his "biggest claim to fame" is resolving a feud at Trinity-Pawling between the mostly white hockey team and the mostly black basketball team over a supposedly stolen hockey jersey. His first attempt to bring the teams together ended with a fistfight in the school chapel. He ultimately persuaded the hockey team to attend a basketball game, and vice versa; both teams came back from behind to win. The jersey mysteriously reappeared soon after.
Though he's been away at school, Hooper has plenty of community cred. His mother, Allison, cofounded the Vermont Creamery in Websterville, a thriving local business that churns out cultured butter and artisanal cheeses, and young Hooper's résumé includes haying, milking and packing butter.
He won over a number of Republicans and right-leaning independents with his support for gun rights and his allegiance to agriculture. He spoke out against Connecticut developer Jesse "Sam" Sammis' Exit 4 project proposal, which would have swallowed up fertile farmland in Randolph.
At the PTO auction, Hooper wore green Carhartts slung low and prodded the crowd to bid on a toy tractor, telling them, "Nothing runs like a Deere."
Although he was happy to win, Hooper didn't expect that doing so would oust French, whom he described as a grandmother figure. She even campaigned for him.
The longtime legislator was gracious about her unexpected defeat. She predicted that Hooper and Jickling will "bring a youthful perspective" to the Statehouse and passed up the chance to mention their lack of experience.
"I voted for Patsy French for years. She's a good friend of mine," said Hutchinson. But in his view, "She always toed the party line." This year he voted for Jickling and Hooper because "despite their lack of life experience, I think they put a lot of effort into learning about what was important to people."
The specter of a carbon tax played a role in the election. Throughout the campaign, her Republican opponent and others criticized French for cosponsoring a bill that would have explored the concept.
It was worrisome to Sam Lincoln, who calculated that a carbon tax could cost him $15,000. A lifelong Randolph resident, he owns a logging business and a farm.
He's harvested timber for French and said he respects her, but he voted for Jickling and Hooper. He liked that Jickling is an independent, observing, "It's hard to get an elected legislator to vote against their party."
At first he had reservations about Hooper, who had gone door-to-door for the Vermont Public Interest Research Group last summer, extolling the benefits of taxing carbon fuels.* But partway through the campaign, Hooper had a change of heart, declaring during an interview on a local country radio station that he would vote against a carbon tax. He explained that he still personally supports the idea, but he's been persuaded that it would be unaffordable for many people in the district.
Whether you call that open-mindedness or malleability, the about-face won people over. Lincoln and others saw it as evidence that the candidate had heard their concerns.
"A lot of Republican voters decided to give me a shot because I was so emphatic that representation is my No. 1 purpose," said Hooper.
"That's the beauty of being an independent," said Jickling. "You can make every decision based on your district."
"I think the race was interesting because Ben and Jay were very visible out there ... They really got the attention of the town," said outgoing Rep. Ryerson. "It's going to be fascinating to watch this next session."
Ryerson said she met Hooper for a celebratory drink at the Black Krim Tavern after the election. When the server asked for Hooper's ID, Ryerson protested, "He's our next state rep!"
The server rolled her eyes and said, "I still need to see his ID."
Disclosure: Ben Jickling is the brother of Seven Days reporter Katie Jickling.
*Update, December 1, 2016: This story has been updated to clarify Sam Lincoln's initial position on Jay Hooper's candidacy.