Matthew Thorsen
Tiny Thai
Over the past few years, Asian restaurants have blossomed all over Chittenden County like lotus flowers on a pond. The Queen City recently gained a pan-Asian noodle bar, and another is on the way. Where once there was a single source of Vietnamese pho in the Greater Burlington area, now there are seven.
There's no better example of the area's Far Eastern obsession than the mile-square city of Winooski, where five Asian eateries serve a population of 6300.
293 Main St.
Chittenden County
Winooski, VT
802-655-4888
Thai
While all of them are popular, one, Tiny Thai, is almost always packed. At lunchtime, it's not unusual to see a line snaking out the restaurant's door, perhaps a result of the filling, ridiculously inexpensive prix-fixe lunch special: Diners get a beverage and two courses for just $7.95.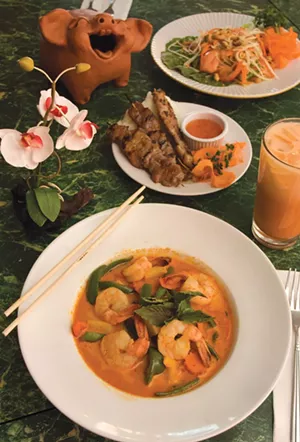 Matthew Thorsen
Tiny Thai
The sweet and hot ginger iced tea is a perfect starter. Follow it up with a bowl of fragrant tom yam chicken soup or moo ping — grilled, marinated pork on a stick. Choosing among 11 possible entrées isn't easy, but the "curry of the day" and the spicy pad kee maow, also known as "drunken noodles," are highly recommended.
The à la carte dinner menu is more extensive but not expensive — plus, the restaurant is BYOB, so there's no booze on the bill. Like all of Tiny Thai's dishes, the pad prik khing combines brightly colored, crisply cooked vegetables and a puddle of rich, complex sauce. The gentler massaman curry with potatoes and roasted peanuts amounts to Thai comfort food. "Rose's tofu" is a flavorful, meat-free choice.
There's only one problem with Winooski's favorite Asian place. Getting a parking place and a table. Luckily, there's a second Tiny Thai, in the Essex Shoppes & Cinema complex, just a short drive away.