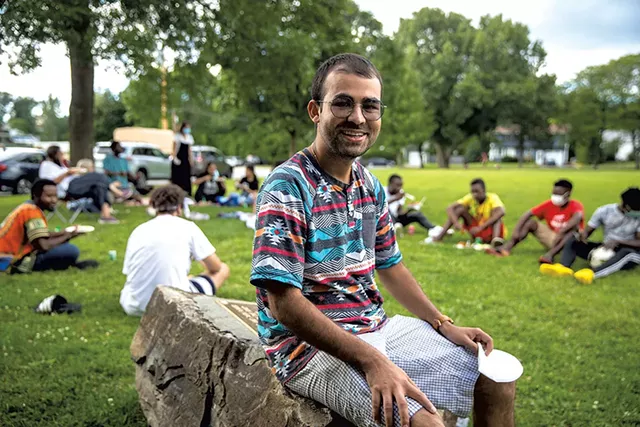 James Buck
Indra Acharya
People who logged into the Winooski School Board session on July 15 expecting a quiet, routine meeting were in for a surprise. Over the course of the two-and-a-half-hour Zoom call, a group of students of color and recent alumni shared raw, blunt testimony about their school experience.
Abdikhafar Yussuf spoke about a 2013 incident in which an opposing player referred to the Winooski varsity soccer team as "monkeys doing tricks on a ball." The racist name-calling left Yussuf "in shock," he said. "I didn't know who to talk to, and I didn't have any resources that could help me."
Winooski is the most diverse city in Vermont, home to a large New American population of refugees and immigrants who have made it the state's only school district with a majority-minority student population. But the stories told at the meeting made clear that racism persists, even there.
Calling themselves the Winooski Students for Anti-Racism, the young adults presented the board with a set of eight demands for change. Diversity alone, they argued, did not give the school district a pass on confronting racism.
"It is because of your skin color that you would never have to go through this trauma," Yussuf said, addressing board members and administrators, the majority of whom are white. He encouraged them to listen to and learn from students of color in order to "make a positive improvement to our school."
Less than a month later, on August 12, the five-member school board unanimously accepted the demands, with some tweaks. Among the changes will be a new ethnic studies curriculum and the replacement of the school resource officer — a uniformed city cop assigned to the school building — with staff trained in restorative justice practices and counseling.
A retreat on September 12 will bring together students, school district leadership and board members to plan how to move the demands forward this year.
"The board cannot fulfill our promise if students are experiencing racism and injustice in our schools," explained Tori Cleiland, who was elected school board president earlier this month.
In just a matter of weeks, the 25-member coalition of young people had harnessed the racial justice activism that erupted after George Floyd's killing by Minneapolis police in late May to inspire changes they believe will benefit Winooski students for years to come.
Leading the charge was Indra Acharya, who came to Vermont as a refugee from Bhutan in 2012 and graduated two years later from Winooski High School. He went on to graduate from Georgetown University and the Harvard Graduate School of Education.
Acharya told the board his high school experience was marred by teachers who felt he was "threatening" because he often challenged authority, speaking up when he thought things were unjust. At one point, he said, he was required to report every day for a month to the principal's office for body searches; he told Seven Days he still isn't completely sure why he was searched.
The "traumatizing" experience fueled Acharya's activism, as did Floyd's death and the subsequent protests across the country, he said. He felt compelled to act in June after reading statements the Winooski School Board and the district released about racial justice. The messages seemed to lack awareness of local problems, he said.
Acharya had several conversations with fellow alumni and current high schoolers — some of whom he knew through his past work with the advocacy group Voices for Vermont Children — about their experiences in Winooski schools. They created a Facebook group and began having regular Zoom meetings in which they shared stories and discussed goals, sometimes late into the night.
Acharya started collecting research about models that had been used to change educational systems and consulted with professors who had mentored him. The group drafted a letter to the board and school leadership team, clearly laying out its demands.
Of 870 students in the Winooski district, about 60 percent are nonwhite, and many are New Americans, hailing from countries including Somalia, Nepal, Myanmar and the Democratic Republic of the Congo. But the staff of the middle and high school lack that diversity. The school has just one teacher who is a person of color: Thierry Mugabo Uwilingiyimana, who was born in Rwanda and came to the U.S. 20 years ago as an asylum seeker.
James Buck
Winooski student Hussein Amuri speaking with school board president Tori Cleiland
Around the same time students were beginning to organize, he and other educators established committees aimed at addressing racism in the district. Uwilingiyimana quickly realized it made more sense to support the students' activism.
"Work within the school often looks like replicating the same exclusionary and oppressive structures upon which the school is built," the science and engineering teacher said.
The students' wide-ranging set of demands included the creation of committees that would review students' past and current reports of discrimination, a mentorship program for students learning English, and a plan to hire more teachers of color. The document circulated online as a petition in the weeks before the July 15 meeting. More than 260 community members signed it.
At the meeting, Acharya recounted his experiences, as did rising senior Hussein Amuri, who accused the school district of doing nothing after members of the soccer team were called the N-word at an away game.
Other students highlighted systemic problems: the lack of a diverse teaching staff, a curriculum that fails to reflect the experiences of people of color, the disquieting presence of police in the school. Through the testimonials and in the chat section of Zoom, the young activists repeated the maxim: "Justice delayed is justice denied."
"It hurt," Winooski Schools Superintendent Sean McMannon said of listening to the students' impassioned testimonials. "Any student who talks about having a racial slur thrown at them and then feels unsupported ... that's painful, and it's a wake-up call to the fact that we need to do more."
What followed were several weeks during which the school leadership team —McMannon, the district's three principals and three other administrators — provided suggestions to the board on how to respond to students' demands and also worked with students to refine those demands.
"This is messy, and it does have to be messy," McMannon said during an interview in July, as the changes were still being considered. "We're going to have some successes, and then we're going to ... come upon really difficult issues as we navigate all of the different demands and improvements."
"A lot of this work is about people in positions of power really reflecting on that power and ultimately ceding it," added Luke Dorfman, a district math teacher who has supported the students' work. "That's a really hard thing to do, and it's not comfortable, particularly for people who are in the positions of power and positions of privilege."
This week, during the district's pre-service training, Uwilingiyimana and Dorfman planned several workshops for teachers and staff to reflect on the students' demands. Student members will address school staff on Thursday.
Several incidents over the summer only reinforced the students' point that plenty of work remains. The decision to replace the school resource officer met with resistance from some members of the community. At a July 22 school board meeting, several speakers lauded the current officer, Jason Ziter, for maintaining school safety and even paying for kids' food at sporting events.
The students said that perspective ignored how threatened nonwhite students often feel by the presence of a uniformed police officer. Research shows that in-school officers disproportionately target students of color and don't actually make schools safer, they noted.
The officer will eventually be phased out, but not until the 2021-22 school year; his salary has already been budgeted for the upcoming year, according to McMannon.
More dismaying to students and some members of the board was a letter from Sue Ann O'Brien, a former Winooski school employee, who asked for it to be read during the public comment portion of the August 12 meeting. The letter said that she was "shocked to see the demands of this group, instead of thanks and graciousness."
"The teachers and community bent over backward to make immigrants and refugees feel welcome," O'Brien wrote. The district raised taxes to hire more teachers for English language learners, allowed Muslim students to teach their peers about their religion, changed the hours of afterschool games to respect religious holidays and eliminated pork from the school menu — all examples that showed "a lack of racism," she wrote.
Acharya said he wasn't surprised by the letter's sentiment. "It's something I hear every day in this country, everywhere I go — the sense that somehow we have to be grateful for basic human rights and basic human dignity," he said.
Rising senior Evelyn Monje, who identifies as African American, said perspectives such as O'Brien's show a "lack of understanding."
Monje believes it's important to have conversations with people who have different viewpoints to explain why the students' demands are so important to them.
"I think change can be really, really scary. And we are at the beginning of a revolution in our education system, and it's a lot all at once," Monje said. "If you're comfortable and things aren't happening to you, it might not make sense why other people are upset. And I think that's sort of our hurdle that we have to overcome."
Members of the student group said they know that getting the school board to meet their demands was just a first step. But it's one that has sparked some optimism. Rising seniors Yatrika Dhamala, who came to Winooski 10 years ago from Nepal, and Eh Ka Luu, who arrived 12 years ago from a refugee camp in Thailand, said they're especially passionate about mentoring other English language learners and creating a more positive environment for their younger relatives who will attend the school.
To celebrate their progress, about 15 members of the Winooski Students for Anti-Racism, along with several teachers and members of the school board, gathered at Richards Park in Winooski last week. They kicked a soccer ball around the field, loaded paper plates with Somali rice and chicken from Kismayo Kitchen and samosas from Friend's Nepali Restaurant, and joked about how strange it was to actually see each other, in real life. Acharya said he'd promised, back when the group first formed, that they'd have a barbecue to celebrate when they accomplished their goals.
"It happened because we persisted," Acharya told the group.
Then he reminded them: "It's just the beginning."