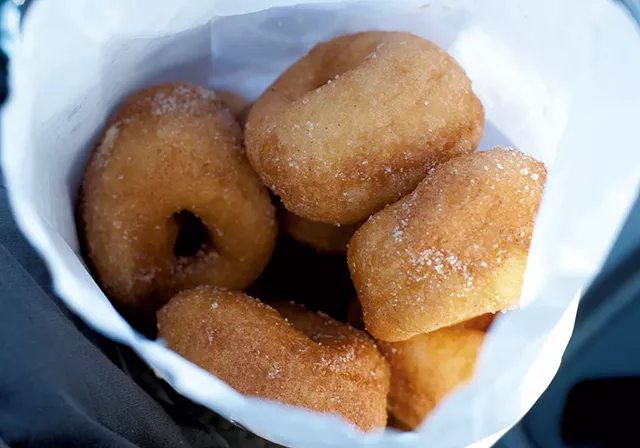 Hannah Palmer Egan
Jolley doughnuts
"Try this," said Daniel Jolley, dipping a doughnut into a tub of amber maple glaze. With a disarming smile, the 25-year-old entrepreneur handed the pastry through the service window of a tiny white camper parked alongside Route 302 in Wells River.
I lifted it to my lips. It gave way with a gentle crackle, at first all sweet maple and caramelized sugar, then plush, airy cake.
"I'll take a box of those," I said, still chewing.
"With or without bacon?"
Is that a question? I wondered, but replied, "With, please."
Eating at Jolley Doughnuts isn't good for your health — unless you define "healthy" as carbo-loading foods that are high in processed fats and sugars. Still, the doughnuts ($5 for a sack of 'em dusted with cinnamon and sugar) make a fine morning treat or quick roadside breakfast.
Jolley purchased his rig last fall from a couple in southern New Hampshire; the 1979 Burro camper was outfitted with a top-of-the-line fry unit, three-bay sink and everything else it needed to be "health-inspection ready." The cook made his doughnut debut at a pull-off near P&H Truck Stop just before Christmas. Through late winter, he opened most weekdays at 5:30 a.m. to catch the early commuter crowd, until vandals and thieves broke into his trailer — twice.
After that, Jolley bailed on the near-daily operation. But he's back at the 302 pull-off for semi-regular visits — announced via Facebook — and, this summer, plans to take the trailer on a fair-and-festival tour.
"I'm heavily involved in the fair," Jolley said, explaining that he's primarily a performer.
"Have you ever worked in food service before?" I asked.
Jolley shook his head and laughed, replying, "I work as a clown."
Courtesy Of Daniel Jolley
Daniel Jolley as Buddy the Clown
Sorting out a solid doughnut recipe took some digging, he said. "The first ones were terrible," he admitted. But the clown-turned-cook reached out to several local bakers for help. His grandmother was a dessert chef at P&H for years; she provided several formulas, as did other local bakers.
"I was so lucky to get [this recipe]," he said, looking wistful about his good fortune. "So, so lucky."
Jolley goes by Buddy the Clown professionally and is the second oldest of six children, all of whom were homeschooled in Groton. As they were growing up, their dad — a military man — performed as a clown on the weekends. Jolley's mom performed, too, and all of the kids took the stage as soon as they were old enough to do so. Together, they traveled across New England as the Jolley Clown Family.
For the past five summers, Buddy worked the rails at the scenic Hobo Railroad in Lincoln, N.H.; he's had residencies at Lincoln's Indian Head Resort and at Stowe's Trapp Family Lodge. And he's incited laughs at fairs and festivals throughout Vermont and New Hampshire.
Hannah Palmer Egan
Daniel Jolley
At these gigs, Jolley juggles, mimes, does magic and paints faces; he's aiming for world records with twisted balloons. At the Lamoille County Field Days in 2011, he set out to claim the title for the world's largest balloon sculpture — a cake made of 15,000 twisted, air-filled inflatables. Weather stymied the effort as the balloons began popping in the heat and humidity.
Still, Jolley is certain he's the only clown on Earth who can twist a skinny balloon into a poodle behind his back in six seconds. And he says his real claim to fame is as Pirate Man Dan, a fair-going alter ego who tools around in a bubble-blowing pirate-ship buggy that Jolley built by hand.
At the doughnut trailer, customers may or may not know the cook's funny-guy history. But from a customer-experience standpoint, Jolley's happy-go-lucky demeanor makes him a natural salesman.
Of course, it doesn't hurt that his doughnuts are delicious. Jolley fries them in vegetable shortening; the grease solidifies at room temperature, so the cakey puffs keep their fresh-from-the-fryer crunch even after they've cooled. The pastries are always available dusted in cinnamon sugar, but daily specials might include stirred-in blueberries, cocoa powder or chocolate chips.
Hannah Palmer Egan
Bacon-covered doughnuts
Lately, Jolley has been experimenting with toppings and other novelties. Last Friday's menu included doughnuts dipped in molten chocolate or maple glaze and scattered with crumbled bacon. He also skewered thick cuts of bacon, dipped them in doughnut batter, and fried them so they were brittle on the outside and chewy inside. Optional: doughnut glazes or more bacon crumbles on top.
When a clown in cook's clothing serves you a sweet breakfast and a sincere grin from a roadside camper, all you can do is smile back — and eat.