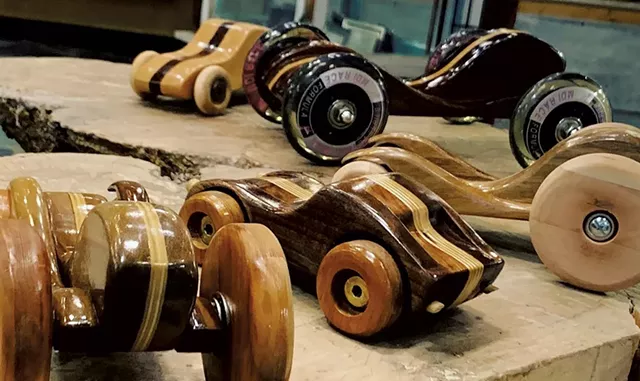 Courtesy Photo
Wooden toy cars by Jonnie Davis
For most of his adult life, Jonnie "Most" Davis made a good living writing and recording hit tunes that can be heard on top-40 radio stations around the world. Today, the successful songwriter, producer, sound engineer and record company executive — who's worked with big-name artists such as Pink, Marc Anthony, Outkast, Sean Combs, Usher and American Authors — is living in a converted one-room schoolhouse in Wallingford and making wooden toy cars by hand.
How does one go from recording and mixing "Party and Bullshit," Biggie Smalls' 1993 debut hip-hop single, to crafting high-quality children's playthings in small-town Vermont?
In Davis' case, it all stemmed from a personal tragedy he suffered a few years ago, the details of which he declined to discuss publicly. The trauma of that experience led to a substance-abuse problem, then rehab. By that time, the fortysomething executive was a voting member of the Recording Academy, which grants the annual Grammy Awards. So, when drugs got the better of him, Davis explained, MusiCares, a nonprofit program of the academy, covered the cost of him getting clean.
After completing rehab two years ago, Davis relocated to Wallingford to "regroup." He bought a "quintessential little red schoolhouse," which he renovated himself, and began tinkering with woodcrafts.
"I found myself really attracted to making things," he explained in a recent phone interview. "It got to a point where I could make just about anything ... It was very therapeutic."
Davis, who had no prior training or experience in woodworking, started by buying scrap lumber from a local cabinetmaker and cutting up reclaimed cherry from old discarded tables. He then shaped, sanded and polished those pieces into wooden toy cars for kids.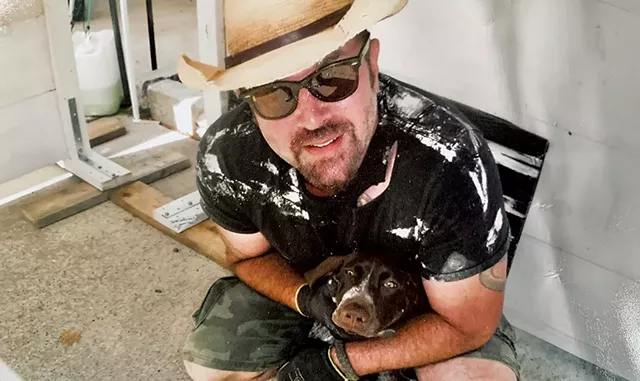 Courtesy Photo
Jonnie Davis and his dog, Chili, at the Rutland Farmers Market
Davis Toy, his one-man operation, has about a half dozen rough designs, such as race cars and dune buggies, though each car is unique and individually made. Davis' wooden cars are now on display and for sale at Handmade in Vermont in Wallingford and at the Rutland Farmers Market. They're priced from $86 to $225. And though making wooden cars seems vastly different from vinyl records, Davis sees a synergy between his music- and toy-making careers.
"These [toys] will last for generations," he explained. "It's like a quality song. It will endure."
Davis knows something about enduring songs. After graduating from the Berklee College of Music in Boston, the Hudson Valley, N.Y., native moved to New York City in 1989 to pursue a career in the music industry. He landed his first No. 1 record — Keith Sweat's 1990 hit "Make You Sweat." He then worked on a string of chart-topping singles and gold-, platinum- and Grammy-winning albums, some of which sold more than 100 million worldwide. Davis' discography includes songs that appeared in hit movies such as Empire Records, Freedom Writers, Mean Girls, Tyler Perry's Why Did I Get Married? and P.S. I Love You.
Though he considers himself merely "on hiatus" from the recording industry, Davis confessed that making toy cars has become an "all-consuming" passion of late.
"It's like I became one with my Vermontness," he added. "A lot of people are crafters here. I didn't know I had it in me."